Salmon and Spinach Curry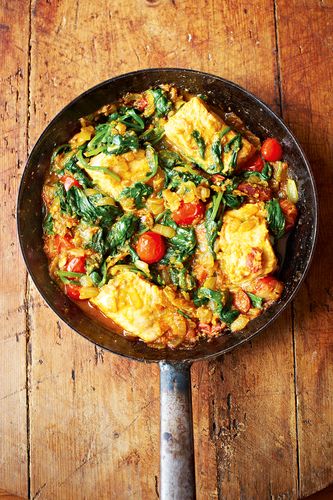 This light, simple salmon, spinach and tomato curry from Meera Sodha's brilliant Made in India cookbook is a perfect midweek meal. Easy to prepare and bursting with flavour, it's an ideal quick curry dish for a busy midweek meal.
Ingredients
2 tbsp

rapeseed oil

1

cinnamon stick

6

whole peppercorns

2

cloves

1

large onion, chopped

1/2 tsp

brown sugar

250g

ripe tomatoes, roughly chopped

4cm

ginger, peeled and finely grated

4

cloves of garlic, crushed

1

fresh green chilli, finely chopped (optional)

1/4 tsp

garam masala

1 tsp

ground cumin

1 1/2 tsp

ground coriander

1/4 tsp

ground turmeric

1/2 tsp

chilli powder

1 1/4 tsp

salt

500g

spinach leaves

400g

skinless, MSC-certified salmon fillets
Instructions
Put the oil into a large, lidded frying pan on a medium heat. When it's hot, add the cinnamon stick, peppercorns and cloves, and cook for 1 to 2 minutes, until they start to release their aromas.
Add the onion and brown sugar and cook for 12 to 15 minutes, until golden and caramelized. Stir in the tomatoes, put the lid on the pan and leave to cook for 5 minutes or so, until the tomatoes begin to soften.
Add the ginger and garlic (and green chilli if you would like a little more heat), and stir in the garam masala, cumin, coriander, turmeric, chilli powder and salt. Keep stirring to ensure the spices don't catch on the bottom of the pan. After around 8 minutes the mixture should start to look quite pastelike. When it does, add the spinach, turn down the heat and pop the lid back on and leave it to wilt.
Cut the salmon into big chunks, around 6cm x 6cm, and add to the pan. Coat the salmon in the tomato and spinach sauce, taking care not to break up the salmon pieces. Put the lid back on and leave for around 5 to 7 minutes, so that the fish cooks through.
Remove the cinnamon stick and check for seasoning. Serve with chapattis or rice.