Love Cake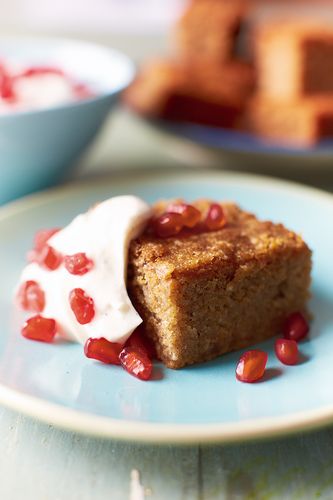 A light, delicate sponge cake, infused with fragrance and flavours of India. This simple, elegant recipe is taken from Meera Sodha's Made in India cookbook.
For how many?
Makes 12 squares
Ingredients
125g

unsalted butter at room temperature (plus extra to line the cake tin)

325g

caster sugar

6

eggs

200g

fine semolina

100g

ground cashews (or ground almonds)

5 1/2 tbsp

honey

2 tsp

ground cinnamon

1/2 tsp

grated nutmeg

1 tsp

ground cardamom (or finely ground seeds from 12 pods)

2 tbsp

rose water

1 tsp

vanilla essence

Zest of 1 lemon and 1 orange

For the cardamom and pomegranate shrikhand:

250g

good-quality Greek yoghurt, like Total

2 1/2 tbsp

icing sugar

1/2 tsp

ground cardamom (or finely ground seeds from 6 pods)

Seeds of ½ a pomegranate
Instructions
Preheat the oven to 150°C/300°F/gas 2. Line a rectangular cake tin (approx. 30cm x 20cm) with greaseproof paper and a fine layer of butter.
Cream the butter and the caster sugar together in a bowl and set aside. In another bowl, beat the eggs until pale and smooth, then slowly whisk them into the sugar and butter mixture. Fold in the semolina, ground cashews, honey, cinnamon, nutmeg, cardamom, rose water, vanilla essence and lemon and orange zest.
Fold the mixture together and spoon out into your cake tin. Place in the oven and bake for 45 minutes, or until the top is golden brown all over and firm to the touch. Leave to cool before cutting or taking out of the cake tin.
To make the cardamom and pomegranate shrikhand, mix the yoghurt with the icing sugar and cardamom and half of the pomegranate seeds in a bowl, then leave the ingredients to mingle for as long as possible before serving.
Serve a good-sized square of cake with a dollop of yoghurt and a sprinkling of pomegranate seeds over the top.