Lemon & Poppy Seed Cupcakes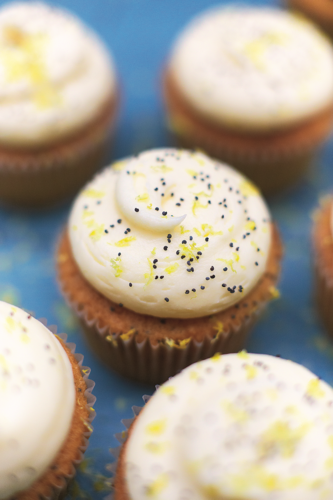 They may be tiny, but poppy seeds are packed with a subtle, nutty, peppery flavour that goes perfectly with the zesty lemon sponge.
Ingredients
250g

self-raising flour

250g

caster sugar

1/2 tsp

bicarbonate of soda

1 1/2 tbsp

poppy seeds, plus extra for decorating

250g

unsalted butter, softened

4

large free-range eggs

1 1/2 tbsp

lemon juice

optional: 4

unwaxed lemons, zest

1 1/2 tbsp

whole milk

For the cream cheese icing:

150g

unsalted butter, softened

240g

cream cheese

840g

icing sugar

You will need:

2 x 12-hole muffin trays, with snug-fitting paper cases
Instructions
1. Preheat the oven to 170°C fan/375°F/gas 5. Sift the dry cupcake ingredients into a large bowl. Add the butter, eggs, lemon juice and most of the zest (if using), then beat for 60 seconds with an electric mixer (I prefer the free-standing type).
2. Add the milk and beat for another 20seconds, or until well combined.Scrape down the sides of the bowl with a spatula, then give the mix a final blast for 30 seconds to make sure it's all incorporated.
3. Fill the paper cases two-thirds full with mixture, but don't bother to smooth it out. Bake for 20 minutes, or until they spring back when touched.
4. Leave to cool, transferring to a wire cooling rack after 5 minutes, then decorate with the cream cheese icing, sprinkle with poppy seeds and the remaining lemon zest, then serve.