Goan spiced mackerel with tomato & chilli sambal & raita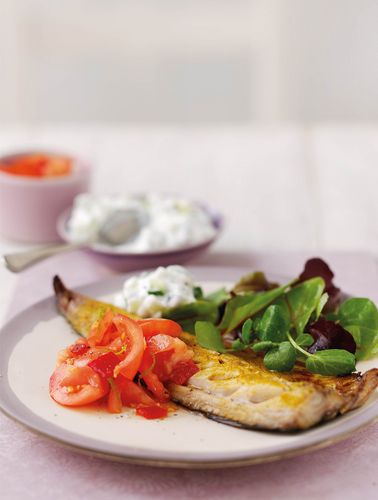 Rich, oŠily mackerel is roŠbust enough to handle a little heat and spice. The cucumber yoŠghurt cŠools and refreshes.
Ingredients
For the mackerel:

4

fresh mackerel fillets, about 120 g (4 oz) each

½ tsp

ground cumin

½ tsp

ground turmeric

½ tsp

ground cinnamon

1

lime, juice and zest

160 g (5½ oz)

salad leaves, to serve

For the sambal:

2

red chillies

1

clove garlic

2

medium tomatoes, roughly chopped

For the raita:

300g (10½ oz)

low-fat Greek yoghurt

10-cm (4-in)

piece cucumber, finely chopped

2 tbsp

mint leaves, roughly chopped
Instructions
1. Preheat the grill to high. Rub the mackerel fillets with the spices and sprinkle with half the lime juice and zest. Grill the fillets for 4 minutes on each side, until cooked through.
2. Meanwhile, make the sambal by pounding the red chillies and garlic with a pestle and mortar. Stir in the remaining lime juice and zest, along with the tomatoes.
3. To make the raita, combine the ingredients and set aside.
4. Serve the mackerel fillets topped with the sambal. Serve the raita and salad leaves on the side.