Earl Grey Breakfast Cupcakes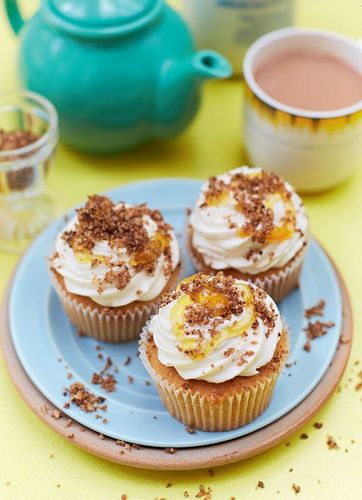 This cupcake reminds me of my grandma Mabel's quintessentially English breakfasts in Wallasey (minus the Cheshire cheese, which I always thought was a little odd).
Cook time
20 min
For how many?
Makes 24
Ingredients
For the cupcakes:

3

slices of brown bread

250g

unsalted butter, plus extra for spreading, softened

250g

self-raising flour

250g

caster sugar

1/2 tsp

bicarbonate of soda

4

large free-range eggs

1/2 x 450g

jar of fine-cut marmalade

For the Earl Grey infused milk:

200ml

whole milk

2

heaped tbsp Earl Grey tea leaves

For the buttercream icing:

300g

unsalted butter, softened

675g

icing sugar
Instructions
You will need 2 x 12-hole muffin trays, with snug-fitting paper cases and 1 piping bag with a 5mm nozzle for this recipe.
Preheat the oven to 170°C fan/375°F/gas 5. Start by making the Earl Grey infused milk: place the milk and tea leaves in a small pan over a medium heat. Bring the milk almost to the boil – keep a close eye on it – then reduce the heat to low and simmer gently for around 2 minutes. Remove the pan from the heat, cover with a lid and leave to cool completely, then strain through a sieve.
Toast the bread until slightly burnt, then butter both sides and bake in the oven for 5 to 10 minutes, or until crisp enough to snap. Remove and leave to cool, then whiz in a food processor or grate with a box grater and set aside. Sift the remaining dry cupcake ingredients into a large bowl, add the butter and eggs, then beat for 60 seconds with an electric mixer (I prefer the free-standing type). Add 3 tablespoons of Earl Grey infused milk and whisk for 20 seconds, or until well combined.
Scrape down the sides of the bowl with a spatula, then give the mix a final blast for 30 seconds to make sure it's all incorporated. Fill the paper cases two-thirds full with mixture, but don't bother to smooth it out. Bake for 20 minutes, or until they spring back when touched. Leave to cool, transferring to a wire cooling rack after 5 minutes.
Meanwhile, make the icing. Beat the butter with an electric mixer for 4 to 5 minutes, or until pale and smooth. Sift the icing sugar into a large bowl, then add to the butter in two stages, beating well between each. Gradually add 6 tablespoons of Earl Grey infused milk and beat for a further 3 to 5 minutes, or until well combined. Once the cupcakes are cool, poke a hole into the middle of each with a chopstick, twist to widen the hole, then use a piping bag to fill each one with a little marmalade. Decorate with the icing, sprinkle over the buttered toast crumbs and serve.