Hunan's Chicken and Spinach Fritters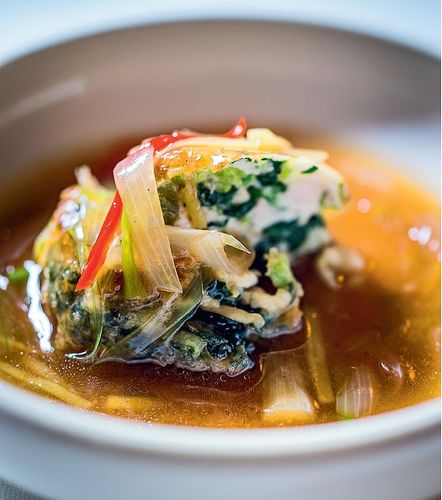 You can use meat from the chicken breast or chicken thighs but the dish works best if you use a mix of the two. The fritters are cooked separately first before being finished off in the sauce so that they have a chance to set before taking on the flavours of the cooking sauce.
This stunning recipe is taken from Hunan, the brand new cookery book from London's best-loved Chinese restaurant of the same name (out April 2014).
For how many?
Makes 4 portions
Ingredients
100g

spinach leaves

200g

chicken mince

1 tbsp

cooked cashew nuts, finely chopped

3

water chestnuts, finely chopped

1 tbsp

cornflour

1/2 tsp

salt

1/2 tsp

sugar

cornflour to coat

beaten egg to coat

For the sauce:

1 cm

ginger, shredded

1/2

fresh red chilli, shredded

1/2

spring onion, shredded

1 1/2 tbsp

water

1/2 tsp

salt

1 tsp

light soy sauce

1 tsp

Shaoxing wine

salt and sugar to taste

1/2 tsp

white wine vinegar

1 tsp

slaked cornflour
Instructions
Blanch the spinach leaves in a pan of boiling water before refreshing and chopping finely.
Mix the minced chicken with the spinach, cashew nuts, water chestnuts, cornflour, salt and sugar in a bowl before forming into flattened balls.
Coat the chicken and spinach parcels with cornflour, then egg, before cooking.
Heat a little oil in a pan. Shallow-fry the chicken and spinach fritters. When the edges begin to take on colour, turn the parcels over to cook the other side.
Meanwhile, make a sauce by heating up all the sauce ingredients except for the white wine vinegar and the cornflour in a small pan. Taste and adjust the seasoning.
When the chicken and spinach fritters are ready, cook them in the sauce for about three minutes.
Add the vinegar and slaked cornflour. Cook to thicken before serving.