Brownie Pudding with sea-salted caramel, tea, and figs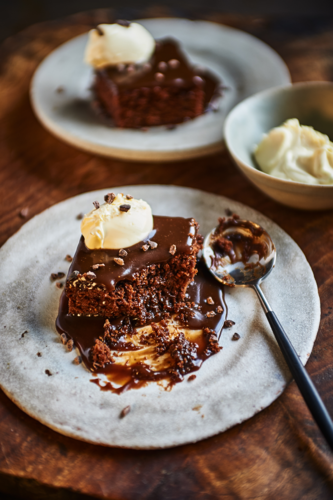 Recipe by Paul A. Young
This sticky-toffee-brownie pudding hybrid is the ultimate comfort food. It incorporates my award-winning sea-salted caramel, along with chocolate, figs, and tea. If you want to make this the day before, brush the top of the pudding with warm caramel as soon as it comes out of the oven, for a sticky toffee glaze.
Requires 20 x 25cm (8 x 10in) cake tin
For how many?
Serves 10-12
Ingredients
90g

unsalted butter, softened, plus extra for greasing

180g

self-raising flour, plus extra for dusting

250ml

strong English breakfast tea

1 tsp

bicarbonate of soda

200g

dried figs, chopped

90g

dark muscovado sugar

90g

golden syrup

2

medium eggs

1/2 tsp

sea salt flakes

150g

good-quality dark chocolate, 70% cocoa, chopped

roasted cocoa nibs, to decorate (optional)

clotted cream, to serve

For the sauce:

200g

unsalted butter

200g

dark muscovado sugar

1 tsp

sea salt flakes

200ml

double cream

50g

dark milk chocolate, 60% cocoa, chopped
Instructions
Preheat the oven to 180°C (350°F/Gas 4). Grease the tin, dust lightly with flour, and set aside. Combine the tea, bicarbonate of soda, and figs in a medium saucepan over a medium heat. Bring to the boil, and then immediately reduce the heat. Simmer for 2 minutes.
Remove the pan from the heat and allow the mixture to cool. Once cooled, mix well with a wooden spoon, until the pieces of fi g break down and the mixture forms a paste.
In a large bowl, cream together the butter, sugar, and golden syrup, using a wooden spoon. Add the eggs and whisk together until the mixture is smooth. Mix in the flour and salt until combined.
Melt the dark chocolate in a heatproof bowl set over a pan of simmering water, stirring until smooth. Do not allow the base of the bowl to touch the water. Add the melted chocolate to the fl our mixture, along with the fi g paste, and mix well.
Pour the batter into the prepared tin. Bake for 30–35 minutes until the pudding has risen and the middle is still slightly gooey.
Meanwhile, prepare the sauce. Melt the butter, sugar, and salt in a small saucepan over a medium heat, stirring well to combine. Simmer for 5 minutes. Remove from the heat and add the double cream and dark milk chocolate, whisking well to combine.
When ready to serve, cut the pudding into 10–12 pieces and plate them up individually. Pour over the warm sauce, decorate with cocoa nibs, if using, and serve with clotted cream. You can store the pudding, covered in the fridge, for up to 5 days, or freeze it for up to 3 months.
TIP If dark milk chocolate isn't available, use good-quality dark chocolate.