Rick Stein's Seafood Lovers' Guide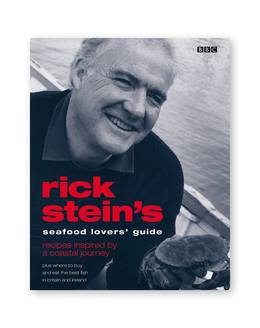 Rick (and Chalky his trusty dog) discover great seafood dishes and small delicacies amongst the tidal estuaries, shingle banks and rocky shores of Britain. Rick travels from the bleak Suffolk coast where fishermen scrape a living catching cod to the wild, clear waters of Scotland's lochs bringing back an abundance of stories and imaginative, colourful recipes.
The book is organised geographically with each chapter covering one of the regions featured in the BBC series. Rick describes the fish-catching and fish-eating traditions of each area as well as details of the local life, legends and literature. He singles out local delicacies and includes six to eight fish and seafood recipes per chapter. Each chapter is illustrated with stunning food and landscape photography and ends with an area map and a guide to a small selection of the best hotels, restaurants, pubs and specialist suppliers (including information on extra locations, not featured in the series).
'Just as I do in the restaurant to keep ahead of the game, I look for the best suppliers, the freshest fish and who catches them. In a way, this is what this series is about, the fish I love, for all sorts of reasons, not just taste or fashion, where they come from and the people who catch them and the best way to cook them. As a result of looking around the country for the best seafood, it's turned out to be a love affair with the changing coastline of Great Britain and Ireland and the business of going to sea in small boats to catch the freshest prime fish we have.' Rick Stein