Princess Party Cookbook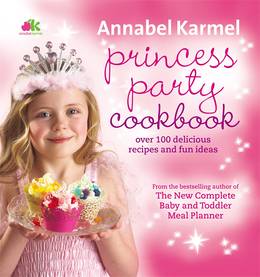 Every little girl dreams of being a princess . . .
Whether she yearns for a Fairytale Feast, a Make-up and Jewellery Party, a Valentine's Meal, a Movie Star Sleepover or a Beach Babe Barbecue, help is at hand. This enchanting party book from Annabel Karmel allows you to indulge your little girl's every desire with more than 100 specially created recipes and party ideas designed to feed her imagination and encourage her participation in the kitchen. From flower-shaped sandwiches and butterfly cookies, to emerald pizzas, ruby-glazed chicken, jewelled jellies, pink prawns and chocolate kisses, these are magical, delicious dishes fit for a princess's banquet. With inspiring ideas for the all-important centrepiece cake, plus menu plans, suggestions for easy table settings, costumes, decorations and gifts, this is an indispensable guide to planning the perfect princess party.