New Flavours of the Jewish Table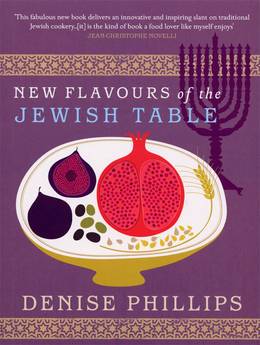 Food has always played a crucial role in Jewish culture, with numerous celebratory feast days marking important occasions throughout the year. In her mouthwatering new collection of recipes, Denise Phillips shows how kosher cooking is not just for Jews, but has been a strong but unseen culinary influence all over the world. Inspired by the cuisine of Sephardi Jews from the Mediterranean and Middle East to the Ashkenzai Jews of cooler Eastern European climes, these recipes draw on the variety of flavours that comprise the global nature of Jewish food.
With an evocative introduction to every recipe, Denise takes us from appealing appetisers such as Baba Ganoush, through Chicken, date and raisin tagine, Moroccan sweet potato stew and Stuffed Aubergine with cous cous to delectable desserts like Chocolate macaroon cake and Dutch apple pie. Informed by Denise's skills as a cookery teacher, this charming book provides easy-to-cook and elegantly simple dishes that will entice everyone - from Jews who follow a strict Kosher diet, to anyone wanting tasty and healthy food.