Everyday Detox: 100 Easy Recipes to Remove Toxins, Promote Gut Health, and Lose Weight Naturally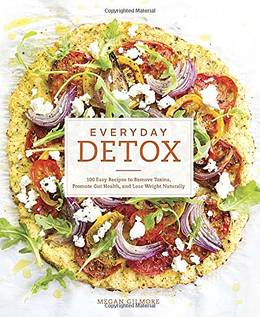 Who's the author? Megan Gilmore is a certified Holistic Health Counselor, trained at the Institute for Integrative Nutrition in New York. She runs her a blog, detoxinista.com, where she shares quick and easy recipes to make healthy living easier and more accessible.
What's it about? Everyday Detox is a healthy guide to detoxing naturally, all year round with no dieting, juice fasting, or calorie counting required.
Recipes we love: Banana Coconut Muffins, Chocolate Chia Shake, Broccoli Cheese Soup, Mediterranean Chopped Salad, Skillet Fish Tacos, Cauliflower Flatbread Pizza, and Peppermint Fudge Bars.
Good book for: People looking to improve digestion, sleep better, lose weight,  and feel great.
You'll like it if: You're looking for delicious, properly combined recipes that will leave you feeling satisfied and well nourished while promoting weight loss and improving digestion and sleep.