Chickpeas are a wonderfully versatile pulse – filling, flavourful, and packed with protein, they make an excellent addition to most soups and stews, and are particularly good at absorbing the rich, spicy flavours of curries. These 5 vegan chickpea curry recipes are store-cupboard staples that you will go back to again and again, and are especially useful if you're on a budget, or are embracing a plant based diet. Serve your curry up with rice or naan, and add some toasted nuts for an extra protein hit. Enjoy!
This Spinach, Tomato and Chickpea Curry recipe is Meera Sodha's take on a classic; "it's a bit perkier than your average curry-house chana saag, and uses just wilted spinach", she says. From Fresh India; a cookbook packed with vibrant, authentic and delicious veggie and vegan recipes. 
Fresh India: 130 Quick, Easy and Delicious Recipes for Every Day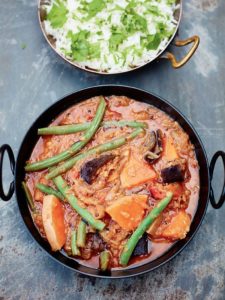 The go-to guide for vegetarian Indian cooking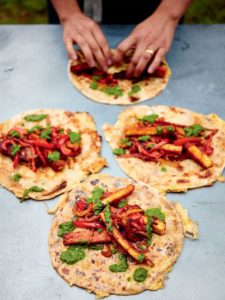 130 stunning recipes with a fresh and light feel
Beautiful puddings with Indian-inspired flavours
A vegan twist on the nation's favourite dish, this Chickpea Tikka Masala from The Happy Pear: Recipes For Happiness is ready in just 15 minutes. This version is based on chickpeas and aubergine for rich, creamy and satisfyingly filling results. 
Roasted spiced beetroot and chickpeas form the base for this one-pan curry from The Green Roasting Tin. All cooked effortlessy in one tin, the coconut milk reduces down quickly to make a simple and delicious curry sauce.  
Sweet potato forms the bulk of this vegan curry, paired with chickpeas, warming spices, coconut and tomato. From Angela Liddon's Oh She Glows Every Day, she describes it as "a thick, stew-like curry – not runny or soupy. It's the kind you'll love to scoop up with a hunk of bread". Sounds divine. 
This Caribbean Chickpea Curry served up with fragrant coconut rice is warming, filling and a great vegan dish to make on the weekend, with plenty of leftovers to last the week. From The Chickpea Cookbook.