What could be more comforting on a cold evening than oozy, cheesy risotto? The beauty of this beautiful bowl of rice is that it can be the recipient of whatever vegetables, herbs, spices or cheese that you want to throw in – seasonal chunks of butternut squash, caramelised fennel or roasted tomatoes? Or why not roasted chicken or chunks of marinated feta? (Thanks, Ottolenghi).
Follow a few basic rules and you'll see just how simple it is to make; use good quality stock – it isn't a must but it will elevate your risotto to a new level. Also, make sure you add the stock in ladlefuls, stirring continuously after each addition to get the starchy, oozy consistency that makes risotto great. Or throw the rulebook out altogether as Nadiya shows with her Bulgur Wheat Risotto. Here are twelve of our favourite risottos that might just inspire you. 
Squash, Pea and Sage Risotto from Annabel's Family Cookbook by Annabel Karmel
Butternut squash with fresh Parmesan and sage is a wonderful flavour combination, teamed with fresh or frozen peas and a luxurious lick of cream to finish it off. 
Order a copy of Annabel's Family Cookbook here. 
Oozy Black Rice with Sweet Roasted Pears, Thyme and Gorgonzola from Jamie Cooks Italy by Jamie Oliver
In this shining example of autumnal comfort food, Jamie plays around with the risotto rule book and uses black rice paired with sweet pears and gorgonzola and a method that requires less stirring than a traditional risotto.
Get your copy of Jamie Cooks Itlay here.
Chicken Risotto from At Elizabeth David's Table by Elizabeth David
This risotto is rich and sumptuous thanks to poaching the chicken first to create a delicious stock. Finished as the Italians do it: a good knob of butter and a good grating of Parmesan. 
Get your copy of At Elizabeth David's Table here. 
Chestnut and Truffle Risotto from Angela's Kitchen by Angela Hartnett
Autumnal chestnuts and truffle make this indulgent risotto recipe perfectly seasonal. Don't worry if you don't have fresh truffle, finish the risotto with a drizzle of truffle oil instead.
Order a copy of Angela's Kitchen here.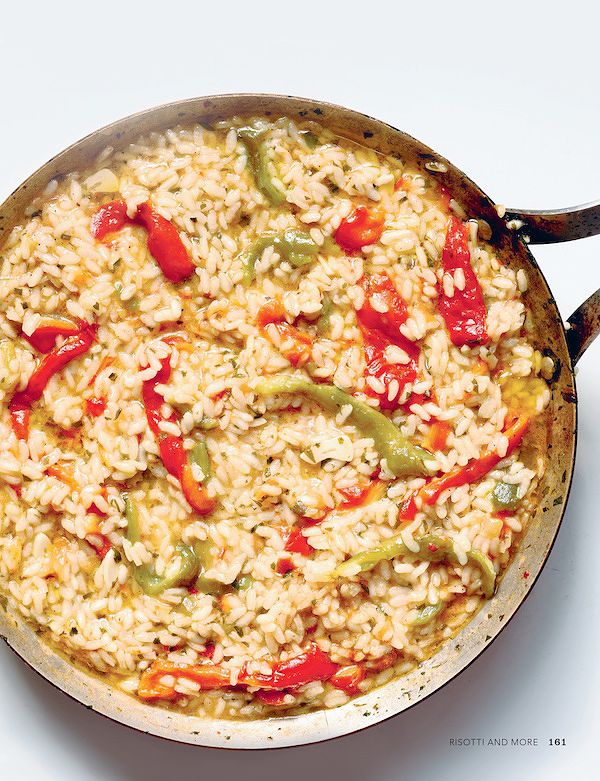 Risotto with Peppers from Italian Kitchen by Anna Del Conte
We couldn't include a list of our favourite risottos without a dish from the queen of Italian cooking, Anna Del Conte. This version brings together mixed peppers, tomato, Arborio rice, fresh basil and flat leaf parsley.
Get a copy of Italian Kitchen here. 
Squash and Sausage Risotto from Super Food Family Classics by Jamie Oliver
"A little sausage goes a long way in this delicious dish", says Jamie in this healthier twist on an indulgent dish. With Chianti red wine, a hit of chilli and sweet, nutty squash, this risotto is full of flavour without over-doing the calories.
Get your copy of Jamie's Super Food Family Classics here.
Barley Risotto with Marinated Feta from Jerusalem by Yotam Ottolenghi & Sami Tamimi
This is a twist on Italian risotto, swapping risotto rice with pearl barley and paired with thyme, paprika, lemon, chilli and tomatoes for an earthy autumnal vibe. 
Get your copy of Jerusalem here. 
Roasted Tomato Risotto with Sweet Fennel & Vermouth from VEG by Jamie Oliver
Mediterranean flavours of roasted sweet tomato, fennel, thyme, garlic, Vermouth and Parmesan make this a show-stopper dish worthy of a special occasion. Jamie's top tip? "Squeeze the smooth, mild garlic out of its skin after roasting to add a delicious bonus flavour to the risotto".
Chestnut Risotto from A Year in 120 Recipes by Jack Munroe
Don't worry if it's out of chestnut season; this recipe uses tinned or vacuum-packed chestnuts that are easily available and creates a wonderfully nutty risotto. Pair it with woody thyme and a good strong cheese for a rich dinner worthy of a cold winter night. 
Order a copy of Jack Munroe's A Year in 120 Recipes here. 
Squid Bulgur Wheat Risotto from Nadiya's Family Favourites by Nadiya Hussain
This is Nadiya's take on risotto using bulgur wheat for extra bite and nuttiness. "Topped with crispy squid, and with garlic mayo stirred through, it's rich and a little bit special", says Nadiya. 
Order a copy of Nadiya's Family Favourites here. 
Risotto with Amarone and Radicchio from Semplice by Dino Joannides
Amarone is a rich, dry red wine from Veneto in the north of Italy – added to this risotto with veal stock, butter and plenty of Parmesan to finish, this is a classic example of a dish that requires just a few quality ingredients to really shine. 
Order a copy of the Semplice cookbook here. 
Pumpkin Risotto from Michael Caines At Home by Michael Caines 
Enriched with mascarpone and nutty pumpkin, and topped with pan-fried button mushrooms, a sprinkling of toasted pumpkin seeds and Parmesan, this is a weekend dish worth indulging in.