When I started thinking of writing a book about pasta shapes, the first thing my partner said to me was "Are you mad? There are anywhere from 350 to 600 shapes and 1300 identified names for pasta, so you must be mad, or foolish, or a genius." I explained to him that, while I can be mad, and I am a genius at dominoes, I wasn't foolish; I didn't want to tell the story of pasta, but a story of pasta. That I was going to tell 50 stories about 50 shapes, sometimes historical, sometimes domestic, that there would be stories about people and places, and that they would be like pieces of a jigsaw both standing alone and also fitting together to make a picture of pasta. For every shape, there would be two or three brilliant recipes and also suggestions for alternative shapes. Pasta sauces are not faithful to one shape and anyone who tells you differently is fibbing. Choosing the shapes turned out to be rather like doing a jigsaw; there were the corners and edges (that is the shapes I knew had to be there like spaghetti, penne, fusilli) then once those more obvious pieces were in place, picking the other shapes got easier and made sense.

The next decision was how to arrange them. The idea was a jigsaw, but we couldn't just give everyone a box of loose pieces. I tied myself in knots thinking of how to best organise the shapes, dividing them into categories (fresh and dried pasta, flour and water dough and flour and egg dough, long and short, fancy shapes and simple ones), trying to group them by season, preference, star sign (I really did go mad). In the end, it was my partner Vincenzo who came up with the solution, which, like all solutions, seemed stupidly obvious once I had it. It would be an alphabet, an A to Z of pasta, with no divisions of fresh or dried, flour and water or flour and egg, fancy or simple, because many shapes are all those things. Also, I love things in alphabetical order.

So for this first of six columns for The Happy Foodie, we jump straight to C, to capelli d'angelo, pasta so thin it looks like an angel's hair. The reason I have decided to start with this shape is that it is both a fresh flour and egg pasta shape that you can buy or make at home, as well as a dried flour and water shape. Its history is wonderful, having first been made in the seventeenth century by nuns as nourishment for new mothers. Jumping forward several centuries, capelli d'angelo, a long, almost translucent pasta curled in nests, is the shape I remember from my teenage years. I remember pressing the brittle nest through the plastic and hearing them crack and shatter; a physical memory that still feels subversive and satisfying. Capelli d'angelo can also be substituted with lots of other shapes: fresh tagliolini or tagliatelle, dried spaghettini, spaghetti or linguine.

I have also decided to start here because I love this recipe for capelli d'angelo with prawns and lemon. It is inspired by a dish served at an elegant fish restaurant called Chalet Galileo, whose windows open onto an almost white beach in Civitanova in the region of Le Marche. Prawns cooked swiftly in olive oil, with white wine and scented with lemon zest, are netted for the second time in fresh egg pasta. Cooking times for the prawns and the pasta are brief, so the dish comes together incredibly quickly. A bright, swift tangle of a supper.
Capelli d'Angelo with Prawns and Lemon
Ingredients
olive oil
1 small clove of garlic, peeled and sliced
a pinch of red chilli flakes
400g small prawns, peeled
120ml dry white wine
salt
400g fresh egg pasta (see note below), cut to approx. 1mm thick, alternatively tagliolini or spaghettini
zest of 1 unwaxed lemon
1 heaped tsp chopped fresh flat-leaf parsley
Method
Bring a large pan of water to the boil for the pasta.
In a large frying pan, warm the oil, garlic and chilli gently to infuse the oil. Add the prawns, stir, then raise the heat, add the wine and a pinch of salt and allow to bubble for 3 minutes while you cook the pasta – which will only take a minute or so.
Drain the pasta, or lift directly into the prawn pan, add the lemon zest and parsley, then toss for the last time, and serve.
Making fresh capelli d'angelo
You can buy sheets of pasta and cut them. Or make your own, in which case this standard fresh egg pasta dough is ideal – see here. Or if you would like a variation, use a mix of soft 00 flour and hard wheat semola for softness and substance. Bring 200g of soft 00 flour, 200g of semola and 4 eggs into a dough, knead, rest, roll, fold into an envelope if you have rolled by machine, a log if by hand, and then cut with steady cuts. My knife skills are deeply average and even I can cut pasta 1mm thick, or thereabouts. And I enjoy it. The key is making a firm dough and decisive cuts, never lifting the knife too high so the cuts feel like tiny rhythmic steps. Rather than using dried capelli d'angelo for this recipe, I would look for slightly wider dried capellini (which means little hairs and is usually about 1mm), linguine or tagliolini.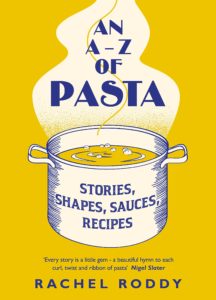 An A-Z of Pasta
Discover the stories, histories and recipes behind 50 different pasta shapes.
Learn to make fresh pasta dough from scratch and how to roll, shape and cut everything from spaghetti to ravioli.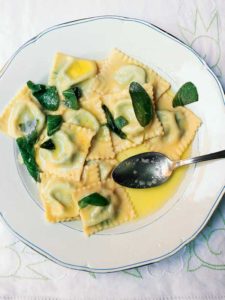 Match your favourite shapes to sauces, from carbonara to ragù