As its name suggests, my new cookbook, An A to Z of Pasta, is arranged alphabetically. That is, according to the Italian alphabet, which only has 21 letters (no J, K, W, X or Y). Less to remember, although frustrating for my half-English-half-Italian friend Joy, who prefers the English spelling of her name, but always gets the Italian one, Gioia. Anyway, back to the book. Some letters catalogue just one pasta shape. For D, for example, there is just Ditali – little thimbles, and for Q just Quadrucci – little squares. Meanwhile, P is a busy chapter, with 5 shapes: pappardelle – fat ribbons, penne – quills, pici – fat hand-rolled ropes, pizzocheri – buckwheat strips, and last but not least, paccheri – big tubes.
Paccheri was a hugely important chapter to write and a hugely enjoyable one too. It involved driving south in our ancient and indefatigable Fiat Panda to a town called Gragnano, which is 30 kilometres south-east of Naples, 15 from Vesuvius and around the cape from Sorrento, otherwise known as the land where lemons grow and pasta is made. If the story of pasta is a vast jigsaw, Gragnano is a vital piece. Since the 13th century, Gragnano, which sits in a valley that funnels into the Gulf of Naples, has been a town of mills in which grain that arrived at the nearby and important port of Castellammare di Stabia was made into flour. It is understood that the Arabs taught the Sicilians to make pasta and dry it, but it was here in Gragnano (and also further north in Liguria) that the habit of pasta making was adapted and developed. Here, local people learned to make strings of spaghetti and later, with the advent of machines, more strings, twists and shapes of every imaginable size, including paccheri, large, wide tubes made from durum wheat and water. They vary in size according to the maker but are generally about 6cm long, with the diameter of a 50 pence. They take their name from the onomatopoeic paccarià, Neapolitan for 'to slap'. Which is exactly what they do when cooked, like soft sacs, they slap and flap when you toss them in the sauce, then again in your mouth. Along with rigatoni,paccheri are my preferred shape, and one of the best ways to understand good quality pasta, its porous surface, substance and bite.
The day we went to Gragnano, we visited a wonderful maker called Faella and atepaccheri with filetto di pomodoro, a sauce of local tomatoes, the pieces (fillets) still distinct but soft and oily enough to coat the pasta, and paccheriwith potatoes and mussels. The recipe I have chosen for this second column, though, is paccheri con crema di melanzane, pomodorini e mozzarella (paccheri with aubergine, two sorts of tomatoes and mozzarella) because it is seasonal, absolutely delicious and a good example of an important aspect of cooking pasta. That being the idea that in some recipes, like this one, the pasta should be removed from the boiling water – usually with a spider sieve – before it reaches the desirable point of al dente sothat the last minutes of pasta cooking are done with the sauce. In these last moments, usually in a pan large enough to really jolt and shake so the pasta releases more 'amido' (starch) and with the help of a little starchy cooking water, the elements – sauce, shape, starch, fat – meet, bind and thicken.
In the case of this month's recipe, it simply means adding the al dente pasta to the tomato and aubergine and swishing and jolting for a minute so the starch from the pasta meets the oils in the tomato and everything comes together in a rather miraculous way. If you don't have a very big frying pan, consider using your wok. It's the cooking equivalent of washing your hair in the bath rather than the sink – the space to swish really makes a difference. Once things have come together you put the roasted tomatoes and the ripped mozzarella on top. My hope is that this recipe, and the whole of An A-Z of Pasta, brings you J is for Joy, or should that be gioia.
Paccheri with Aubergine, Two Sorts of Tomatoes and Mozzarella
Ingredients
2 large aubergines
300g cherry tomatoes, halved
salt
dried oregano
icing sugar
olive oil
1 clove garlic
300g peeled plum tomatoes, fresh or tinned
ripped fresh basil
400g paccheri, or rigatoni, mezze maniche, penne, fusilli
100g mozzarella
Method
Roast the aubergines whole until they collapse, at 190°C for about 40 minutes, then remove from the oven. Turn the oven down to 130°C.
Put the cherry tomatoes on a baking tray, sprinkle with salt, dried oregano, icing sugar and olive oil, and put them into the oven for 45 minutes or until they wrinkle. Put on one side.
Scoop the flesh from the aubergine.
In a large frying pan, warm some olive oil and the garlic, then add the peeled plum tomatoes, basil and a pinch of salt and allow to bubble for 15 minutes, or until they look saucey. Add the aubergine and stir. The aim is a sauce to coat the pasta, so you can pass it through a food mill (remove the garlic) or simply mash with a potato masher. Pull from the heat.
Cook the pasta until a minute off al dente, turn up the heat on the sauce, and drain or lift the pasta directly into the sauce pan and then swish gently to blend with the sauce and finish the last minute of cooking. Add a bit more water if it looks dry – the consistency should be swishy.
Tip the paccheri on to a large serving dish, and top with the cherry tomatoes, cubed mozzarella and more ripped basil.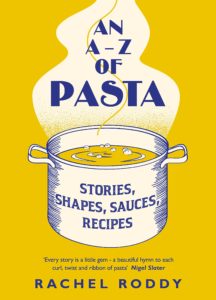 An A-Z of Pasta
Discover the stories, histories and recipes behind 50 different pasta shapes.
Learn to make fresh pasta dough from scratch and how to roll, shape and cut everything from spaghetti to ravioli.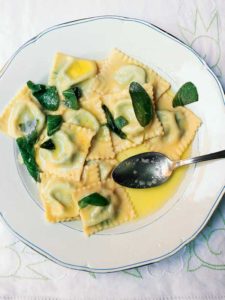 Match your favourite shapes to sauces, from carbonara to ragù
Discover Rachel's other columns: