Make something extra tasty with your Christmas leftovers this year with this fabulous Boxing Day menu from Nigella Lawson. Goodbye plain old turkey sandwiches, hello tasty turkey hash!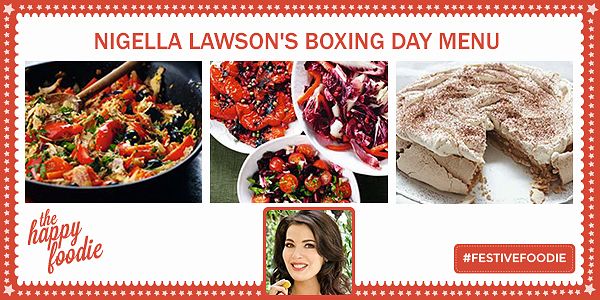 Main: Ed's Victorious Turkey Hash from Nigella Christmas: Food, Family, Friends, Festivities
This turkey hash recipe, given to me by my friend and agent, Ed Victor, and in charmingly bossy letter form, has been a recurring feature in my books. Why drop it now of all times? Not least, of course, because it is a real winner.
Side: Christmas Salad from Nigella Christmas: Food, Family, Friends, Festivities
This is the salad I bring out time and time again at Christmastime, either to bring a little joy and colour to a quickly gathered together tableful of leftovers, as a side dish when the food really needs no more than a light accompaniment, or even as a starter, so people have something to pick at as I do a little last minute this-or-that.
Dessert: Cappuccino Pavlova from Nigellissima: Instant Italian Inspiration
I am inordinately proud of this, and am not ashamed to say so. I have long been a pava-holic but this is my first venture into a fruit-free (though far from fruitless) version. The instant espresso powder (do not use instant coffee granules) gives bitter oomph to the sweet, marshmallowy meringue.
For more leftovers recipes see: