It goes without saying that Nadiya Hussain knows how to throw together a family meal that's packed with flavour. Here she shows us the beauty of one-pot meals, whether you're cooking an all-in-one breakfast on the hob or a traybake supper that really makes those flavours sing. Nadiya's recipes are all about making it easier, but in doing so, packing in nutrition and letting the ingredients do the talking. 
Smoky Spinach Shakshuka from Nadiya's Family Favourites
With its richly spiced tomato sauce, spinach and runny eggs, this one-pan breakfast or dinner is delicious served with yoghurt and toast. Super simple and nutritious.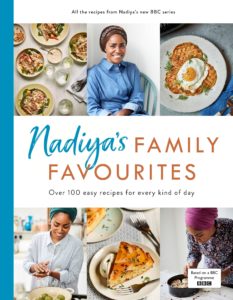 Nadiya's Family Favourites
Tasty midweek meal ideas
Easy ideas to feed a crowd
Showstopping cakes and bakes
Chicken and Rice Bake from Nadiya's Family Favourites
There are many ways to enjoy chicken and rice, but this one really tops them all. Cooked all in one tray, the rice sucks up the chicken stock and juices while it cooks for incredibly tasty results. Plus, you end up with lovely toasted bits as well as fluffy grains.
Get a copy of Nadiya's Family Favourites here.
Mustard Kale Mac and Cheese from Nadiya's Kitchen
"Proper home-cooked mac and cheese is warm, hearty and delicious", says Nadiya and we couldn't agree more. With kale and mustard thrown in to turn mac and cheese into something a bit more exciting, this recipe serves eight so there'll be plenty of leftovers.