Who doesn't love a bowlful of silky, creamy, bacon-studded carbonara with lashings of black pepper and Parmesan? This Roman dish is one of Italy's most famous exports and for good reason. With just a few ingredients and a little know-how, it's a luxurious dish you can get on the table in less than 15 minutes.
Carbonara is, however, often seen as a daunting dish to make. How do you stop carbonara from curdling into a scrambled eggy mess? How do you get that velvety, glossy sauce? Should carbonara have cream? (Short answer: no). "There's much debate about the perfect carbonara", says Jamie Oliver in his cookbook, Jamie Cooks Italy, "but sourcing guanciale, going heavy on the pepper and cracking it fresh, as well as controlling the temperature of your pan, are what's key to this fantastic, comforting pasta". 
Here are five tips to perfect your carbonara:
1. With just egg, cured pork, hard cheese, plenty of black pepper and pasta, carbonara is only as good as the quality of your ingredients. Look for the highest quality versions of each of these ingredients you can afford and go heavy on the black pepper, making sure it's freshly ground rather than the powdered, pre-ground variety you can buy.
2. Pancetta or guanciale? Both Jamie and Nigella recommend using the fattier and more flavourful guanciale – cured pig's jowl – as the more traditional alternative to pancetta. If you can only get hold of pancetta, it'll do the job perfectly well. Try to buy it in a whole piece and chop it into small chunks yourself, rather than buying it pre-chopped. Fry it in a pan with olive oil until nice and crisp.
3. Save your pasta water. Before draining your pasta, save a cupful of starchy water and keep it to one side. Pasta water is an emulsifying agent that binds oil and water into a silky smooth, glossy sauce.
4. Take it off the heat! The last thing you want is a curdled egg sauce so once you've added your pasta to the cooked pancetta or guanciale, remove the pan from the heat before adding the eggs. The residual heat from the pasta is what will help to set the eggs gently into a smooth, unscrambled sauce. Jamie recommends waiting two minutes to ensure the pan has sufficiently cooled before adding the eggs.
5. "The secret is to work quickly", says Felicity Cloake in her cookbook Perfect Too. As you add the egg mixture to the pasta, quickly and thoroughly turn the pasta so it's coated in the sauce. Add little splashes of the reserved pasta water as you go – this will make the sauce creamy (without a dash of cream in sight).
Try one of these classic carbonara recipes: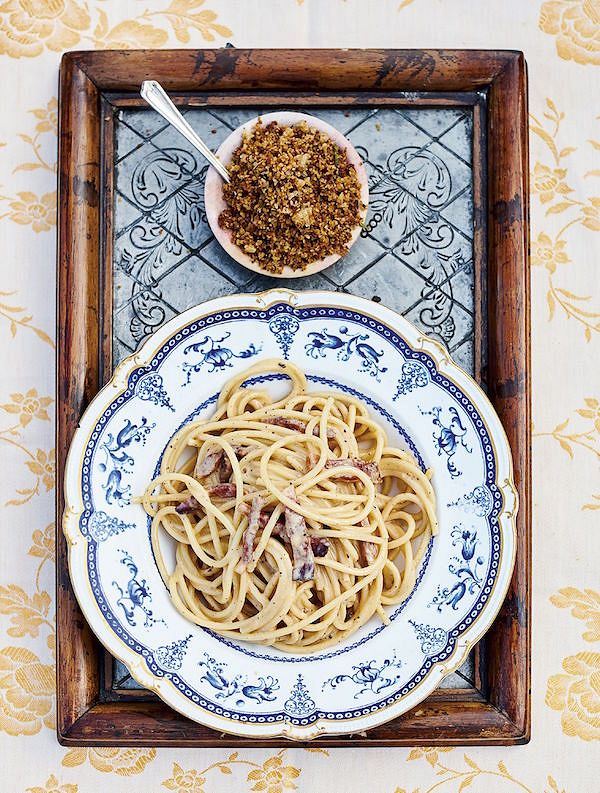 Jamie Oliver's Classic Carbonara with Crunchy Porcini Breadcrumbs from Jamie Cooks Italy  
This classic carbonara recipe has the added bolt-on of crunchy porcini breadcrumbs sprinkled on top for added texture.
Spaghetti Carbonara from How To Eat by Nigella Lawson
"This is my favourite – along with all my other favourites. I love the buttery, eggy creaminess of the sauce, saltily-spiked with hot-cubed pancetta: it's comforting, but not in a sofa-bound kind of way". Nigella's version adds a splash of dry white vermouth and fresh nutmeg.
Order a copy of How to Eat here.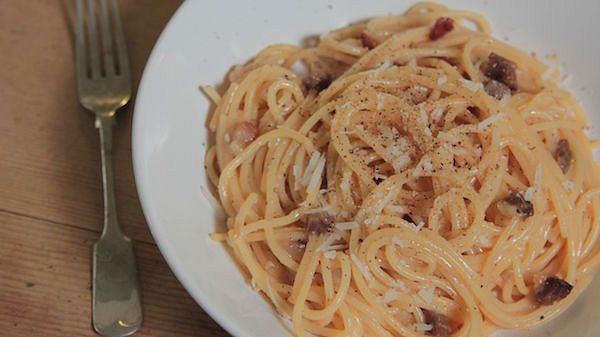 Perfect Spaghetti Carbonara from Perfect Too by Felicity Cloake
"Few dishes make me happier than spaghetti carbonara - rich with eggs, savoury with bacon, and festooned with salty cheese", says Felicity. This recipe uses a mixture of both Parmesan and pecorino romano cheeses – rather than solely the stronger flavoured Parmesan – which, according to Felicity, ensures a good balance of flavours in the sauce.