A reliable chicken stock recipe is a useful addition to your kitchen repertoire, especially if you want to make the most of that leftover Sunday roast carcass. A good homemade stock will provide a nourishing base to noodle broths, soups and stews, as well as risottos. To make stock, you'll need about 5 to 10 minutes of hands-on prep, before leaving it alone to simmer for several hours. 
The key to a good stock is in the quality of your ingredients; the carcass of a free-range, slow-reared chicken will undoubtedly taste better than a cheap, battery chicken and will be far healthier for you too. You can make chicken stock very simply using the leftover cooked carcass and bones from your Sunday roast, or you can use a raw carcass, sold cheaply at most butcher's. If you've got leftover chicken bones but you don't want to make stock straightaway, store them in the freezer in the meantime.
How to make chicken stock
To make stock, you'll need roughly the following ingredients, although you can be flexible here. You can also swap in a roughly chopped leek, some bashed garlic cloves, leftover herb stalks (parsley works well here) or vegetable peelings.
1 chicken carcass, bones and skin (raw or cooked)
1 onion (skin on), cut into quarters
1 celery stick, cut into chunks
1 carrot, cut into chunks
1 tsp black peppercorns
1 fresh bay leaf or a sprig of thyme
1. Place all the ingredients in a large saucepan with a pinch of salt and cover with water so everything is submerged.
2. Bring to the boil, then leave to simmer (don't boil) for around 3 hours, until it has a good depth of flavour. Check the stock from time to time and top up with more water, if needed. Use a spoon to remove any scum from the surface.
3. Once it's ready, remove the carcass and take out the vegetables and bones with a slotted spoon. Strain the stock through a fine sieve. 
4. Use immediately if you like, or store in the fridge for up to 4 days or freeze for up to 4 months. 
Put your homemade stock to the test and try one of these recipes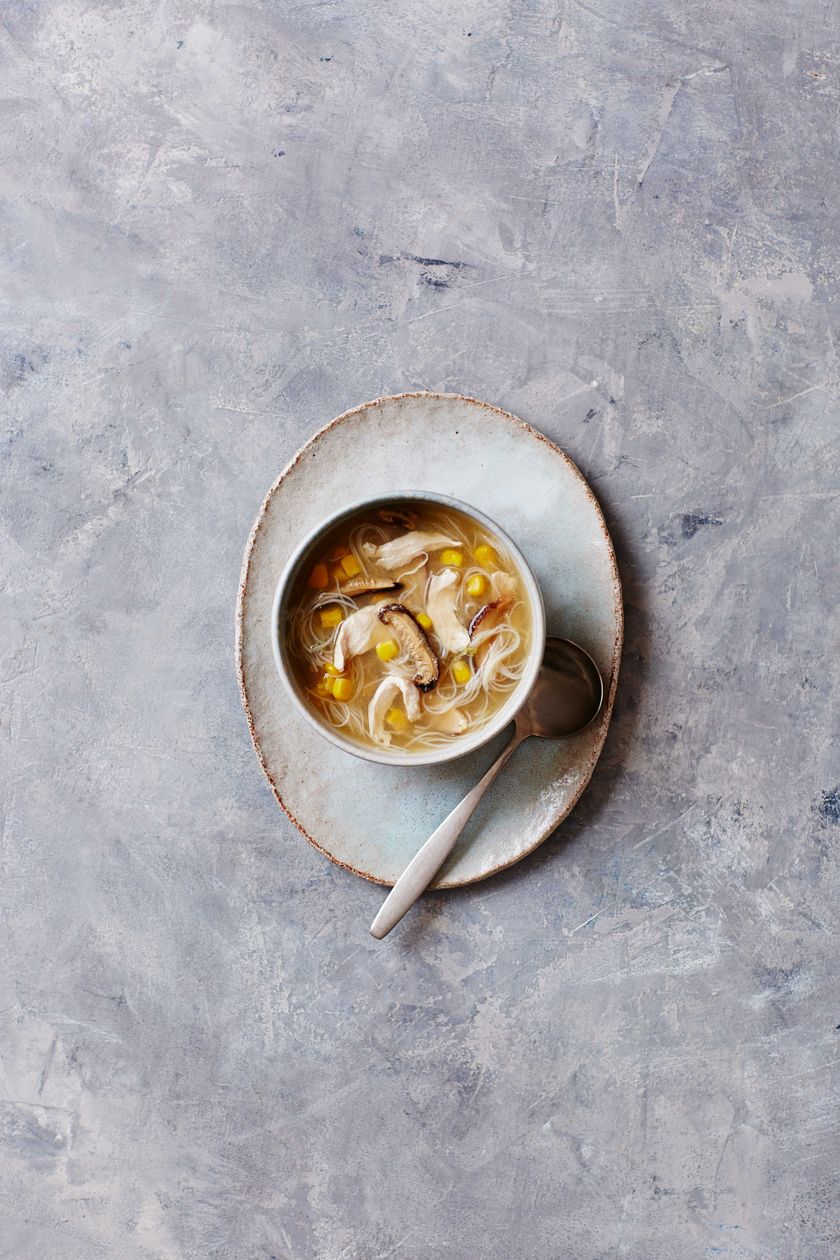 Shiitake Chicken Noodle Soup from The Soup Book by Sophie Grigson
Homemade chicken stock will take noodle broths and soups to another level. With its depth of flavour, you'll only need to add a few extra ingredients for a nourishing and satisfying bowlful. This chicken soup combines stock with the sweetness of sweetcorn and sustenance of vermicelli noodles to create a substantial soup.
Order a copy of The Soup Book here.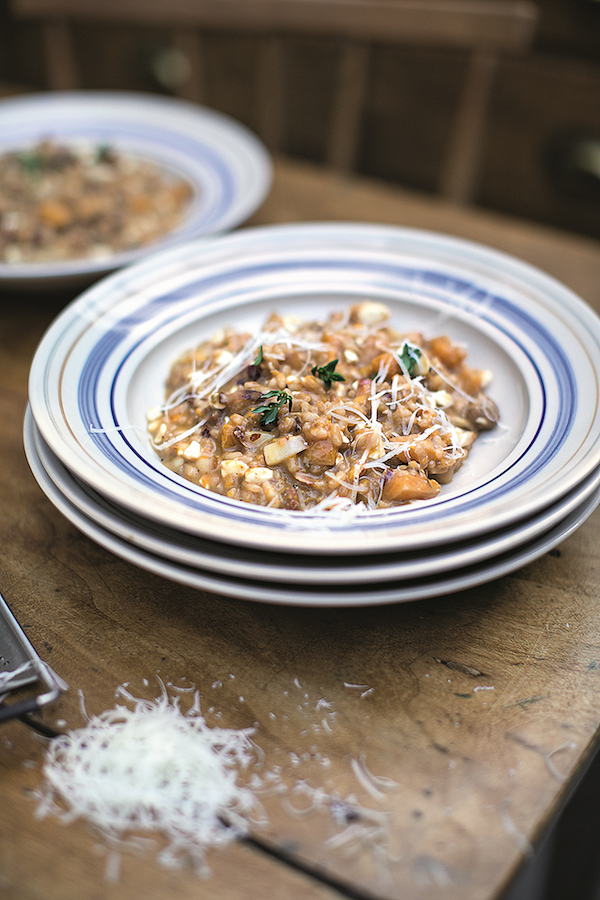 Squash & Sausage Risotto from Super Food Family Classics by Jamie Oliver
If you want to master the perfect risotto, quality stock really is key. Here Jamie Oliver pairs winter flavours of squash and radicchio with sausage and Parmesan in this family favourite. Alternatively, try this pared-back springtime risotto with broad beans and pancetta from River Cafe Cook Book Easy.
Order a copy of Super Food Family Classics here.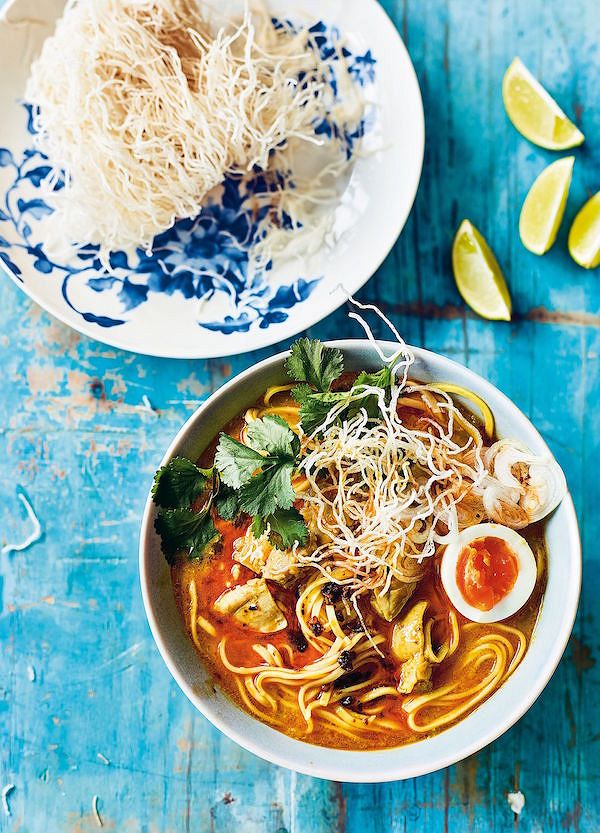 Coconut Chicken Noodles from The Rangoon Sisters: Recipes from our Burmese family kitchen by Amy & Emily Chung
"This is one of our favourite dishes; it is lightly spiced, comforting, rich with coconut and it certainly leaves an impression", say The Rangoon Sisters of this Burmese favourite. This is a great dish to make on the weekend with homemade chicken stock to really go the extra mile. Serve it up alongside all your toppings and let everyone pile their favourites into their bowls.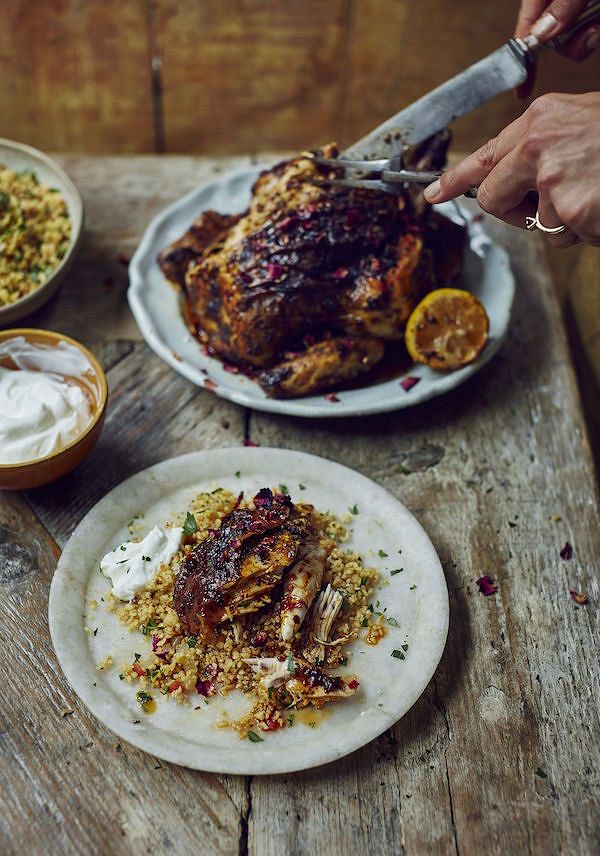 Roast Harissa Butter Chicken and Cracked Wheat from Stirring Slowly by Georgina Hayden
This alternative roast pairs harissa chicken with a side of cracked wheat, cooked with onion, tomatoes and chicken stock until fluffy and packed full of flavour. A great technique to cook any sort of grain, from rice to quinoa.
Order a copy of Stirring Slowly here.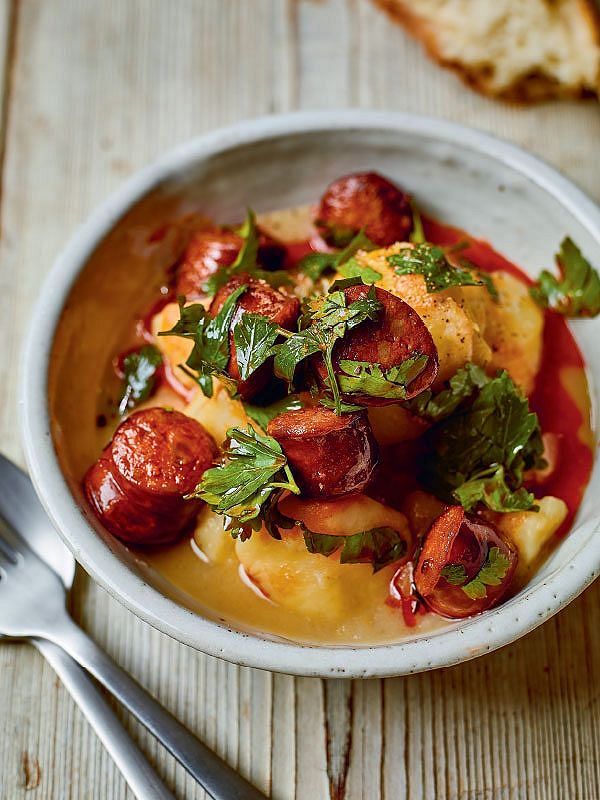 Potato & Chorizo Stew from Sabor: Flavours from a Spanish Kitchen by Nieves Barragán Mohacho
This wintry, comfort dish from Rioja in Spain is incredibly simple, combining chorizo, potatoes, chicken stock, white wine and parsley. "You can't get it wrong", says Nieves Barragán Mohacho. "In Spain, every mum makes this".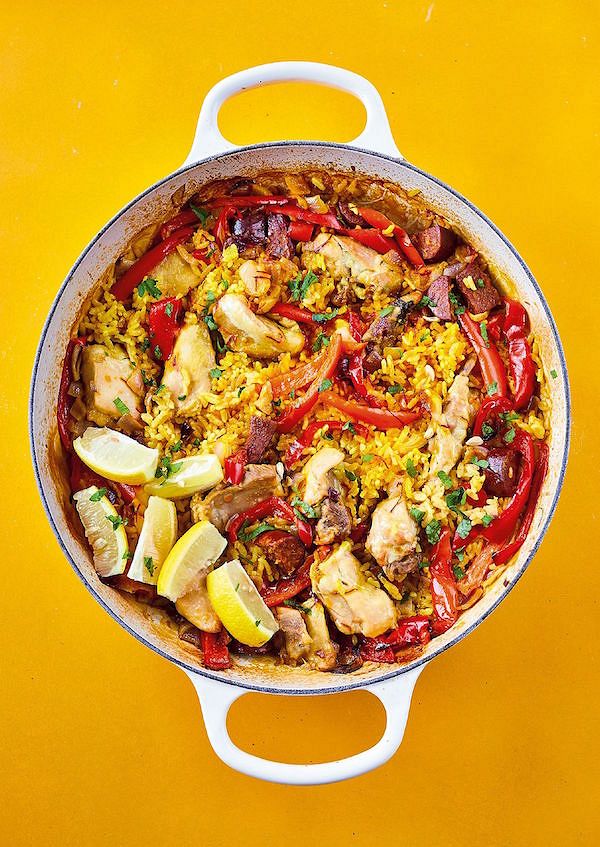 All-in-one Paella with Chicken, Peppers and Chorizo from The Roasting Tin Around The World by Rukmini Iyer
Inspired by oven-cook risottos, this traybake twist on paella pairs saffron rice, chorizo, chicken and garlic. Chuck everything into one tray, pour over the stock and let the oven do the rest!