If Jackfruit is not yet on your radar, we guarantee that from now on you'll be hearing lots more about it. This quirky and unusual fruit native to Asia is rapidly becoming a buzz word in the foodie world, particularly where vegan food is concerned. This is due in part to its increasing popularity as a substitute for pulled meat, as the fruit lends itself extremely well to braising and pulling to recreate a meat-like texture and is also brilliant at absorbing flavours such a barbecue sauce.
How to Cook and Prepare Jackfruit - Key Points:
Jackfruit is a versatile ingredient, suitable for use in sweet and savoury dishes.
Jackfruit is becoming increasingly popular as a vegan substitute for pulled meat.
Fresh and tinned jackfruit is now widely available in British supermarkets.
Young or unripe jackfruit is most suited to savoury dishes, including 'pulled' jackfruit recipes.
Ripe jackfruit is only suitable for use in sweet dishes.
Scroll down to find out more about how to cook with jackfruit and to see two of our favourite jackfruit recipes, including a delicious Barbecue Pulled Jackfruit Sandwich from the brilliant Vegan On The Go cookbook.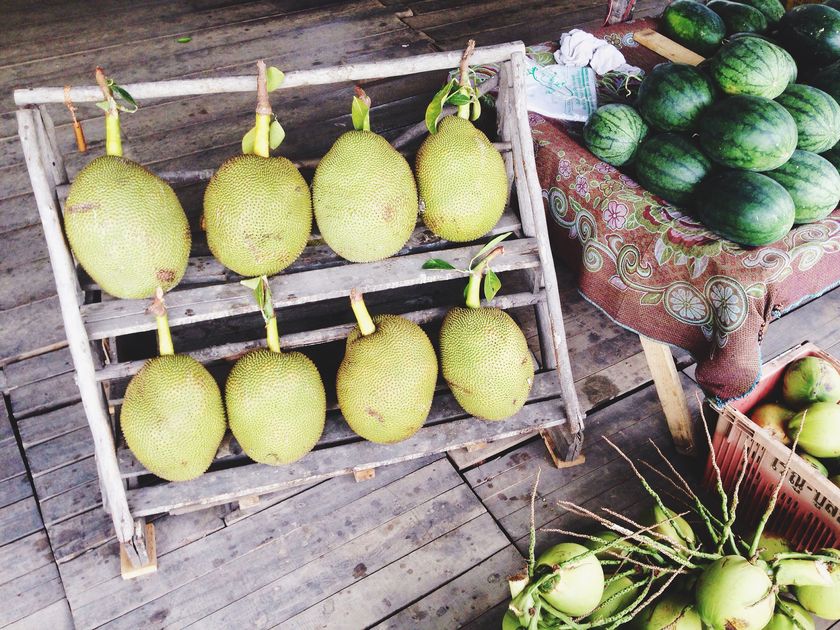 What is jackfruit?
Jackfruit is a tree-borne fruit native to India and Bangladesh and also found in Southeast Asia, Brazil and Africa. Depending on its ripeness, this versatile fruit can be used for both sweet and savoury dishes, with younger Jackfruit lending itself particularly well to meat imitation thanks to its stringy texture and more neutral flavour that works particularly well with meat sauces. The riper fruit acquires a pineapple-like taste and is perfect for desserts. While it has long been a staple ingredient in Southeast Asian cuisine and many other sub-tropical diets, Jackfruit is a relativiely new addition to the UK and is gaining popularity as a vegan-friendly meat substitute.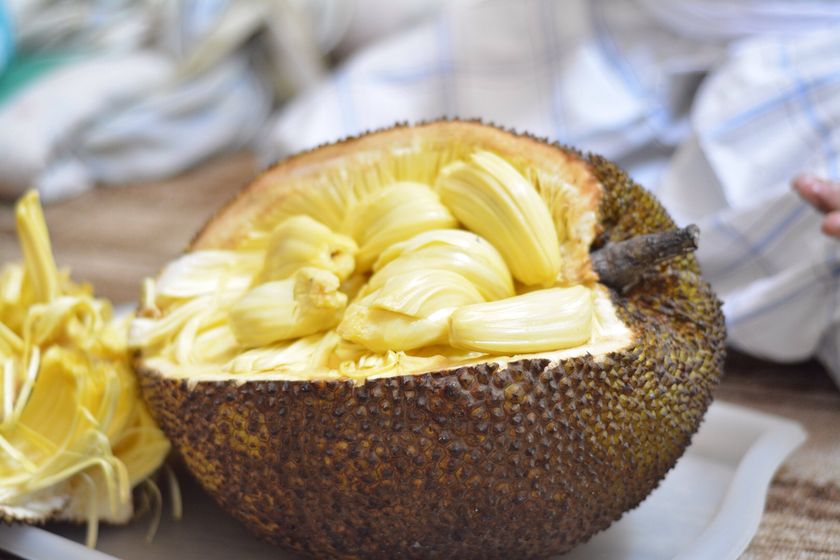 Where can you buy jackfruit in the UK?
Jackfruit is becoming increasingly accessible in the UK with the likes of Sainsbury's and Waitrose both stocking ready-made pulled jackfruit in barbecue sauce. It's also easier than ever before to get your hands on tinned jackfruit, which works perfectly with most recipes, with the likes of Biona and Essential Trading selling young jackfruit, canned in either brine or water, online. If you have a good local organic store or health food shop, there's a good chance you'll find tins of jackfruit stocked there and Asian supermarkets are another great place to look and may even sell fresh jackfruit too.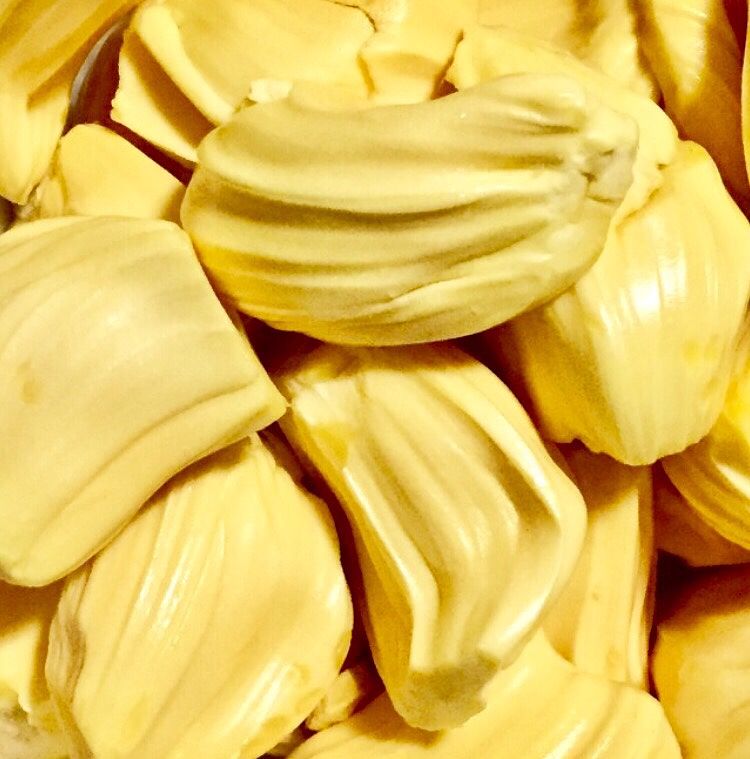 How do you prepare jackfruit for use in "pulled pork" recipes?
How you prepare jackfruit depends what state you buy it in. Ripe jackfruit is not best suited to savoury dishes, so if you buy fresh, look for young or unripe fruit. Jackfruit in this state can be harder to break apart and will be quite sticky. You will need to remove the skin and outer 0.5-1.5 cms of the jackfruit. Pull and cut the jackfruit to remove the stringy parts that are between the fruit - this is the part that you will use to make the pulled pork. Discard the rest or use it for something else.
Buying canned jackfruit is much easier and all you will need to do is drain and rinse the jackfruit, remove the core and cut the pieces in half, removing any seeds as you go and then your jackfruit is ready to be used as per the instructions of the recipe.
Here are two of our favourite jackfruit recipes to get you started on the wonder that is pulled jackfruit.
Barbecue Pulled Jackfruit Sandwich from Vegan on the Go
This recipe slow cooks jackfruit in a barbecue sauce and then piles it into a sandwich with spicy veggies.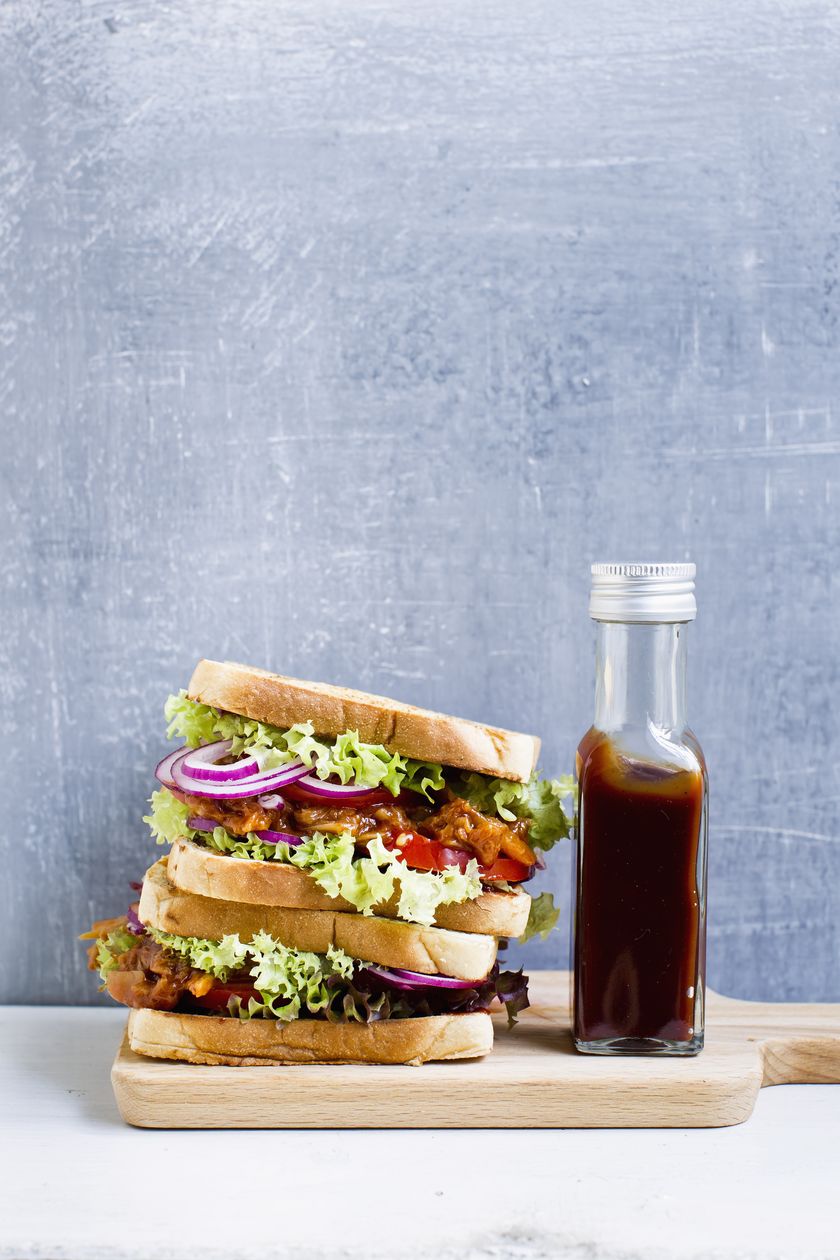 Fried Avocado with Jackfruit from Vegan Comfort Classics
Indulge your comfort food cravings with this entirely vegan and utterly delicious recipe for fried avocados stuffed with braised jackfruit. Taken from another of our favourite vegan cookbooks - Vegan Comfort Classics - this is a pleasingly satisfying vegan brunch or lunch dish.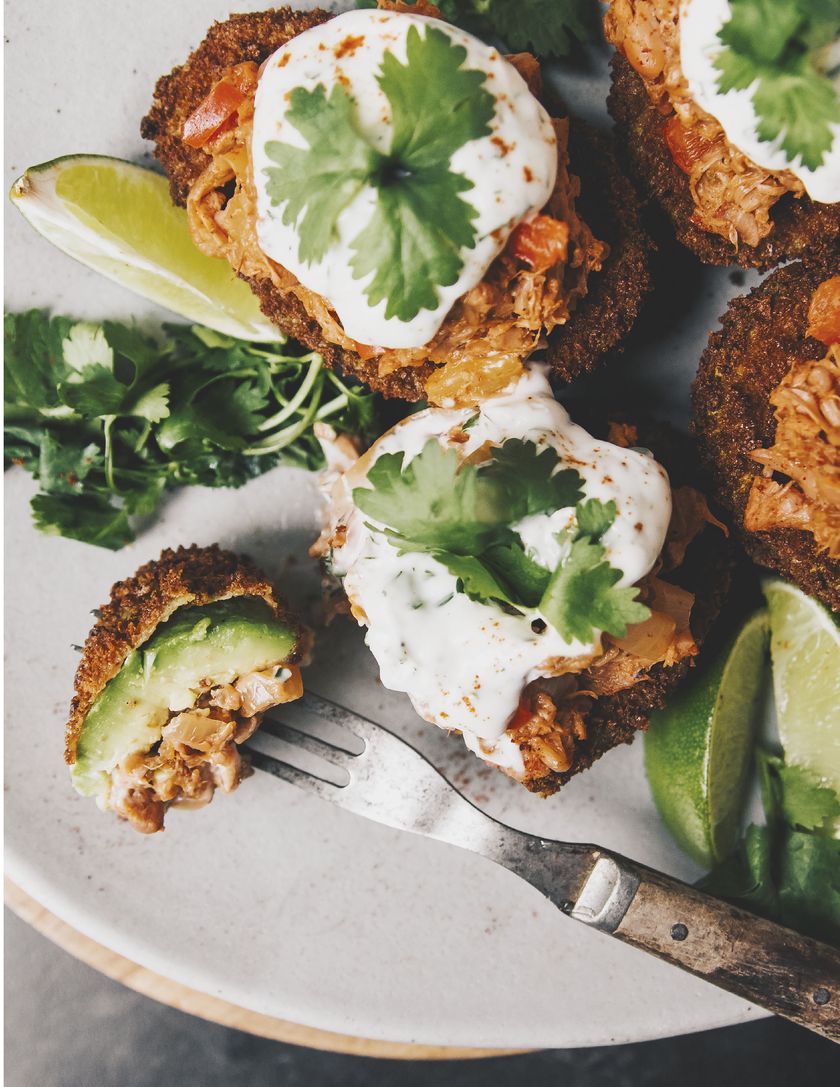 Have you been cooking with jackfruit already or feel inspired to try it out? We'd love to see your creations on Twitter, Facebook and Instagram @thehappyfoodie.