"Couscous has to be the best of all the 'instant' foods", says Mary Berry and we have to agree. Couscous is easy and quick to cook, and is a wonderful, filling carbohydrate to bulk out your summer salads. Try one of these couscous salad recipes and pack it up for a lunch al-desko or for dinner alongside grilled kebabs, chicken or fish. 
Green Couscous Salad from Mary Berry at Home by Mary Berry
A celebration of summer, this couscous salad recipe is packed with crunchy, green veg and plenty of herbs. Make it more of a main course by adding a crumbling of goat's or feta cheese. 
Mary Berry at Home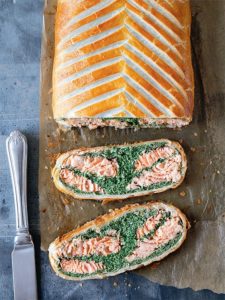 All the recipes from the TV series
Everyday cooking at its simplest
Mary's family favourites
Cherry, Olive, Braised Red Onion and Couscous Salad from The Modern Pantry by Anna Hansen 
Sour cherries and Kalamata olives are met with braised red onion and Tymsboro goats' cheese in this vibrant couscous salad. 
Get your copy of The Modern Pantry here. 
Couscous Salad from Eat Well for Less: Family Feasts on a Budget by Jo Scarratt-Jones
Studded with roasted red peppers and chickpeas, and enlivened with harissa and plenty of fresh herbs, this is an easy way to turn couscous into a dish that's full of flavour. Top tip? "Always add your spice flavourings to the dry couscous before adding the stock as this will help to soften the flavour". 
Order your copy of Eat Well for Less: Family Feasts on a Budget here. 
Roast Harissa Salmon With Lemony Giant Couscous from The Great British Bake Off: Winter Kitchen by Lizzie Kamenetzky
Giant couscous is different to the smaller semolina grains of couscous you might be used to, and needs to be cooked in boiling water as you would cook pasta. Nevertheless, we couldn't resist including it here, paired with a lemony dressing, harissa and flakes of buttery salmon. 
Order your copy of The Great British Bake Off: Winter Kitchen.
Couscous salad with Charred Veg, Feta and Mint from Super Food Family Classics by Jamie Oliver
With four portions of veg per serving, chopped and charred and thrown together with nuts, fresh mint, feta and couscous, this is a perfect family meal for a warm summer night.