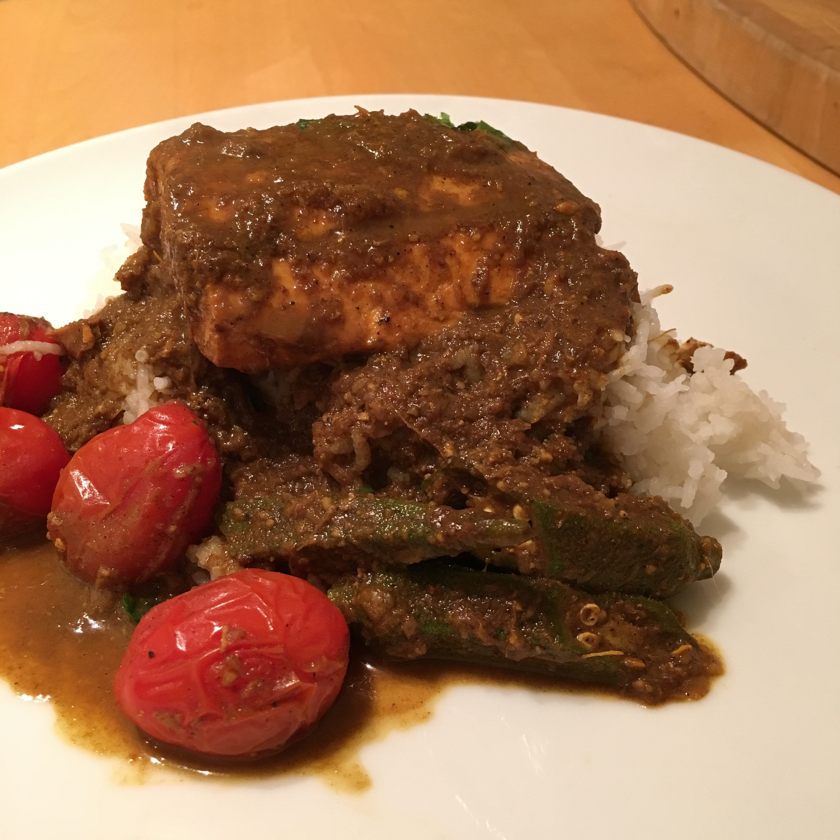 Who: Zainab Juma, Email Marketing Manager
What I made: Traditional Fish Curry from Norman Musa's Amazing Malaysian
What I thought: I always go into autopilot when making a curry, and my flavour profiles can stay quite resolutely north Indian, so it was nice to try out something a little different. This recipe is all in the prep. With the help of something mechanical whizzing together the curry paste, I had a fragrant concoction of garlic, ginger, shallots and spices going in a few minutes. The actual cooking time of the curry is a mere 10 minutes, so if you get a decent batch of the curry paste done at the weekend, you could have this on the table pretty rapidly after a long day at work.
The curry was fantastic: fresh vegetables, deep spicing with a zingy tamarind undertone, and lovely chunky salmon steaks. Will definitely make this again, although the salmon was in the sauce a little too long. Next time I'll add it a few minutes before serving and give the vegetables a little more time. This was precisely the dinner I needed as the wind howled outside.
You can find this recipe in Norman Musa's Amazing Malaysian, available to order now.
Want more Amazing Malaysian recipes? Try this Prawn Curry Laksa or these Chicken Satay Skewers.