Life for The Happy Foodie team has been much sweeter since Yotam Ottolenghi and Helen Goh's sugar bible, SWEET, came into our world. It wasn't difficult to find eager volunteers to try out the myriad fantastic recipes in this book, from showstopping cheesecakes and perfectly-formed bundts to lollipops and ice cream, but we wanted to make sure we had a good mix of confident confectioners and nervy bakers to give the book a true roadtest and prove that SWEET is full of heavenly recipes that are truly achievable for everyone. Find out how we got on…
Who: Zainab Juma, Creative Manager, Penguin
What I made: Honey, Macadamia and Coconut Caramels
What I thought: This seemed like a great recipe to try out before the inevitable onset of Christmas and the need to make edible gifts. Also, caramel is heaven. This is a great recipe. It's quick, and easy. You need a little vigilance while the sugar gets to temperature, but while you're waiting your entire kitchen takes on a glorious aroma. I went from pile of ingredients to a river of golden sugar in under half an hour. The final set caramel was pliable, but still had a good bite. The balance of salt to sweet is perfect and I'll be making these again for sure. As they were so simple I may even get a little fancy next time and throw in a herb or spice…
Who: Lottie Huckle, Marketing Manager, Ebury
What I made: Gingerbread with Brandy Apples and Crème Fraîche
What I thought: Thank you Yotam Ottolenghi and Helen Goh for teaching me how to properly spice gingerbread. Normally I'm a bit fast and loose with baking ingredients, chucking in a little bit of this and a little bit of that, but for this recipe, a beautiful cake from a stunning cookbook, I decided to follow the instructions and measure my ingredients properly. And oh – what a result! A deliciously moist gingerbread that sung with the well–balanced flavours of ginger, cinnamon and a hint of orange. Spiked with chopped stem ginger, I was thrilled with, well… just how gingery this cake was! Truly mouth-watering.
Another reason to love this recipe if you're a haphazard baker like me – it's a breeze! The bundt tin I served mine in did most of the hard work presentation wise and preparation was a doddle too. I made the gingerbread a day before serving and the apples on the morning of serving, both kept beautifully and reheated well. Helen and Yotam are absolutely right, crème fraîche is the perfect, refreshing accompaniment but there would be absolutely no shame in drowning a warmed slice of this gingerbread in custard, either.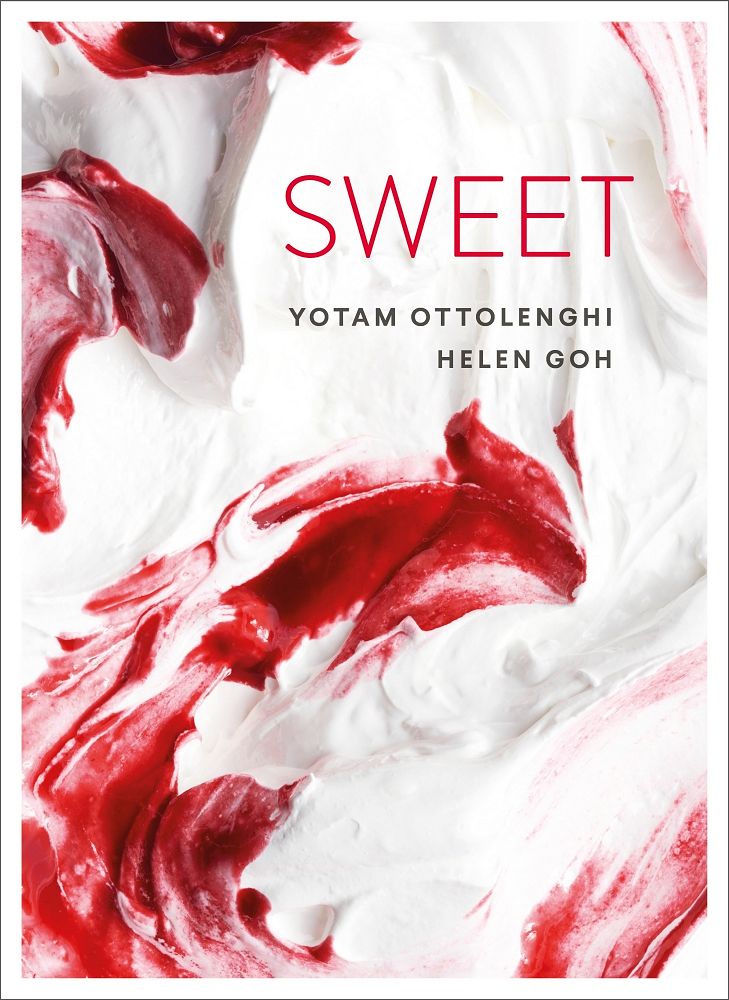 Sweet
Ottolenghi's cakes, bakes and desserts
Inspiring ideas for edible gifts
Dinner party and occasion showstoppers
Who: Sarah Garnham, Ebury Publicity Assistant
What I made: Coconut, Almond and Blueberry Cake
What I thought: I've made a very similar vegan version of this recipe and so was pleasantly surprised that despite it being an Ottolenghi recipe, it was still fairly simple. The ingredients were easy to find too, nothing too adventurous so I would definitely try this again.
As you might be able to tell, it caught a bit on the top of the cake although inside it was still lovely, moist and pale. It browned really quickly so if making it again I would definitely cover it with tin foil and cook on a lower temperature than recommended. As it was, mine still had to have an extra half an hour in the oven due to all the moisture from the blueberries and large number of eggs.
Overall it tasted great though. There's two lemons worth of zest in there so it wasn't too sweet and I would definitely make it again. It was really light and would make an excellent pudding too.
Who: Caroline Butler, Senior Marketing Manager, Ebury
What I made: Saffron, Orange and Honey Madeleines
What I thought: I always think Madeleines are one of those things – how people approach them says a lot about their style of cooking. It's also such a classic bake that everyone has their own slight twist on the preparation and the orange flavour. I was not disappointed. Adding saffron and then the pistachios at the end was a delicious twist. Also, and this is crucial for me, they were just so easy to make. You can whip up the batter really quickly and pop in the oven for just 10 minutes of baking. I also loved that the honey just went into the microwave for a few seconds so finishing them off was super easy. I love pistachios as well – such a nice way to balance the sweetness.
Who: Julia Pal, Senior Marketing Manager, The Happy Foodie
What I made: Chocolate, Banana and Pecan Cookies
What I thought: I have to fess up at the start of this. I hate baking. I get stressed by the necessary precision, and frustrated by my inability to create bakes that look like the beauties we all see in our favourite cookbooks. So, as a very reluctant baker, I approached this Cook From The Book challenge with some trepidation. Fruit cakes are my absolute favourite tea-time treat, so I had planned to make the Apple and Olive Oil Cake or the Apricot and Almond Cake but, flicking through the book, I came across the recipe for Chocolate, Banana and Pecan Cookies and decided immediately that I needed to give them a whirl. They couldn't have been easier to make, really. I had my 9-year-old in the kitchen helping me and we both found Yotam and Helen's instructions clear and reassuringly relaxed. I don't have a proper electric mixer but that didn't make any difference. My small hand-held mixer worked perfectly well for this recipe (even mixing by hand would have been fine). We both loved the tactile nature of the recipe – you have to get your hands into the cookie dough at various stages, which is great fun and provides plenty of opportunity for surreptitious finger licking. One word of warning: this is not a quick bake. The dough requires chilling, twice, before it can go in the oven so it's not a bake you can throw together at the last minute. However, these cookies are very much worth the wait. The flavours are FABULOUS. The big surprise for me was the banana. I had thought that the flavour might be too subtle but it came through really strongly, complementing the chocolate and pecans perfectly. The recipe instructs that these cookies are best eaten within a day or two of baking so they retain their gooey texture. We'll have no problem at all with that rule – they are disappearing fast! I'll definitely make them again, and am now ready to turn my attention back to those fruit cakes. Perhaps there is a baker in me yet.
Who: Stephenie Naulls, Senior Marketing Executive, Ebury
What I made: Lemon and Raspberry Cupcakes
What I thought: I made the lemon and raspberry cupcakes because to me this is the ULTIMATE cupcake combination. I did cheat though and buy the lemon curd – but Yotam and Helen say this cheat is allowed, promise. I found this recipe super easy (and I cannot bake). It felt really luxurious for such a simple bake. They were so tasty and went down a real treat at work! My advice- get bigger cupcake cases as I used the normal sized ones and ended up with GIANT cakes that overflowed a little.
Who: Jessica Lockyer-Palmer, Marketing Executive, The Happy Foodie
What I made: Lemon, Blueberry and Almond Teacakes
What I thought: I love any bake involving almond and these teacakes looked so pleasing in the book that I couldn't resist. The recipe uses a very basic selection of ingredients, most of which you will already have in your baking cupboard, and also uses a standard muffin tin without cases so that you get nice clean edges. I found the recipe very easy to follow, with no overly technical steps and very clear instructions to guide you through. I particularly enjoyed the part where you submerge the blueberries into each muffin mould to ensure that every cake has the same number in each- very satisfying! 
I think mine could have done with a little less time in the oven as they are slightly darker around the edges than I would have liked (I have an over-zealous oven and should have known better) but they remained incredibly moist inside thanks to the almond and the lemon and the sporadic bursts of blueberries were also really pleasing. Plus, once I'd put that beautiful white icing on top, you couldn't really see the slightly over browned cakes beneath anyway so, if I hadn't just revealed all here, nobody would have known!
You can find out more about SWEET and discover all sorts of recipes from the book that will satisfy your sugar cravings by clicking here.