In Jamie Cooks Italy, the one and only Jamie Oliver revisits a lifelong passion for the food of Italy, with a collection of authentic recipes gathered over two years of travelling across the country meeting the inspirational nonnas that are still cooking according to traditional methods today. In its pages you will find easy-to-follow instructions for all of the classics, alongside some lesser-known and truly delicious new dishes to discover.
Jamie Cooks Italy
Classic Italian favourites
All the enticing recipes from the TV series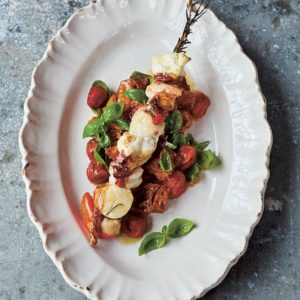 Mouth-watering authentic Italian dishes to discover
There are few things The Happy Foodie team gets more excited about than a new Jamie cookbook, and being the intrepid foodies that we are, we couldn't wait to get stuck in to the recipes in Jamie Cooks Italy. Here's how we got on…
Who: Claire Davis, Marketing Manager, Page Turners
What I made: Pistachio Pasta
What I thought: Amazingly quick and simple to make, this is the ideal meal for any weeknight, or indeed if you're in need of some healthy but delicious carbs after a gym session or workout. It took just 20 minutes to prep, chopping the tomatoes and herbs, grinding the pistachios in the pestle and mortar, and tossing the fresh pasta with some olive oil and a sprinkle of pepper before mixing it all together.
The tangy cheese, blast of garlic and crunchy pistachio all add up to a perfectly comforting and flavoursome combination. It felt like quite a light and summery dish, too, perfect to eat al fresco when the sun is shining. It's certainly been added to my list of regular vegetarian meals!
Who: Julia Pal, Senior Digital Marketing Manager, The Happy Foodie
What I made: Chicken Skewers Wrapped in Prosciutto with Salsa Verde Stuffing, Potatoes and Tomatoes
What I thought: Flicking through Jamie Cooks Italy, I was struck immediately by the importance placed on the traditions of family home cooking. The book is full of the kind of recipes handed down through generations, with a host of Italian nonnas offering their best-loved recipes for inclusion in the book alongside Jamie's. The result is a collection of dishes that are perfectly suited to family life, and this recipe for Chicken Skewers is typical of the book's ethos. It's warm, generous comfort food, with incredible depth of flavour. Making the stuffed chicken thighs is great fun. My youngest daughter joined me in the kitchen to help me make them, wrapping each one gently in a slice of Parma ham. After just 45 minutes in the oven, the dish was ready to devour. Cooking the skewers over the top of the potato and tomato mix is a stroke of genius. We all agreed that the potatoes were the tastiest we'd ever eaten, and make the ideal accompaniment to the tender chicken. I'll definitely make this recipe again. It's easy enough to pull together on a weeknight, but special enough to serve as a main course for dinner party guests. Grazie, Jamie!
Who: Jessica Lockyer-Palmer, Marketing Executive, The Happy Foodie
What I made: Smashed Smoky Aubergine. Baby Courgette Salad.
What I thought: I am always drawn to the small plate dishes in any cookbook, so I have fallen pretty deeply in love with the antipasti and salad section of Jamie Cooks Italy. On one summer evening (when the temperature felt a bit like we were in Italy), I set about making the smoky aubergine toasts and baby courgette salad, which felt like the perfect light meal for warmer temperatures.
For the aubergine, Jamie recommends using the open flame on your hob if you don't have access to a barbecue, and it worked a treat. The aubergines were evenly charred on the outside and the inner flesh was soft, oozing and packed with smoky flavour. Once I had added the Pecorino, broad beans, honey and oil, I had a very hard time stopping myself from eating the whole lot while I was getting on with the courgettes! I would highly recommend this dish as something to give to dinner party guests when they arrive – it will definitely impress.
The courgettes were equally easy to make with no cooking required. You simply slice them and then toss them in the dressing and leave it all to infuse while you get on with the rest of the dish. The courgettes are served on a bed of ricotta whipped with Pecorino, which adds a creminess to the dish, while the topping of homemade tapenade adds a punch of salty flavour, and all the elements together combine for a truly delicious dish that feels really summery.
There is so much more I will be cooking from this gorgeous book and this has been a pretty good start!
Who: Celia Long, Rights Manager, Penguin
What I made: Amazing Sweet Peppers, and Cacio e Pepe
What I thought:
The peppers were lovely – I'll definitely make them again. I cooked them long and low with the garlic until they caramelised, and I also added a pinch of sugar at the end to balance out the lemon juice and capers. Burrata is a pretty elusive ingredient to track down in Camberwell so I substituted it with mozzarella, drizzled with some good extra virgin olive oil. We also loved the cacio e pepe spaghetti: the black peppercorns gave the dish a spicy kick, and the cheese was nutty and creamy. I found Jamie's instruction to toss it all together "without using tongs or a wooden spoon" a bit nerve-wracking (I definitely don't have his pan skills and I didn't want to throw it all over the floor) so I slightly cheated and used tongs (but I'm pretty sure no-one noticed). Next up I'm going to try the grilled squid salad (I might have to head to Dulwich to get the shopping though).
Who: Beth Cockeram, Marketing Executive, Michael Joseph
What I made: Pear and Hazelnut Tart
What I thought: I have never made pastry before. Why I decided to attempt a tart I have no idea, but the moment I spotted this recipe I was in love. Luckily, Jamie came through for all the pastry novices out there – quick and easy to make, it still tasted delicious regardless of me preferring to err on the 'overbaked' side of caution. The same can be said of the filling – also a dream to make (especially considering it was reaching 40 degrees in my kitchen) and prompted the most enthusiastic text from my flatmate which basically just featured 'frangipane' and 'bloody delicious' about ten times.
Sweet, zesty and overall moist, this is a delicious, satisfying and surprisingly easy (if a little time consuming) tart to make that packs a punch with every mouthful. We ate it hot, we ate it cold, we ate it all within two days and were still hungry for more.