For The Happy Foodie team, the true marker of a favourite cookbook is its quantity of splodged and splattered pages, so it's no surprise that there's barely a pristine page left in any of our cherished copies of Falastin. A homage to Palestinian cuisine from core Ottolenghi team members, Sami Tamimi and Tara Wigley, this beautifully-presented cookbook is brimming with tempting and authentic recipes. Any fans of Ottolenghi cookbooks, which both Sami and Tara have been co-writers of many of, will recognise the trademark precision, reliability and fantastic flavour guaranteed with each recipe - a promise that is completely irresistible to all of us at Happy Foodie HQ. We've found ourselves reaching for our copies to inspire us on all occasions (hence the extensive splattering), from weeknights when only something quick and easy will do, to weekends when we have more time to dedicate to a full on Falastin feast, and every time without fail we have loved the results. Here are some of the recipes we've been making...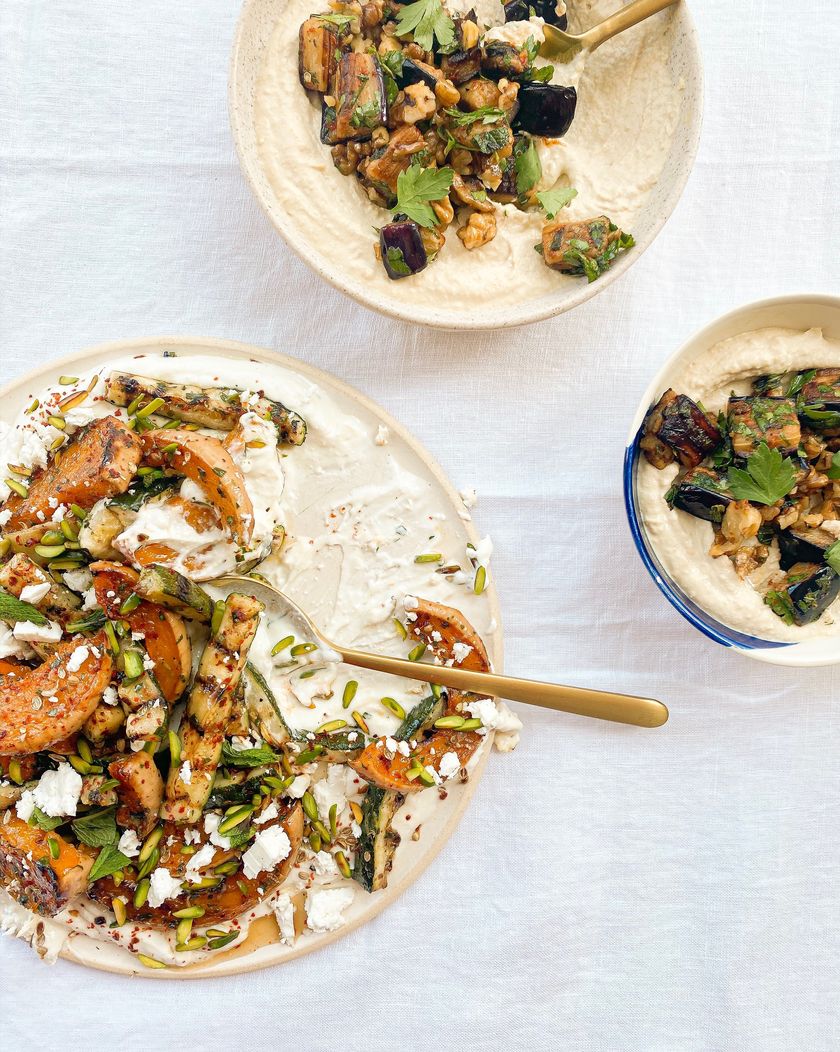 Who: Jessica Lockyer-Palmer, Marketing Manager, The Happy Foodie
What I made: Roasted Squash and Courgettes with Whipped Feta and Pistachios, and Hummus with Aubergines
What I thought: PSA: do believe the hype - it really is worth making your own hummus, especially if the silky smooth Middle Eastern variety is your chickpea consistency of choice. I don't know how I've got this far being equally obsessed with hummus and everything that comes out of an Ottolenghi test kitchen without heeding their consistent advice that the best hummus comes from soaking your chickpeas overnight, but when I saw this recipe in Falastin I knew the time had come. Luscious, creamy and without a chickpea chunk in sight, there's no going back to shop-bought. It's wonderful as it is (I guarantee you'll find yourself spooning it straight out of the fridge), but the recipe includes two different toppings to choose from and I fully recommend not skipping them. The combination of fried aubergine and walnuts tossed in herbs and Aleppo chilli flakes that I opted for was an utter delight and brought added intrigue and texture.
And now for the roasted veg with whipped feta. This dish is about as tempting as a plate of food gets for my tastes. From the starchy veg with all the flavour a good charring will bring, to the cloud-like bed of tangy whipped feta yoghurt and sweet, aniseedy dressing, it's layered, complex and the kind of dish that I will daydream about on repeat until I make it again.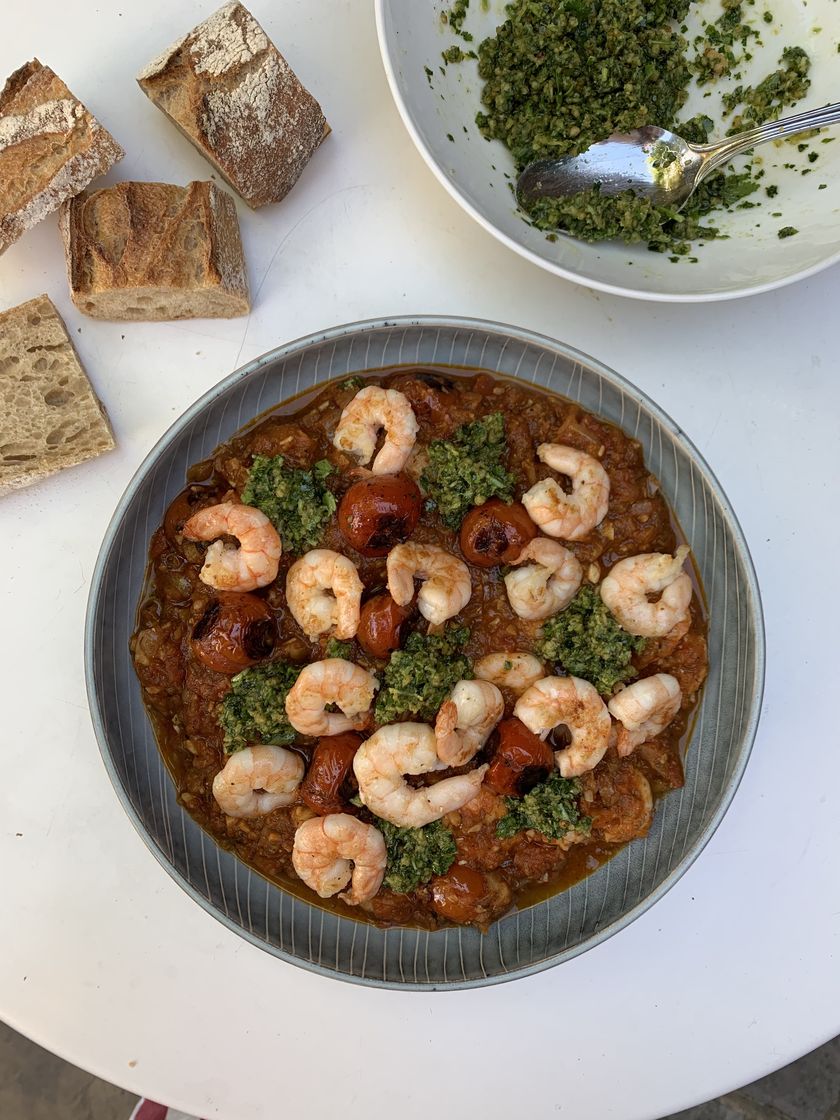 Who: Julia Pal, Head of Audience Development
What I made: Prawn and Tomato Stew with Coriander Sauce
What I thought:  The intensity of flavour in this dish is incredible. The tomato stew, with its delicate spicing, has a deeply savoury, umami richness. Layered on top are lip-smackingly salty prawns, and then the sweet tang of chargrilled tomatoes and the lemony coriander pesto. Wow. I'll be making that pesto all the time to serve on plain white fish or grilled chicken. And the stew will definitely feature in my regular repertoire from now on. Next time I'll make double the quantity of stew, as Sami and Tara suggest, and freeze it to whip out for a speedy treat on a weeknight. Ideally I'll be eating it out in the garden with a cold glass of white wine. Summer bliss.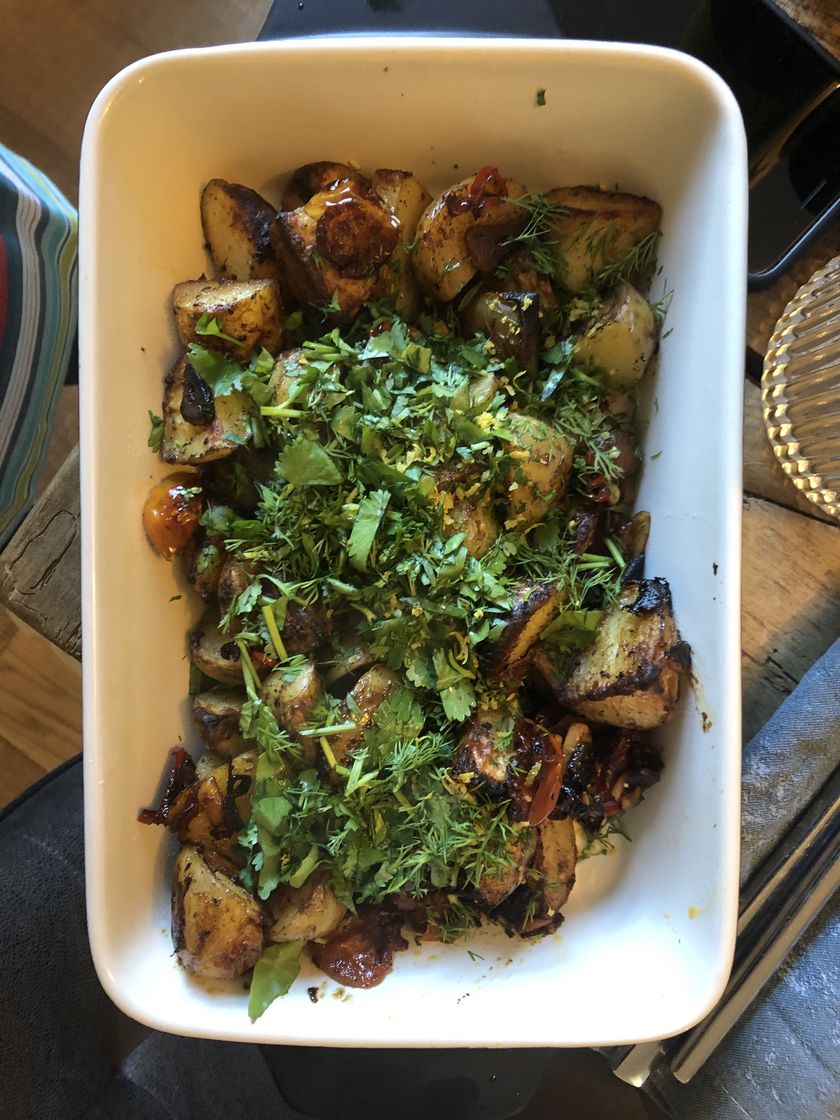 Who: Stephenie Naulls, Head of Campaigns
What I made: Spicy Roasted New Potatoes with Lemon and Herbs
What I thought: It was hard to narrow down one single recipe to talk about for this as I've been steadily working my way through the entire book. We've been making Falastin Feasts for two and having leftovers for days afterwards – bliss! However my hero recipe and the one I'd like to champion are these spicy potatoes. They are so delicious – never have I ever experienced flavour like this on a potato before. If you are afraid of garlic this might not be for you, there's 7 cloves in total. But the more garlic the merrier I say. I don't have a pestle and mortar to crush the seeds required so I just used ground spices instead! In my opinion these potatoes should be the star of the show at any roast dinner, summer bbq, and if prepared in advanced could be whacked in the oven on a weeknight to have with a bit of salmon. (There's also a recipe for salmon skewers with a divine parsley sauce in the book if you want the perfect accompanying recipe).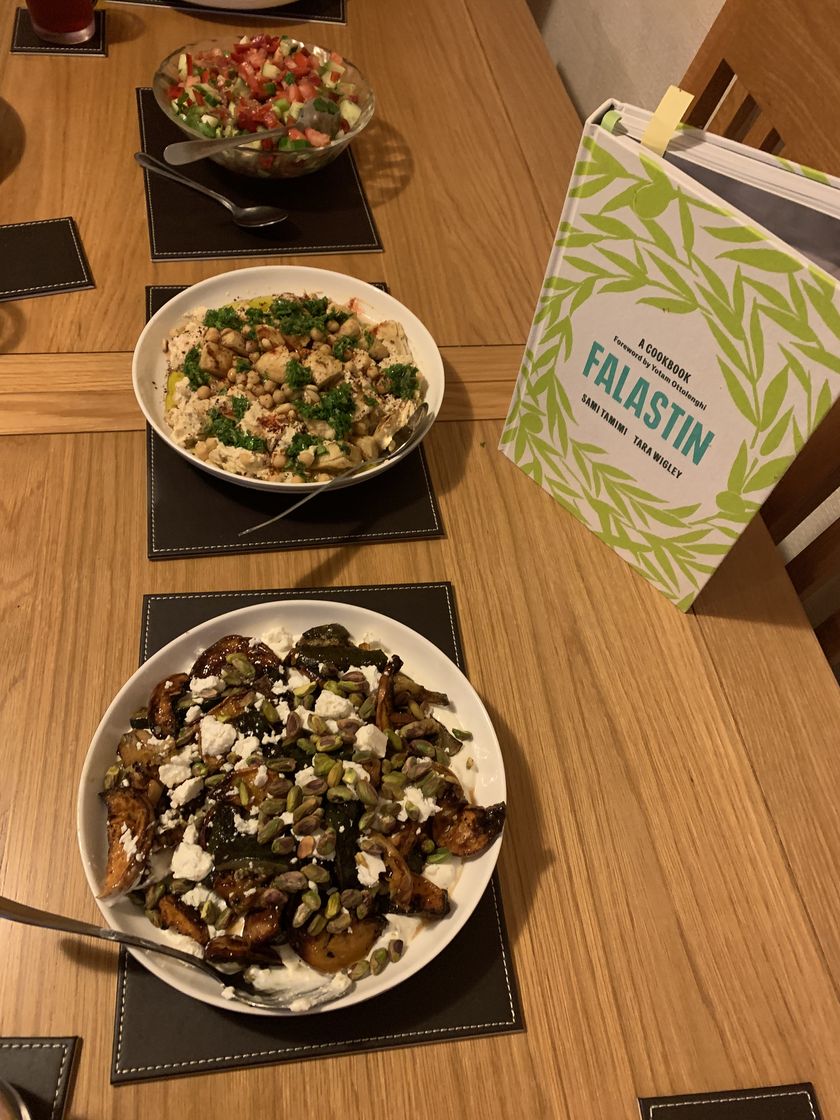 Who: Alice King, Publicity Officer
What I made: Warm Hummus with Toasted Bread and Pine Nuts
What I thought: I have always wanted to try and make hummus but have been put off by the complicated recipes and the fear that it would go very badly wrong. I used tinned chickpeas, rather than dry, and it was so simple and delicious. The whole process took around half an hour, and was really easy to follow. I loved the addition of the crunchy pitta bread and pine nuts to jazz it up, and the parsley oil is the perfect topping. I halved the recipe and it still made enough for three days of lunches this week. For a big Sunday night feast I made the Chopped Salad and the Roasted Squash and Courgettes with Whipped Feta and Pistachios to accompany it which all went down a treat (and will hopefully secure my victory in family Come Dine With Me).
Who: Celia Palazzo, Editor, Ebury
What I made: Scrambled Red Shakshuka
What I thought: I was lucky enough to be at the Ottolenghi test kitchen the day this recipe was shot and was sent home with all the leftovers (yes I do have the best job in the world, thanks for asking) and I've been addicted ever since. I make it about once a week, sometimes for brunch, sometimes for dinner and the leftovers the next day are always a delicious treat. I love that the eggs are just gently scrambled in and there's no faffing around with having to put it under the grill, and the tip about just using harissa instead of shatta is very handy if you're stretched for time (though do try making your own shatta – it is the bomb).