From the 'meaty' Portobello to the flavour-packed porcini to the woody oyster mushroom, Ottolenghi makes a hero of funghi in these meat-free recipes. Mushrooms are not only useful for adding texture and earthy depth to a meatless ragù or an autumnal stew, they're brilliant at absorbing the stronger flavours they're paired with. Think: garlicky truffle mushrooms piled onto oozy polenta or spicy, soy mushrooms squashed into a tortilla.
Mushrooms come into season in the autumn with a whole spectrum of flavours, textures and shapes to be explored. To help you get inspired by funghi this season, here are eight of the best from Ottolenghi – including a selection from his latest cookbook, Ottolenghi FLAVOUR.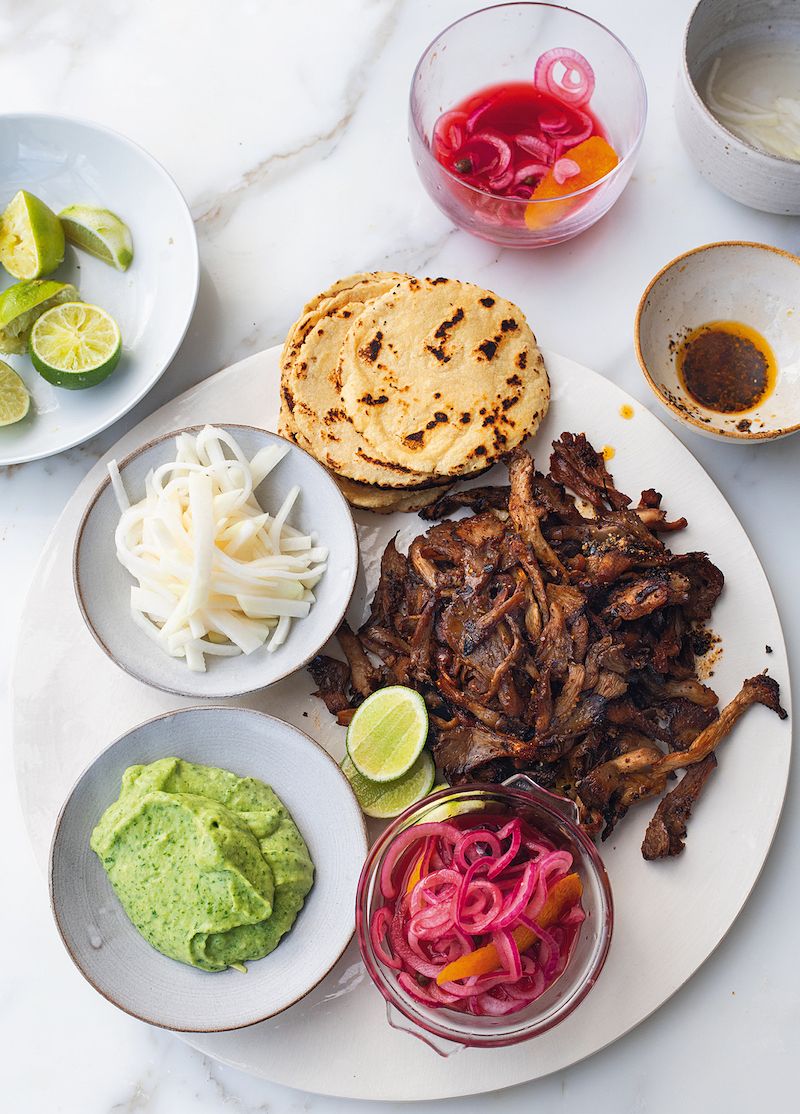 Oyster Mushroom Tacos With All The Trimmings from Ottolenghi FLAVOUR by Yotam Ottolenghi & Ixta Belfrage
These roasted oyster mushrooms are crispy, chewy and soft all at once, soaking up the sweet, spicy and umami-rich marinade like little sponges. Squashed into homemade corn tortillas with sharp pickles, coconut avocado crema and lime, this is the best sharing food there is.
Order your copy of Ottolenghi FLAVOUR to get this recipe.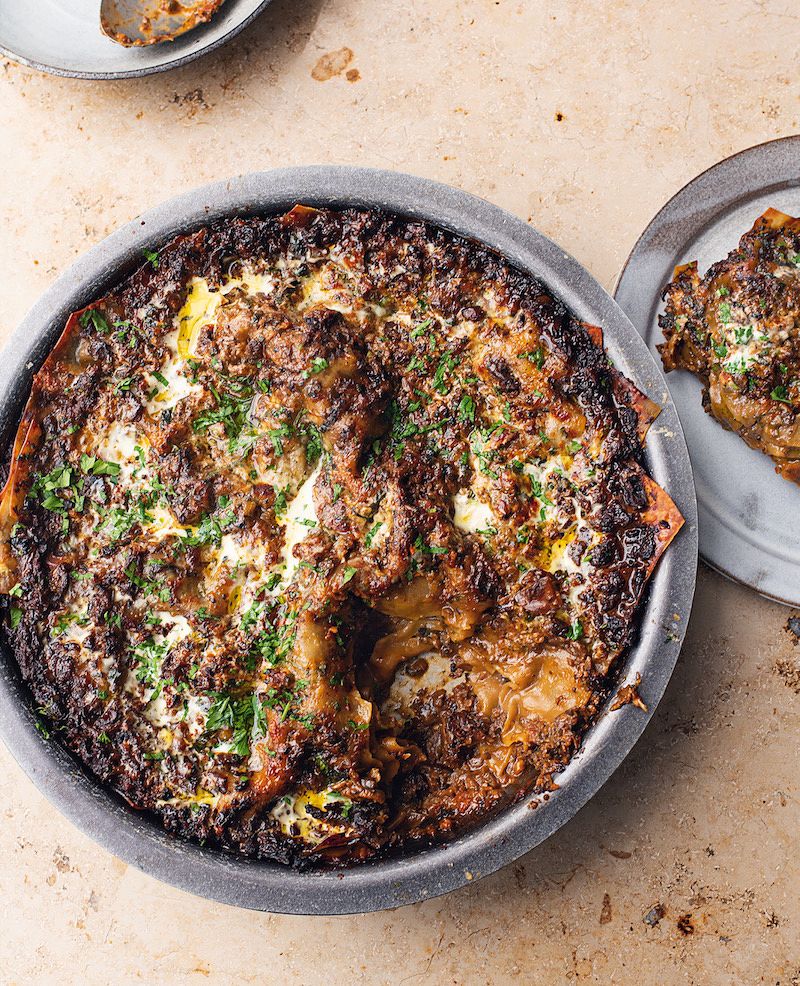 Spicy Mushroom Lasagne from Ottolenghi FLAVOUR by Yotam Ottolenghi & Ixta Belfrage
This absolutely epic meat-free lasagne is packed with a variety of mushrooms to create a complex ragù that has its roots in the Tuscan village of Acone where Ixta spent her formative childhood years. You can easily make this vegan by skipping out the cream or serve the mushroom ragù straight up with pasta or polenta.
Order your copy of Ottolenghi FLAVOUR here.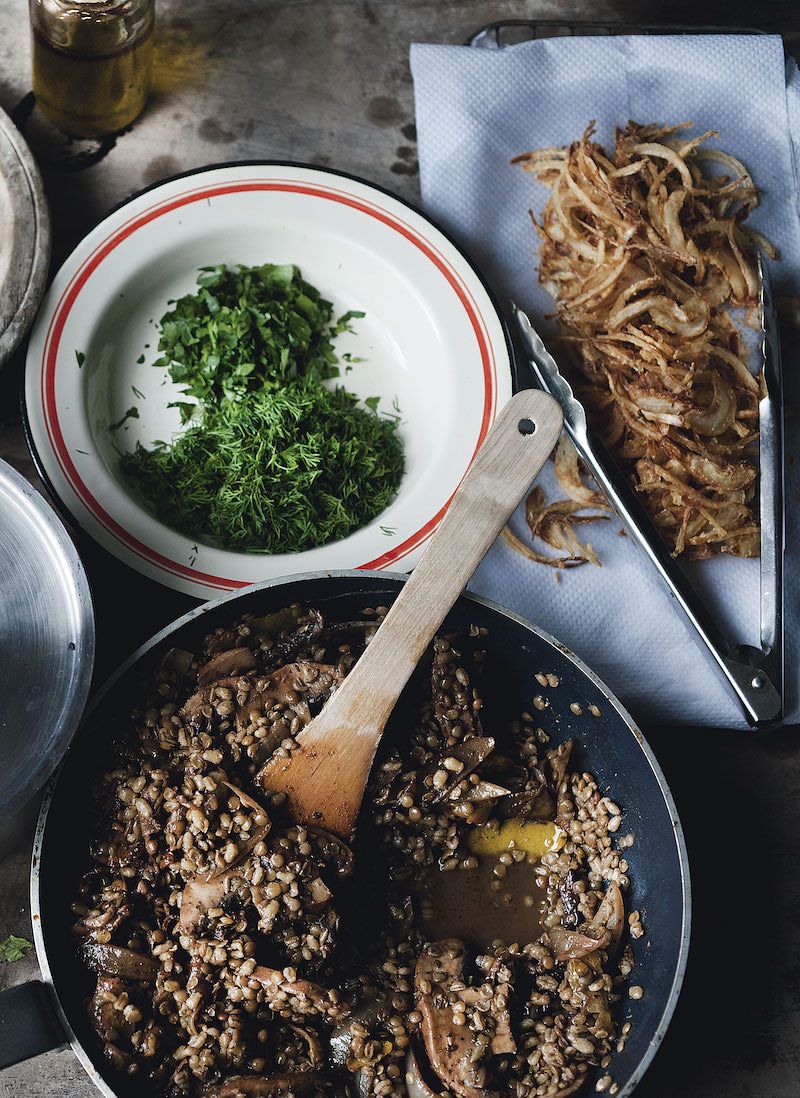 Pot Barley and Lentils with Mushrooms and Sweet Spices from Plenty More by Yotam Ottolenghi
Nutty, robust pot barley is the grain of choice in this twist on a lentil mejadra. Teamed with earthy, rich porcini mushrooms and meaty Portobellos, spiced with cinnamon and cumin and served with lentils, crispy onions and plenty of fresh herbs, this is hearty comfort food at its best.
Order a copy of Plenty More here.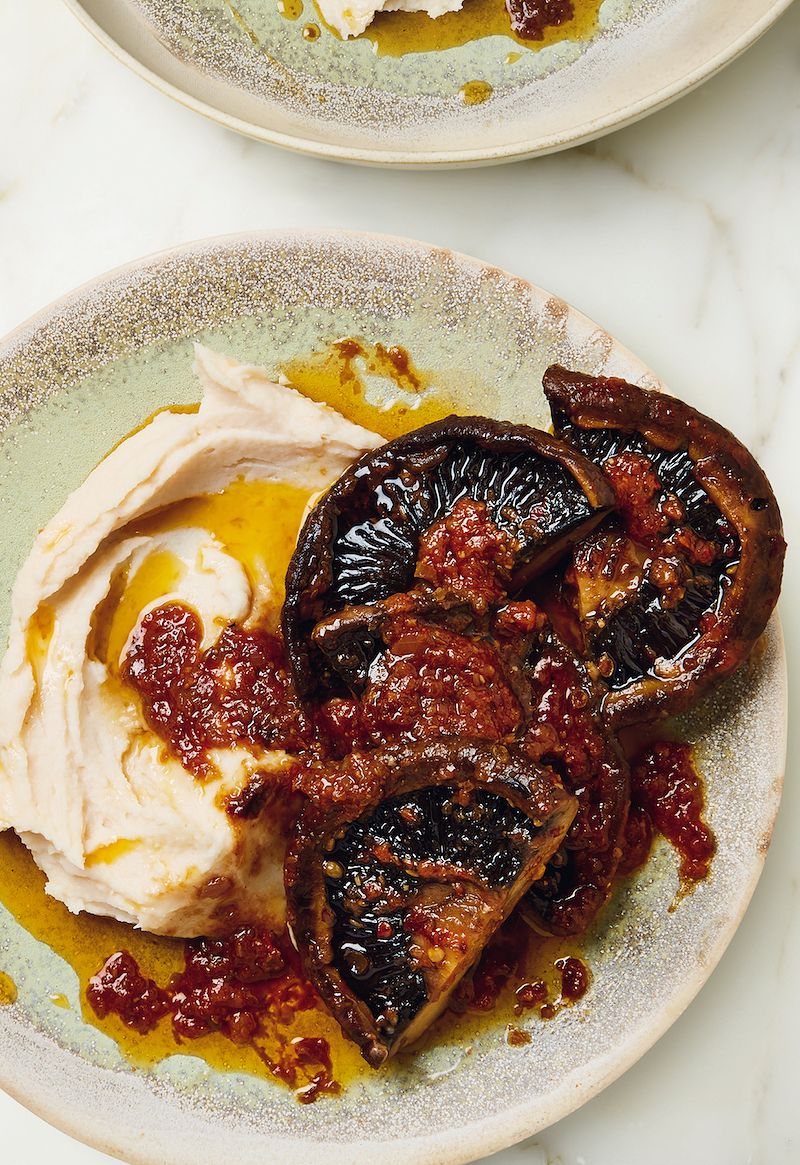 Portobello Mushroom Steaks from Ottolenghi FLAVOUR by Yotam Ottolenghi & Ixta Belfrage
Meaty Portobellos are slow-roasted in a spiced garlicky flavoured oil until tender and packed with punchy flavour. Serve with a creamy butter bean mash and plenty of aromatic oil for a comforting, simple and weekend worthy dinner.
Order your copy of Ottolenghi FLAVOUR here.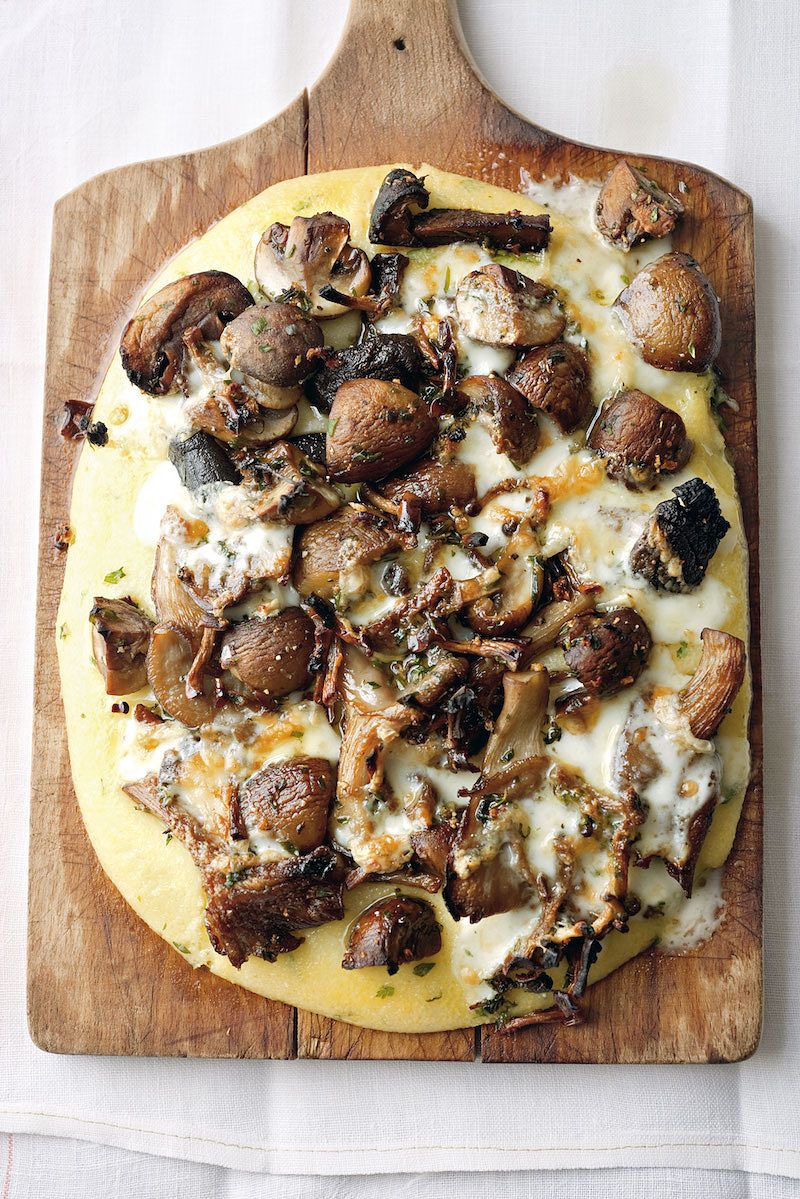 Mushroom and Herb Polenta from Plenty by Yotam Ottolenghi
These herby, garlicky and truffle-flavoured mushrooms are piled onto oozy, Taleggio-rich polenta for a comforting autumnal dinner with a 'Northern Italian mountain lodge' feel.
Order a copy of Ottolenghi's Plenty here.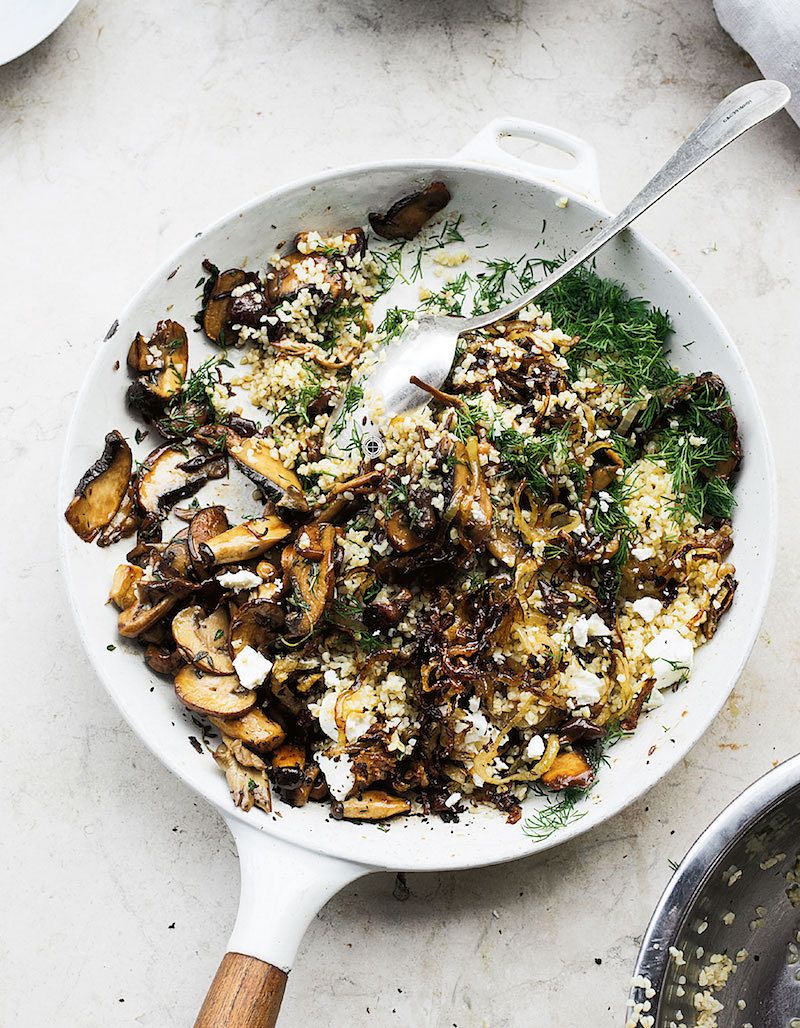 Bulgur with Mushrooms and Feta from Ottolenghi SIMPLE by Yotam Ottolenghi
Get a mixture of mushrooms to make this dish all the more interesting – cooked with sweet onions, cumin and sticky balsamic, and combined with bulgur, fresh dill, feta and chilli flakes, this is delicious as either a side or a weekend brunch with some wilted greens on the side.
Order a copy of Ottolenghi SIMPLE to get the recipe.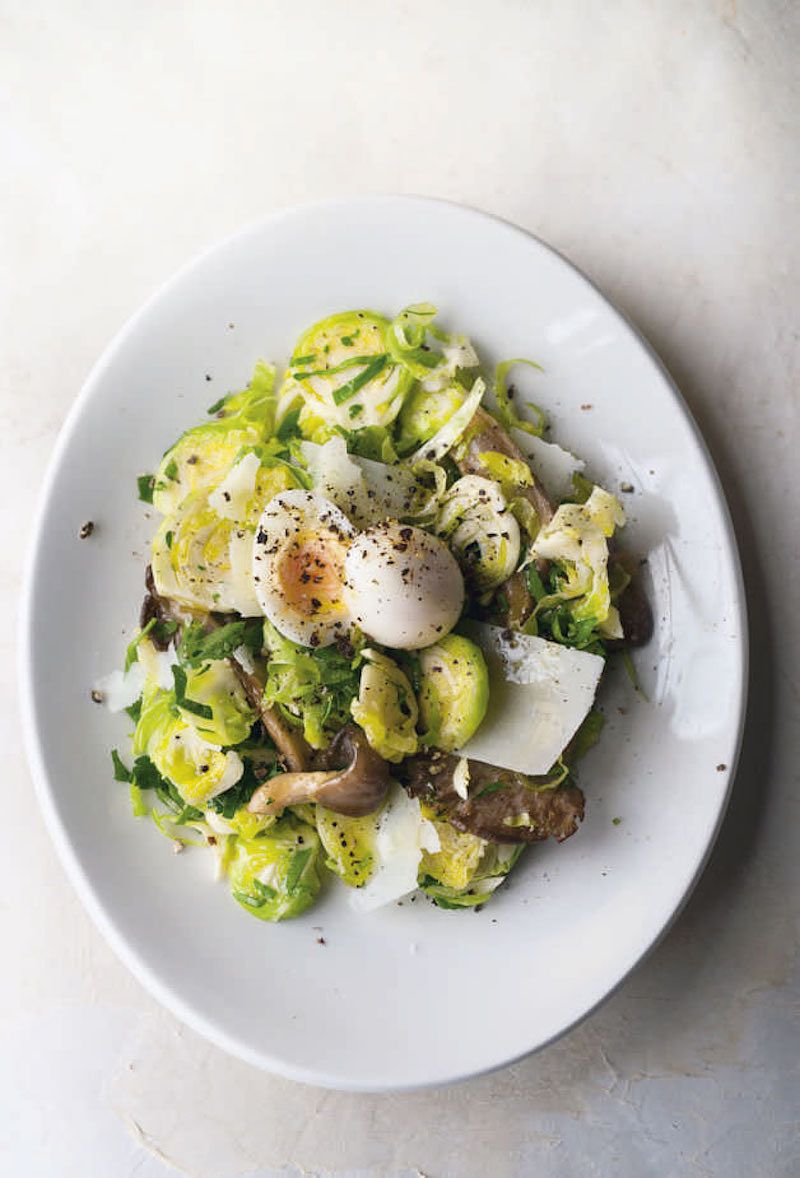 Brussel Sprout Nests with Oyster Mushrooms from NOPI: The Cookbook by Yotam Ottolenghi & Ramael Scully
This salad of shaved raw sprouts, earthy roasted mushrooms, thin slices of mature Manchego and quail's egg, plated up like a nest, makes for an unusual but delicious starter. 
Order a copy of NOPI: The Cookbook here.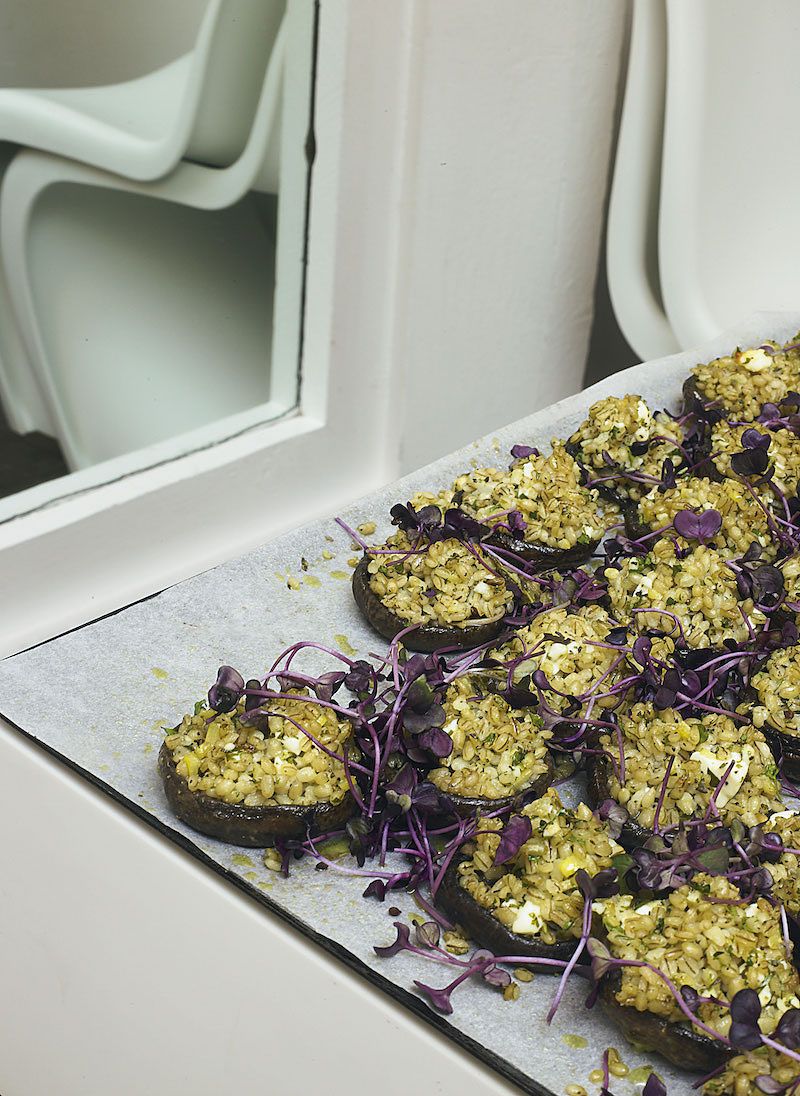 Portobello Mushrooms with Pearl Barley from Ottolenghi: The Cookbook by Yotam Ottolenghi & Sami Tamimi
Here, buttery mushooms are topped with herby pearl barley, pops of feta cheese and preserved lemon. This is a great meat-free starter or nibble.