Until very recently, orecchiette, the small, round pasta hailing from Puglia, was the southern Italian region's best kept secret. Now, this mainstay of Pugliese cucina povera is having somewhat of a moment in the UK and beyond, gracing the cookbooks of the likes of Rick Stein, Jamie Oliver and Yotam Ottolenghi. The pasta's unique concave shape not only explains its frankly adorable name, meaning "little ears" in Italian (orrechia - ears, etta - small), but also goes some way to accounting for its growing popularity. Whether coated in the cimi di rapa (turnip tops) sauce traditionally served with orecchiette in Puglia, tossed with pesto or topped with a meat sauce, the chosen sauce is guaranteed to gather in delightful little pools in each of the shells, making for a particularly enjoyable eating experience. Keen to get in on the fun? Try one of our favourite recipes, from a classic cimi di rapa-inspired version from Rick Stein (using easier to find cavolo nero), to Ottolenghi's vegetarian orecchiette puttanesca.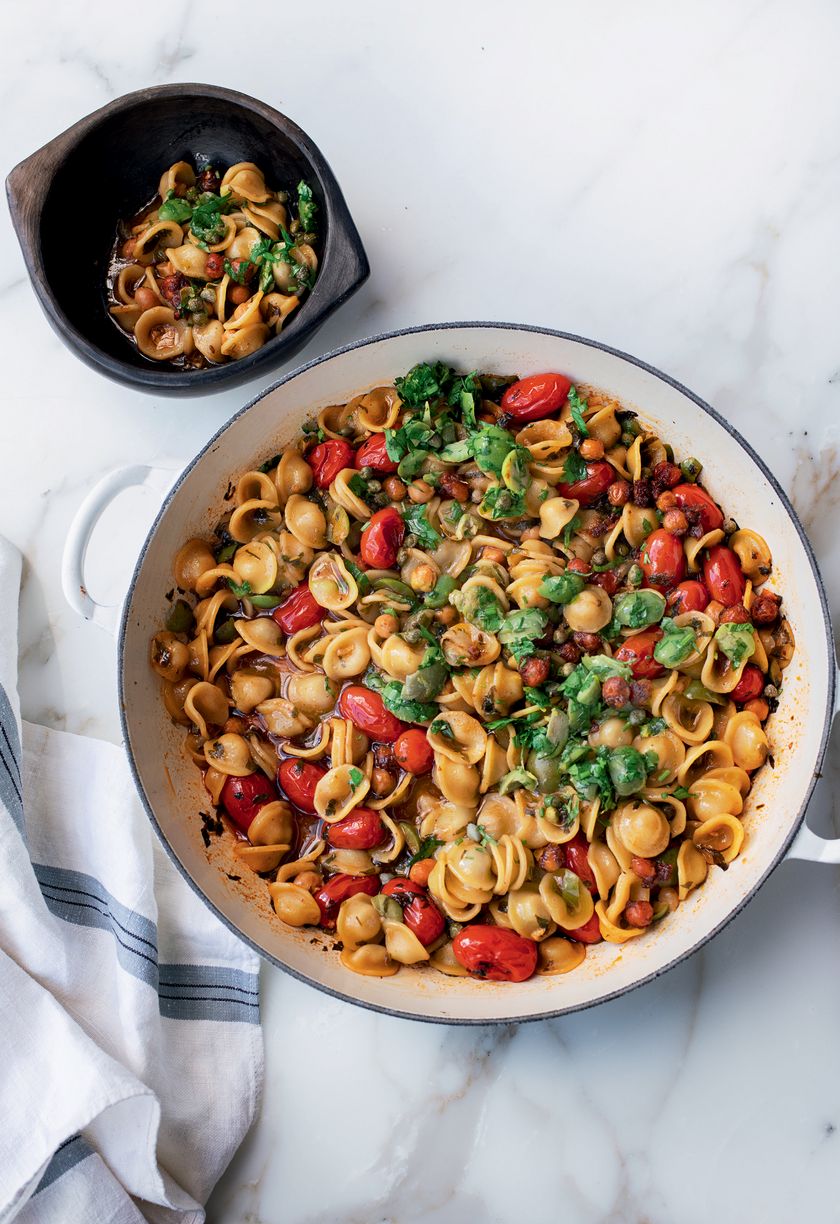 One-pot Orecchiette Puttanesca from Ottolenghi FLAVOUR by Yotam Ottolenghi and Ixta Belfrage
A speedy store cupboard supper par excellence, Yotam and Ixta's anchovy-free twist on a puttanesca features chickpeas for added sustenance and paprika, cumin and caraway for added flavour.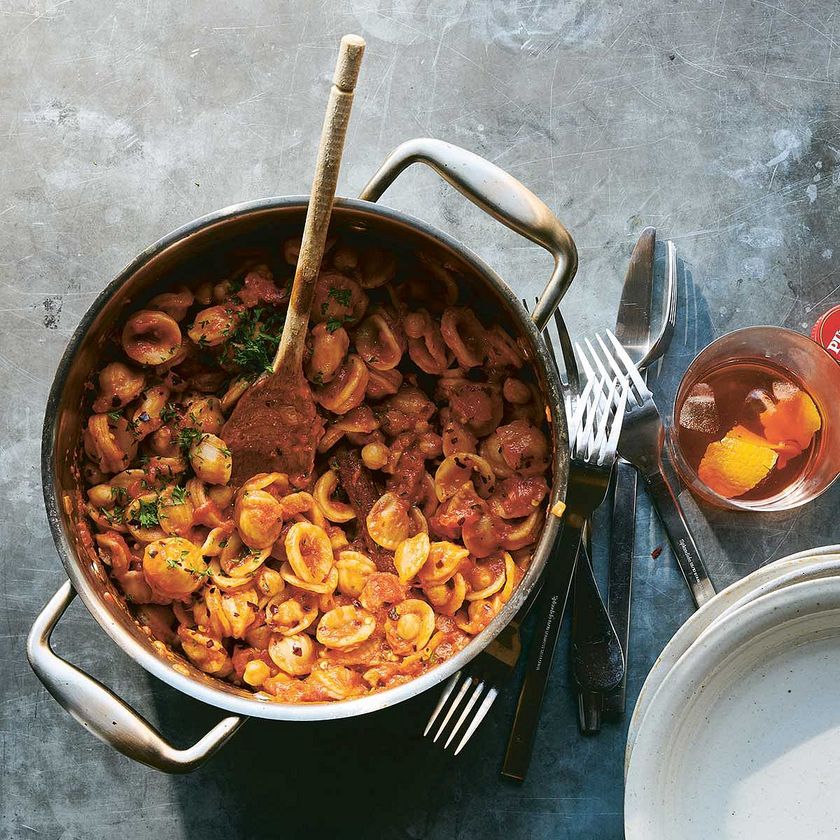 Pasta with Chickpeas and a Negroni from The New York Times Cooking: No-Recipe Recipes by Sam Sifton
In this laid-back 'no-recipe' recipe, Sam Sifton combines orecchiette and chickpeas in a simple creamy tomato sauce spiked with spices. The suggested negroni is optional but very much encouraged.
Buy your copy of No-Recipe Recipes here.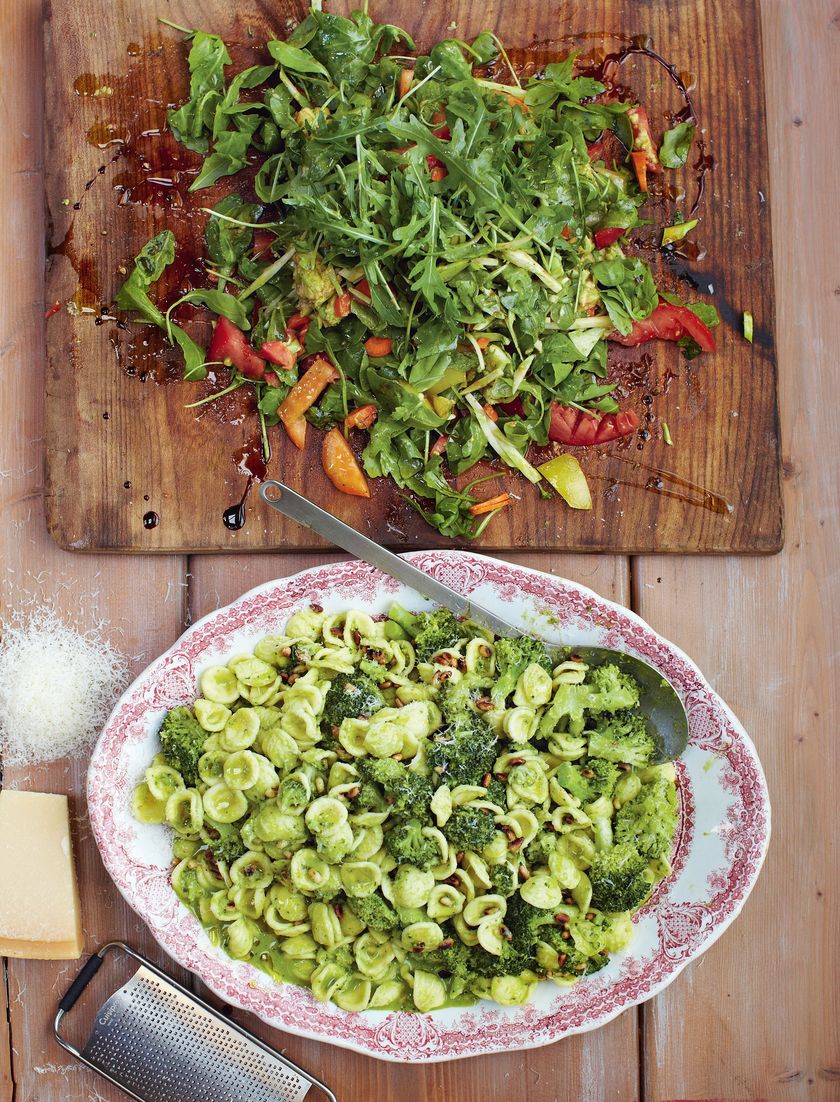 Broccoli Pasta with a Chopped Garden Salad from Jamie's 15-Minute Meals by Jamie Oliver
Super fresh and pleasingly verdant, Jamie's simple broccoli orecchiette is a great way to pack your plate with veg.
Buy your copy of Jamie's 15-Minute Meals here.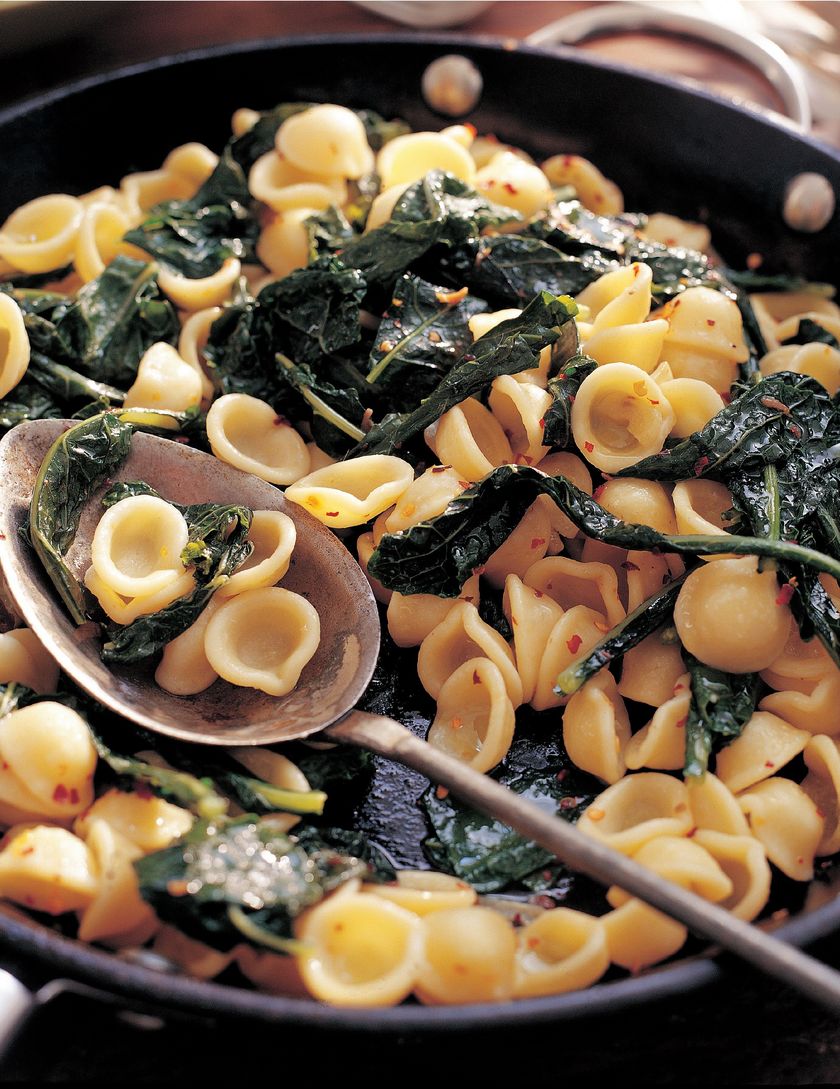 Orecchiette with Cavolo Nero from Rick Stein's Mediterranean Escapes by Rick Stein
Inspired by the cimi di rapa (turnip tops) sauce that traditionally accompanies orecchiette in its native land, Puglia, Rick's sauce uses easier to come by cavolo nero paired with anchovy, chilli flakes, garlic and plenty of olive oil.
Buy your copy of Rick Stein's Mediterranean Escapes here.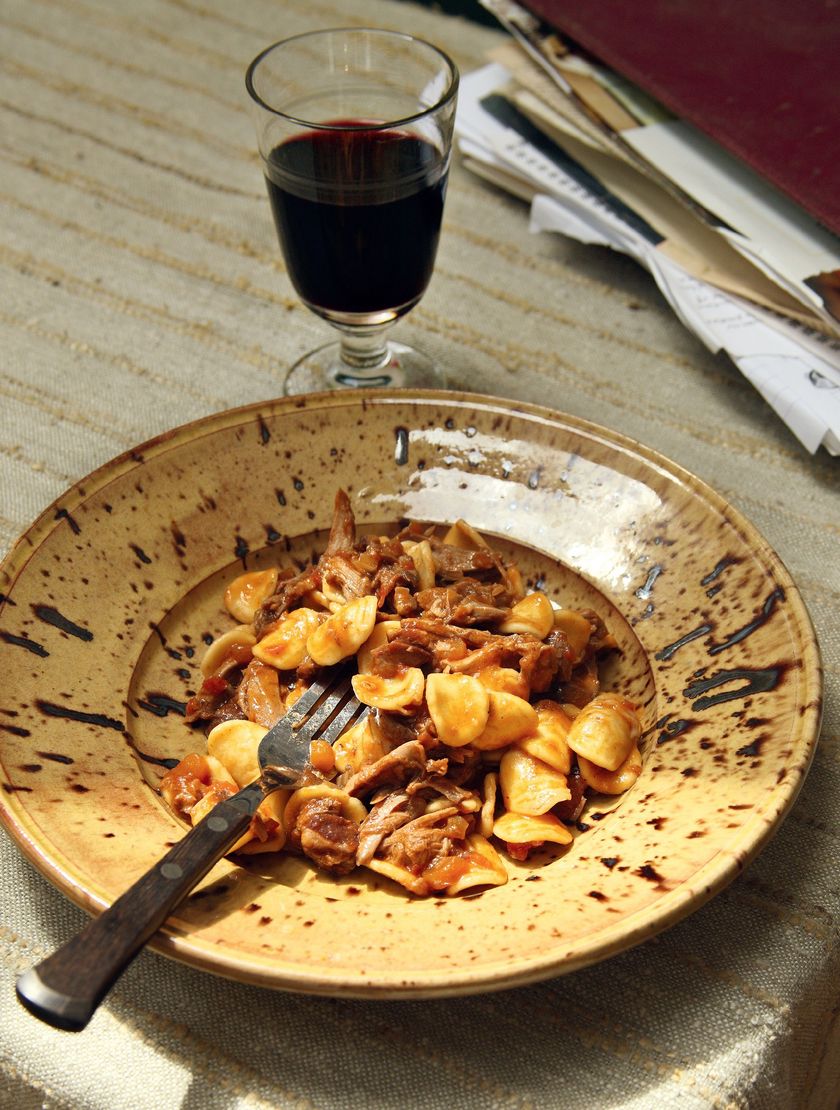 Orecchiette with Duck from Pasta by Theo Randall
Theo Randall's rich, smoky red wine, duck and pancetta pasta sauce proves that orecchiette can stand up to a chunky meat sauce as well as the more traditional vegetable-based varieties.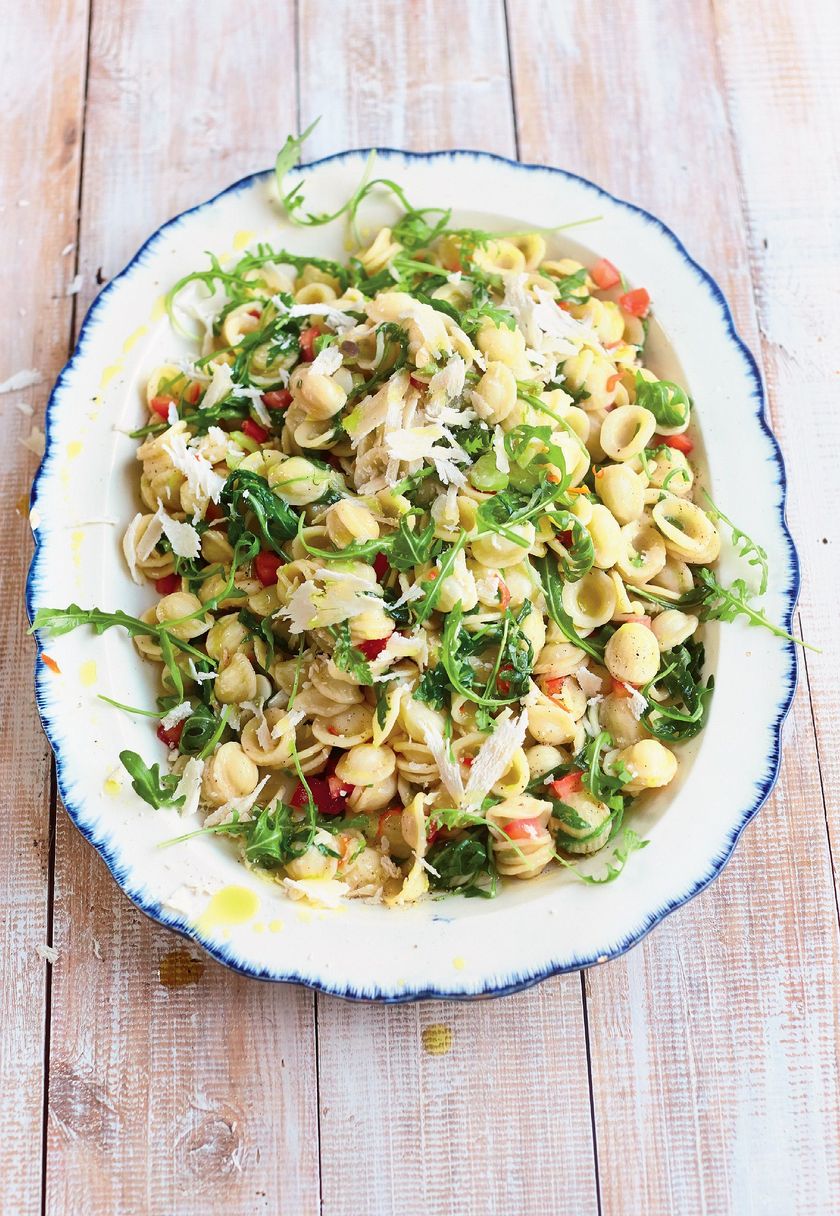 Wild Rocket and Pecorino Orecchiette from Jamie's Food Tube: The Pasta Book by Gennaro Contaldo
Perfect for spring, Gennaro's wild rocket and Pecorino orecchiette packs an umami punch thanks to its anchovy sauce.