Growing up in England at the end of the 1970s I remember four pasta shapes, spaghetti, alphabet, hoops and macaroni. Spaghetti was spaghetti, hoops were hoops, alphabet were letters, and macaroni were short, curved tubes that my mum, like millions of other mums, baked with white sauce and cheese. I grew up and met other pasta shapes, then moved to Italy and met dozens more. Then I became a food writer and bought Oretta Zanini de Vita's marvellous Encyclopedia of Pasta and quoted it to anyone who would listen. 'Oretta says there are 500 pasta shapes and 1,300 pasta names,' I told people. 'Maccheroni isn't a shape at all, but the generic name for pasta.'
In Italy, as in England and much of the world, factory-made durum wheat maccheroni are short, slightly curved tubes and extremely popular. Maccherone is also the generic name for pasta, a word first mentioned in a document from Campania dated 1041. For centuries it was used, is still used, to describe a huge number of shapes, long, short, tubes and twirls, with those from Sicily and Naples particularly significant, after all they are known as mangiamaccheroni – maccheroni eaters. Significant and confusing. Scholars have dedicated their lives to charting the evolution of maccheroni (one describing its path as torturous). Also the etymology of the word, chasing it through punning anecdotes molto buoni ma . . . caroni (very nice but expensive) . . . classical texts, a character from ancient theatre called Maccus and the Latinmaccare, to pound or knead.
Years ago I was given some food writing advice: to recognize when to approach something with my head, and when to approach it with my stomach. Knowing this, the food writer and historian Gillian Riley gave me a slim green book called Maccheronea. It is a history of the word, but more importantly, it is a book of recipes from antiquity to the present day. The early recipes are a particular delight because it is clear the recipe writers are referring to many shapes, prepared in many ways – but the name is always the same, maccheroni. It is also true, maccheroni is a playful word that rolls out of your mouth. One recipe in particular jumped out from the green book. It is on page 117 and is for maccheroni al gratin, which my seven-year-old self sitting at a table in 1979 would recognize well, as macaroni cheese.
Maccheroni baked with béchamel and cheese. Still my favourite. And if it is yours too, please feel free to adjust. This gentle, comforting dish is a wonderfully flexible template for variations, especially when it comes to the cheese. You can mix and match as many different varieties as you like, making this a brilliant way to use up any odds and ends you've been saving. When it comes out of the oven let it rest for at least 10 minutes. I feel slightly naff suggesting a big green salad, but for me, a salad with a vinegary dressing (eaten at the same time as MC, an anathema to my husband, Vincenzo, who is a plate separatist) is as much a part of this as taking a knife to the dish in order to chisel away the crisp bits.
Macaroni Cheese
Ingredients (serves 4-6)
500g maccheroni
80g butter
150g Parmesan,
grated
200g mozzarella, scamorza or any other cheese/mix of cheeses you like
extra milk
fine breadcrumbs
For the béchamel
800ml whole milk
80g butter
80g flour
salt, black pepper and
grated nutmeg
Method
Make the béchamel. Warm the milk. Melt the butter in a heavy pan, stir in the flour and cook, stirring vigorously to create a light biscuit-coloured roux, for 2 minutes. Pull the pan from the heat and use a balloon whisk to gradually whisk in the warm milk, salt, pepper and a little nutmeg. Return to a low heat, whisking or stirring with a wooden spoon until the sauce comes to a simmering boil. Continue cooking for another 12 minutes, always stirring, until the sauce has the consistency of double cream.
Cook the pasta in well-salted fast-boiling water until very al dente, then drain and toss with 50g of the butter, a handful of Parmesan and a spoonful of béchamel.
Butter an ovenproof dish, put half the pasta in the base, sprinkle with half the remaining Parmesan and the mozzarella and half the remaining béchamel. Cover with the remaining pasta and béchamel, topping with a mix of Parmesan and breadcrumbs. Dot with butter. Bake at 200°C for 20 minutes, allowing it to rest for 10 minutes before serving.
Find more of Rachel's recipes in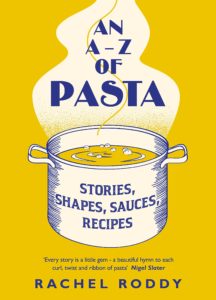 An A-Z of Pasta
Discover the stories, histories and recipes behind 50 different pasta shapes.
Learn to make fresh pasta dough from scratch and how to roll, shape and cut everything from spaghetti to ravioli.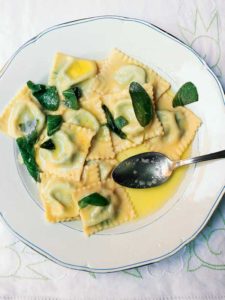 Match your favourite shapes to sauces, from carbonara to ragù