In Rick Stein's latest cookbook, Rick Stein At Home, the author, who in recent years has become best known for his culinary expeditions overseas, returns home to reconnect with the Cornish coastline where his cooking journey began. Featuring many of the recipes included in his most recent BBC series, Cornwall, Rick's new book is a celebration of the region's thriving food scene, with dishes inspired by its producers, farmers, restaurants and unparalleled seafood. Here we round up 8 of our favourite Cornish-inspired recipes from the book. Order your copy of Rick Stein At Home to access all of them.
Rick Stein at Home: Recipes, Memories and Stories from a Food Lover's Kitchen
Join Rick as he celebrates the joy of home cooking with over 100 new recipes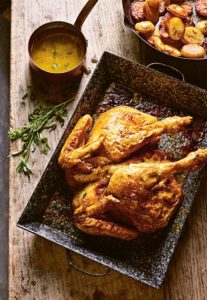 From sumptuous main courses to decadent desserts, there is food for any mood
Learn how to utilise local produce to create bold flavours and memorable meals
Cornish Mussels with Cider
Rick's Cornish twist on moules marinière uses local ingredients, from fresh sorrel to Cornish mussels, to create this classic seafood dish.
Crab Omelette
Another dish making the most of Cornish seafood, this subtle omelette is designed to allow the flavour of the white and brown crab meat to take centre stage.
Cornish Bouillabaisse with Mash
Rick has been making his Cornish bouillabaisse for years, using fruits of the Cornish sea to create a rich, hearty bowl of comfort served with a side of creamy mash.
Pork Chops with Savoy Cabbage and Sloes
Inspired by the deeply flavourful free-range meat from a farm Rick visited in Cornwall, these tender pork chops are served with sautéed cabbage and poached sloes. Autumn on a plate.
Butterflied BBQ Lamb with Lemon, Garlic, Rosemary and Thyme
Rick filmed his Cornwall TV series at the height of the pandemic, so plenty of the recipes in the series were cooked outside. This barbecued lamb is a shining example of the al fresco recipes you'll find both in the series and the book.
Rick gives briam, a Greek dish of roasted vegetables in a tomato sauce, a Cornish slant with locally-grown veg.
If you tuned into Rick's Cornish TV series, you will have seen him making this apple Charlotte in an orchard at Tresillian House, near Newquay. One of the most popular recipes from the series and handed down to Rick from his mother, it features two different varieties of apple encased in a bread-based pudding and served with custard.
Vodka Lemon Drizzle Pancakes with Blackberry Compote
A celebration of autumn blackberries, Rick's pancakes are served with a compote spiked with vodka, inspired by a distillery in St Austell he visited for his TV series.