A love letter to Palestine, its history, its future, its people and their voices, Falastin, is a beautiful collection of stories and recipes from Sami Tamimi (co-founder of Ottolenghi restaurants and co-author with Ottolenghi of Jerusalem and Ottolenghi: The Cookbook) and food writer and core Ottolenghi team member Tara Wigley (who has also co-written the likes of Ottolenghi SIMPLE). "Falastin is a new kind of Palestinian cookbook: a contemporary collection of over 110 recipes", combining dishes from Sami's upbringing in East Jerusalem and new takes on recipes from all over Palestine. 
Beautifully photographed, Falastin combines recipes with stories, celebrating individual people's lives as well as Palestine's shared history and tradition. With chapters spanning breakfast and salads, meat, fish, veggie mains, breads and pastries, you'll find accessible recipes that can be recreated at home but with an unwavering loyalty to the classic ingredients of the Palestinian pantry from ground allspice and cumin, olive oil, pulses and grains to za'atar, sumac, lemons, yoghurt and green chillies. If you loved the Jerusalem cookbook, you'll love this. 
To show you the huge variety of wonderful recipes that await you when you get your copy of Falastin, here's a preview of 10 of our favourite recipes from the book. 
Falastin: A Cookbook
A love letter to Palestinian food and culture from the Ottolenghi co-authors..
With a mix of traditional and modern recipes for everything from one-pots to perfumed sweet treats.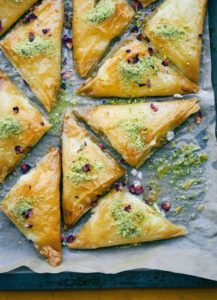 With beautiful photography and stories from unheard Palestinian voices.
Molokhieh Soup with Broad Beans (Besara)
Broad beans are a common feature of the Palestinian table and they're the hero ingredient in this dish paired with plenty of fresh herbs, fried onion, chilli, lemon, olive oil and molokhieh. Molokhieh is a Palestinian green leaf with a distinct flavour – you can find it in Middle Eastern stores or follow directions to swap in spinach or okra, if you like. 
Order a copy of Falastin here.
Chicken Musakhan
This hugely popular national dish of Palestine is simple to prepare and packed with flavour. Spice-roasted crispy chicken, toasted pine nuts and sweet, sharp sumac onions, served on Palestinian 'taboon' flatbreads. Divine! 
Order a copy of Falastin here.
Beetroot and sweet potato dip with pistachio bulgur salsa
Brilliant beets are paired with staples of the Palestinian table: ground allspice and cinnamon, tangy feta and labneh, and served with a herby pistachio bulgur topping. Eat this as part of a mezze or with oily fish.
Order a copy of Falastin here.
Pulled lamb shawarma sandwich
Slow-cooked, tender lamb, cooked in a heady concoction of spices and served with sumac tahini yoghurt, this is a feast to feed a crowd and requires minimal prep. Shred it at the table and serve with hot pitas, fresh herbs, spicy 'shatta' sauce (see below), sliced onions and tomatoes, and let everyone build their own epic sarnie.
Order a copy of Falastin here.
Pomegranate-cooked lentils and aubergines
Known as 'rummaniyya' in Palestine, this dish means 'pomegranatey' in Arabic, which is a hint at the star ingredient in this delicious veggie dish. Spiced lentils cooked with rich, tart pomegranate molasses, zingy lemon juice and tahini, aubergines and crispy onions, bring this to the table with lots of bread to dip into the juices. 
Order a copy of Falastin here.
Na'ama's buttermilk fattoush
Not a traditional take on the Palestinian fattoush salad, this is Sami's mother's version teaming stale bread, plenty of fresh herbs, chopped Lebanese cucumbers and tomatoes with buttermilk. A wonderful way to use up stale bread, fresh and filling.
Order a copy of Falastin here.
Sumac onion and herb oil buns
The inspiration for this recipe is less tradition itself than the heavenly sweet and sharp sumac onions that feature in very traditional chicken musakhan (see above). Stuffed and rolled into buns with a zingy herby oil drizzled on top, these a real show-stopper.
Order a copy of Falastin here.
Fish kofta with yoghurt, sumac and chilli
These spice-packed kofta are made with white fish, chilli, parsley, dill, lemon and the warming Palestinian spices of cardamom and cumin. Packed into a pitta with yoghurt and chopped salad, these herby, spicy, zesty bites are a real winner.
Order a copy of Falastin here.
Kubbeh
The staple on every table full of mezzeh in every kitchen across the Levant, kubbeh are tightly packed balls of bulgur and minced meat pepped up with a hint of cinnamon and allspice. Served with tahini sauce for dipping, they are "the king of all snacks".
Order a copy of Falastin here.
Shatta
"This fiery condiment is as easy to make as it is easy to become addicted to", says Sami. On every Palestinian table, this chilli preserve is a go-to for pepping up eggs, fish and meat, or for dolloping into a pitta sandwich.