A year after the publication of the best-selling first cookbook from the OTK team, Shelf Love, comes Extra Good Things, a brand-new collection of recipes from one of the world's most exciting kitchens. Packed full of the Ottolenghi flavours and inspiration you know and love, there is the added bonus that every recipe in Extra Good Things is designed to leave you with a little something left over that you can use to transform your next meal. After cooking a few dishes, you will find your fridge and cabinets beginning to resemble the Ottolenghi Test Kitchen pantry, stocked with everything from piquant pickles and transformative dressings to warming chilli sauces and flavoured butters. While you'll definitely find yourself revisiting the book's many wonderful main recipes (why not start with the aubergine parm pie or the blackened chicken), you can just as easily return to the extras by themselves to 'Ottolenghify' another meal. We've taken a look through Extra Good Things and picked out ten of our favourite must-try extras.
Ottolenghi Test Kitchen: Extra Good Things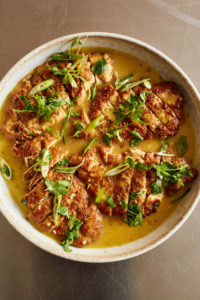 Flexibility, flavour, and future-proofing your cooking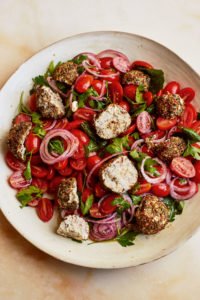 From simple midweek dinners to complex showstopper meals
Enjoy a little something extra to transform your next meal
Pickled Onion
Pickled onions are a classic little extra that easily elevates any dish. Make in bulk and keep in the fridge for topping everything from the cheesy curried butter beans on toast as seen in Extra Good Things, to salads, roast veg, or freshly made hummus.
Find this recipe and more in
Marinated Feta
This feta is an unbelievably versatile extra. Marinated in olive oil infused with caraway seeds, parsley, and lemon, it adds a creamy fresh pop of flavour to soups and salads, or can be used as a unique addition to a charcuterie board.
Find this recipe and more in
Green Tahini
This sauce is already a firm favourite at The Happy Foodie – trust us, you're going to want to put this on everything. Pair with the Shawarma Cauliflower as pictured, or with crudités for a mid afternoon snack, Ottolenghi-style.
Find this recipe and more in
Harissa Butter
Full of flavour, this fragrant rose harissa butter it is perfect for elevating a classic jacket potato, tossed through pasta, or used to stuff the mushroom Kyiv from Extra Good Things.
Find this recipe and more in
Za'atar Tomatoes
Soft cooked tomatoes stirred through with za'atar, plenty of garlic and herbs? You really can't go wrong with this simple extra. Spoon over toast for an easy bruschetta, serve with eggs to elevate an easy brunch, or use them to top the dish that the Ottolenghi Test Kitchen team refer to as 'polenta pizza' (pictured).
Find this recipe and more in
Smoky Chipotle Oil
Smoky and subtly spicy, this chipotle oil is perfect drizzled over veg and salads, used as a base for hummus, or just as is for dipping generously with the black lime focaccia from Extra Good Things.
Find this recipe and more in
Chimichurri
Fresh, fragrant, and super simple, this chimichurri is the perfect something special to brighten up simple dishes like the pictured 2-scalloped potatoes from Extra Good Things. Use leftovers to top lightly grilled steak, portobello mushrooms, or roast chicken.
Find this recipe and more in
Coriander Furikake
An OTK take on the Japanese furikake seasoning, this coriander and sesame seed sprinkle adds a delicious salty and umami addition to any dish. This seasoning keeps for several months, so make plenty and enjoy using it top rice, noodles, veggies, eggs, or these spicy crunchy wasabi peas from Extra Good Things.
Find this recipe and more in
Jammy Peppers
If you love an easy lunch, these jammy peppers are about to become a store cupboard staple. Use them to brighten up leftovers, stuff them in sandwiches, or pair with the simple black beans and rice recipe you'll find in Extra Good Things.
Find this recipe and more in
One Basic Pumpkin Caramel
Perfect for autumnal desserts, this sweet pumpkin and cinnamon-spiked caramel is perfect for pouring generously over roasted fruits, adding to sweet pie fillings, or drizzled over ice cream.
Find this recipe and more in