Brand new The Rangoon Sisters Cookbook is brimming with authentic Burmese recipes to discover. Authors Amy and Emily Chung grew up learning the ropes of Burmese cooking from their mum and grandma, before launching their own sell-out Burmese supper club in London in 2013. Taking the reader on a journey to discover the food and flavours of their heritage, their dishes are authentic, inspiring, vibrant and deliver fantastic flavour every time. Keen to know more about the kind of recipes you'll find inside? From Burma's national dish, mohinga, to a tapioca-based dessert, here's 10 dishes you'll discover in The Rangoon Sisters Cookbook.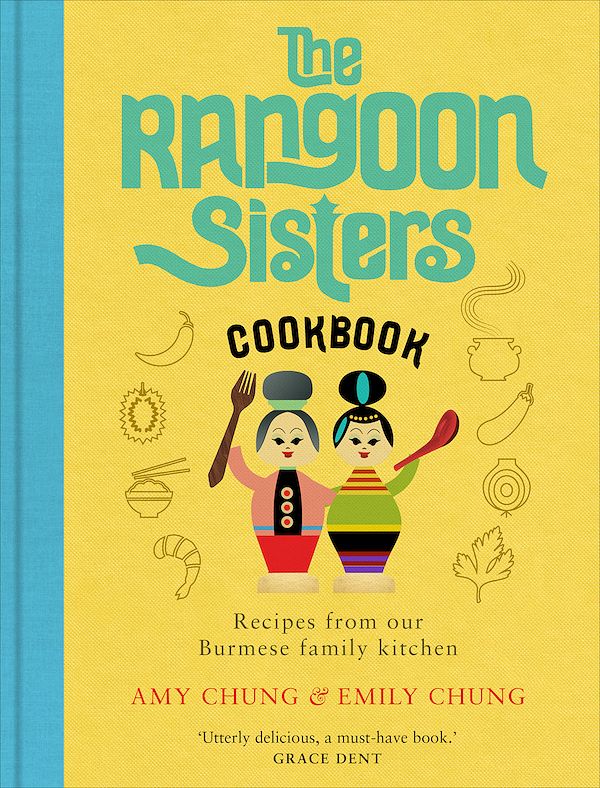 The Rangoon Sisters: Recipes from our Burmese family kitchen
The definitive guide to creating authentic Burmese dishes at home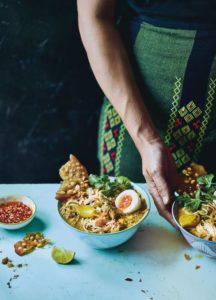 Easy-to-follow recipes for noodle and rice dishes, curries, salads and more
From impressive dinner party centrepieces to quick weeknight meals
1. Aromatic Fish Noodle Soup – Mohinga
Widely regarded as Burma's national dish, mohinga is a rich, complex and intensely flavoured fish noodle soup. Like most soups that promise such a depth of flavour, the cooking process is relatively involved, but Amy and Emily have included two versions of their mohinga to ensure you can give it ago whatever your time or skill constraints, with a simple version and longer version to choose from. Either way, the resulting mouth-watering dish is Burma in a bowl.
Get your copy of The Rangoon Sisters Cookbook here.
2. Green Mango Salad – Tha yet thee thoke
The green unripe mango used in this vibrant Burmese salad adds a freshness and acidity lacking from riper varieties. With fish sauce, crispy shallots, palm sugar and chilli also in the mix, this is a salad that brings all of the classic flavour profiles of Burmese cuisine to the table.
Get your copy of The Rangoon Sisters Cookbook here.
3. Burmese Chicken Biryani – Danbauk
Burmese cuisine enjoys the influences of its neighbouring countries, and thanks to Burma's proximity to the Indian subcontinent, biryani has found its way into Burmese cooking. This showstopping chicken version features fluffy rice flavoured with butter, caramelised onions and saffron, and topped with chicken poached in a rich and intense sauce. It takes a little more effort than your average recipe but with results as delicious as this you won't resent the extra graft.
Get your copy of The Rangoon Sisters Cookbook here.
4. Dal – Pe hin
Amy and Emily describe this comforting recipe as their standard midweek dal. Simple, cheap and as comforting as it gets, it's one to make up a big batch of to keep you going throughout the week.
Get your copy of The Rangoon Sisters Cookbook here.
5. Kachin Pounded Beef – Kachin ame thar
Discovered on Amy and Emily's travels in Burma, this stir-fried beef dish is traditionally made using rau ram leaves, which add a beautiful aromatic profile to the dish but are a little harder to come by in the UK. You can make like Amy and Emily who have tracked down a rau ram plant, or simply substitute for coriander. Either way, this is a fragrant dish packed with flavour.
Get your copy of The Rangoon Sisters Cookbook here.
6. Stuffed Aubergine Curry – Khayan thee hnat
In this veg-centric recipe, baby aubergines are stuffed with dried shrimp, fried over a high heat before being gently poached and then garnished with fried shallots and coriander. If umami is your bag, this is one for you.
Get your copy of The Rangoon Sisters Cookbook here.
7. Chicken Potato Curry – Kyet tha aloo hin
Calling all curry fans: if you love to try out new curries, you'll find much to inspire in the chapter dedicated to Burmese curries and stews. This chicken and potato curry is a flavour and texture sensation, featuring potatoes that are fried first before being added to chicken and a turmeric, chilli and garlic-based sauce.
Get your copy of The Rangoon Sisters Cookbook here.
8. Pickled Tea Leaf Salad – Lahpet thoke
Lahpet are pickled tea leaves, an ingredient completely unique to Burma. In fact, Burma is thought to be the only place in the world where tea leaves are eaten. Lahpet thoke is therefore one of Burma's most classic dishes, featuring shredded cabbage, crunchy beans and plenty of chilli.
Get your copy of The Rangoon Sisters Cookbook here.
9. Garlic Oil Noodles – Hsi jet khauk swe
A quick and simple noodle dish, these garlic oil chow mein or egg noodles are also perfect for using up any leftover meat, or can be eaten as they are for a vegetarian meal.
Get your copy of The Rangoon Sisters Cookbook here.
10. Bakes Semolina Sago – Thargu Byin
One of many toothsome desserts in the 'Sweets' chapter in the book, this tapioca-based dessert is flavoured with coconut and finished with a sugar topping. Traditionally served in big metal trays and sliced into square-sized portions, it's a great sweet dish to take along to a picnic or for any occasion where you have a crowd to feed.