Tomato-glazed meatloaves with Mashed Potatoes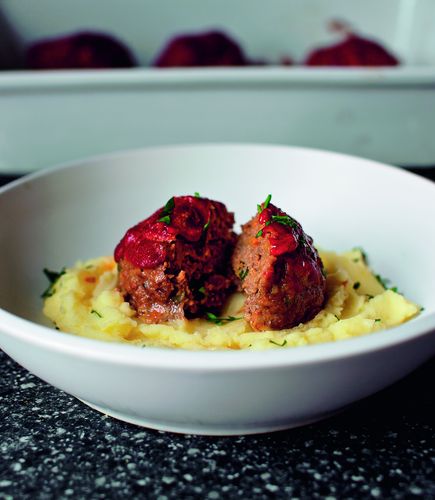 I'm a sucker for a good meatball. Something happens when you mix otherwise one-dimensional minced meats up with fresh breadcrumbs, herbs, seasonings and bits of extra ingredients - and that thing is that I will swat your fork away to get at them first. However, it had always been my belief that I held no such adoration for meatloaf. I cleared my throat, stepped up on my invisible soapbox, and pronounced as much on my website one day. And one by one, readers gently whispered to me in the comments, 'Deb, you do realize that meatloaf is like one giant meatball?'
Well, no. No, I had not. From that point on, it became my personal mission to retract my hasty remarks by finding meatloaf nirvana, especially once I realized that meatloaves were like meatballs with even more flavor. My version is busy with everything - a fine mirepoix, garlic, smoked paprika, piercing Dijon mustard, steak sauce, and a tangy tomato glaze - but I still couldn't get past the typical loglike meatloaf shape. So I decided not to. These little meatloaves masquerading as big meatballs fool nobody except maybe the meatloafphobic.
Ingredients
For the glaze:

4 tsp

vegetable oil

4 tbsp

tomato puree

2 tbsp

cider vinegar

2 tsp

honey

2 tsp

Worcestershire sauce

1 tbsp

Dijon mustard

1/4 tsp

table salt

For the meatballs:

2

slices sandwich bread

1

medium onion, finely chopped

1

garlic clove, finely chopped

1

medium stalk celery, finely chopped

1

medium carrot, finely chopped

Olive oil, for cooking

1 tsp

table salt, plus more for vegetables

Freshly ground black pepper

900g

minced beef

1 tbsp

tomato puree

1 tsp

smoked paprika

1 tsp

Dijon mustard

2 tbsp

Worcestershire sauce

120ml

milk

1/4 cup

finely chopped fresh flat-leaf parsley

2

large eggs
Instructions
Make glaze
Combine glaze ingredients in a small saucepan, and simmer, whisking constantly, for 2 minutes. Set aside.
Make meatloaves
Preheat your oven to 180C /fan 160C / Gas 4. Tear the bread into chunks and then blend it, in a food processor, into breadcrumbs. Place the breadcrumbs in a large bowl. Add the onion, garlic, celery and carrot to the food processor, and pulse it until they are finely chopped.
Heat a large frying pan over medium heat. Once the pan is hot, coat the bottom with olive oil, and heat the oil for a minute; add the finely chopped vegetables. Season with salt and pepper, and cook, stirring frequently, until they begin to brown, about 10 to 15 minutes.
Add the vegetables to the large bowl with breadcrumbs, then add the remaining ingredients. Stir the ingredients together with a fork. With wet hands, form the mixture into twelve 7.5cm meatballs; each will weigh about 115g.
Bake meatloaves
Space meatballs so that they are not touching, in a baking dish. Drizzle or brush each meatball with a teaspoon or so of the tomato glaze you made earlier, and bake until cooked through, about 20 minutes. (An instant-read thermometer inserted into the center of a cooked meatball will register 71 to 74C).
To serve
Serve with additional glaze on a bed of brown butter mashed potatoes.