Slow-Cooker Chicken Tikka Masala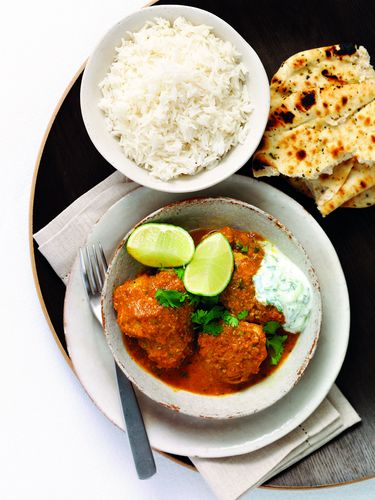 This perennial favourite works very well in the slow cooker. Set it to cook before you head off to work on Friday morning and you can return home to restorative curry with pickles, poppadums and cold beer.
Prep Time
20 min
Cook time
4 h
For how many?
Serves 6
Ingredients
1.5kg

chicken pieces

2 tbsp

oil

2

onions, chopped

120ml

coconut milk

400g

can chopped tomatoes

120ml

natural low-fat yoghurt

1 tsp

cornflour

3 tbsp

tomato puree

1 tbsp

cumin seeds

2 tsp

garam masala

1 tsp

black onion seeds

5 cm

piece of fresh root ginger, chopped

3 tbsp

freshly squeezed lemon juice

2

garlic cloves, chopped

2 tsp

cayenne pepper, or to taste

1

red chilli, chopped

15g

mint, chopped

15g

coriander, chopped

lime wedges, to serve

350g

basmati rice, to serve

naan bread, to serve

raita, to serve
Instructions
Heat the oil in a large frying pan over a high heat and brown the chicken pieces all over. Transfer to the slow cooker.
Heat the remaining oil in the frying pan over a high heat and cook the onions for 5 minutes. Set aside. Add the coconut milk and tomatoes to the slow cooker. Mix the yoghurt with the cornflour and stir this in too.
Using a blender or food processor, blend the fried onion with the rest of the ingredients up to and including the chilli. Add to the slow cooker and cook for 4 hours on the high setting or 8 hours on low.
Just before serving, cook the rice according to the packet instructions. Stir the mint and coriander into the curry and serve hot with the rice, naan bread and some raita on the side.