Pork Mince and Aubergine Stir-fry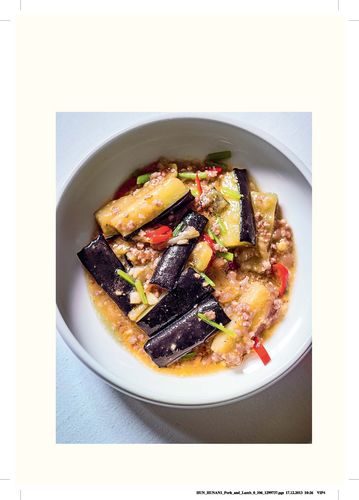 The key to this dish is in the cooking of the aubergine. Make sure the aubergine has softened before adding the sauce. If you need to increase the cooking time, add more water to the wok.
Ingredients
1 tbsp

pork mince

1

aubergine cut Into 5cm batons

about 10 tbsp

water

1 tsp

slaked cornflour

1tsp

white wine vinegar

1/2 tsp

sesame oiI

oiI, for frying

For the sauce:

3 tbsp

chicken stock

1 tsp

miso paste

2

garlic cloves,finely chopped

1/4

fresh red chilli,cut Into fine slivers

10

coriander stalks,finely chopped salt and sugar,to taste

salt and sugar, to taste
Instructions
Mix all the sauce ingredients together in a bowl and adjust seasoning to taste.
Heat a little oil in a wok until almost smoking. Add the pork mince and cook until it changes colour.
Add the aubergine with about 10 tbsp water and cook for about 3-4 minutes until the aubergine has softened.
Add the sauce to the pan and stir through before adding the slaked cornflour, white wine vinegar and sesame oil.When the sauce has thickened, it's ready to seive.