Peanut Butter, Maple Syrup & Banana Overnight Oats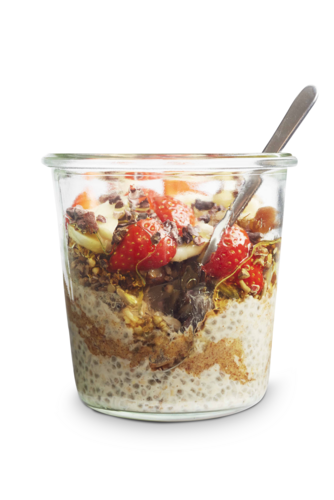 Stir a few simple ingredients together in the evening, then go to bed and leave breakfast to prepare itself. Overnight oats – an overnight success.
Like avocados and olive oil, peanut butter is packed with healthy fats. Include the maca to give your energy levels a boost.
Ingredients
50g

rolled oats

175ml

almond milk

1 tbsp

chia seeds

1 tbsp

maple syrup

1 tsp

maca powder (optional)

Topping:

30g

unsalted peanut butter

1/2

banana, sliced

1 tbsp

good-quality granola

4

strawberries, sliced

1 tsp

cacao nibs

raw honey, to taste
Instructions
1. Put the base ingredients into a jar, stir gently to combine, then cover and chill overnight for around 8 hours.
2. The next morning, sprinkle on the topping ingredients, and enjoy.
Calories 810 • Fat 38.8gCarbohydrates 98.1g • Sugar 45.2g • Sodium 126mg • Fibre 20.8g • Protein 22.3g • Cholesterol 0mg