Apple and Carrot Muffins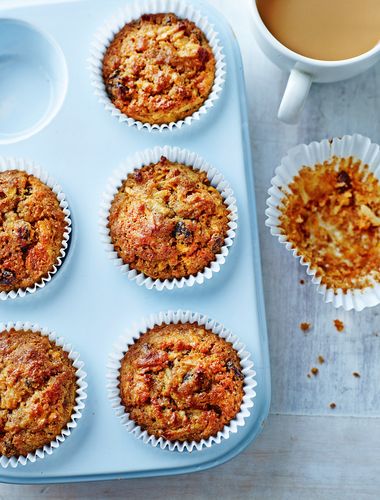 Here is a healthy and deliciously moist muffin that's bound to become a family favourite. These muffins are very easy to make and will keep well for up to five days.
For how many?
Makes 12 muffins
Ingredients
150g (5 oz)

plain wholemeal flour

50g (2 oz)

granulated sugar

1½ tsp

baking powder

½tsp

ground cinnamon

¼tsp

salt

¼tsp

ground ginger

125 ml (4 fl oz)

vegetable oil

60 ml (2¼ fl oz)

honey

60 ml (2¼ fl oz)

maple syrup

2

medium eggs, lightly beaten

½tsp

vanilla extract

1

large apple, peeled, cored and grated

75 g (3 oz)

carrots, peeled and grated

65 g (2½ oz)

raisins
Instructions
1 Preheat the oven to 180°C/350°F/Gas 4. Line a 12-hole muffin tray with paper cups.
2 Combine the flour, sugar, baking powder, cinnamon, salt and ginger in a mixing bowl.
3 In a separate bowl, combine the oil, honey, maple syrup, eggs and vanilla. Beat lightly with a wire whisk until blended. Add the grated apple, carrots and raisins to the liquid mixture and stir well.
4 Fold in the dry ingredients until just combined but don't overmix or the muffins will become heavy.
5 Fill the muffin cups with the batter until two-thirds full. Bake in the oven for 20–25 minutes. Leave the muffins to cool in the tin for 5 minutes before turning out onto a wire rack to cool completely.