It's summer, a time when we naturally begin to crave lighter, fresher food to enjoy in the heat. The shops are full of wonderful seasonal ingredients – berries; summer vegetables; fish and shellfish – and the smell of charcoal is in the air. Many of us are counting down the weeks to beach or pool holidays and want the chance to look and feel our best when we finally chuck on our cozzie and head for the sun lounger.
Whether you are on a mission to shed a few pounds before you bare all on the beach, or want to introduce healthier foods to your regular diet, there is plenty of help at hand. It's simply a matter of choosing the right method for you and your lifestyle.
Instant healthy eating inspiration
The Art of Eating Well by Jasmine and Melissa Hemsley
Mention the words 'butter' and 'offal' to dieters and they will recoil instantly in horror. That's where Vogue cookery columnists and healthy food consultants the Hemsley sisters think we are all going wrong. Their debut cookbook, The Art of Eating Well, promises to turn our notion of what's healthy (and what's not) on its head.
The philosophy: Cut out unnatural and processed foods if you want to look and feel your best. Choose food that is both delicious and good for you: never give up on flavour.
Why we love it: This is a no-compromise recipe book. It is celebratory, and feels indulgent, even though it teaches us to eat in a way that promotes good health and vitality.
The recipe: Sesame Chicken Salad with Cucumber Noodles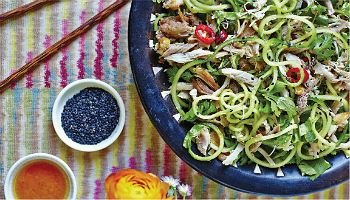 More about the book: The Art of Eating Well
A Salad for All Seasons by Harry Eastwood
Summer's the obvious time to put salads at the heart of your meal planning but, as the title of Harry Eastwood's book suggests, they should be part of our diet all year round.
The philosophy: Kiss goodbye to all notions of salad meaning a few limp leaves and a tomato at the edge of your plate. Harry's salads look great, taste wonderful and will always be centre stage.
Why we love it: We are big fans of all Harry Eastwood's books (Red Velvet & Chocolate Heartache is another perennial favourite). Her writing is full of joy and her recipes are both innovative and accessible.
The recipe: Yellow and Green Courgettes with Feta, Mint and Almonds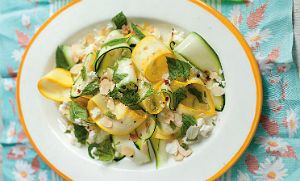 More about the book: A Salad for All Seasons
The Sugar Detox Diet app
If you are looking for sensible ways to reduce the amount of sugar you consume as part of your everyday eating, this new app has all the answers. A digital extension of the wildly successful The Sugar Detox book, it features 50 simple low-sugar recipes to try, as well as a day by day diet plan.
The philosophy: An over-use of sugar in our diets is leading to alarming health problems and a global obesity crisis. Cut out the sugar to change the way you look and feel forever.
Why we love it: This is a no-nonsense method to cutting out sugar. The recipes are not only simple, but truly appetising, and there is even a selection of sweet treats.
The recipe: Very Nutty Chocolate Bark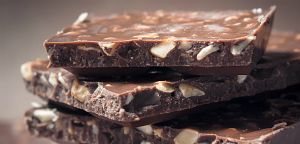 More about the app: The Sugar Detox Diet
The 2 Day Diet Cookbook by Dr Michelle Harvie and Professor Tony Howell
The 2-day diet is a clinically proven 5:2 diet plan that encourages its followers to stick to a low-carb diet two days per week, and eat normally, but sensibly, for the rest of the week. The book features 65 delicious recipe ideas, for both restricted and non-restricted days.
The philosophy: This diet plan is not about counting calories, fasting or going hungry. It's a sensible, straightforward method to cut down on carbs and lose weight.
Why we love it: If you really want to lose some weight, this is a great plan to follow. Simple and sensible.
The recipe: Goan Spiced Mackerel with Tomato and Chilli Sambal and Raita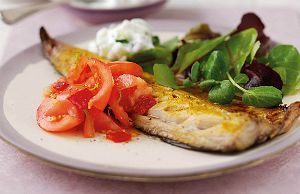 More about the book: The 2-Day Diet Cookbook