Superfood Granola Balls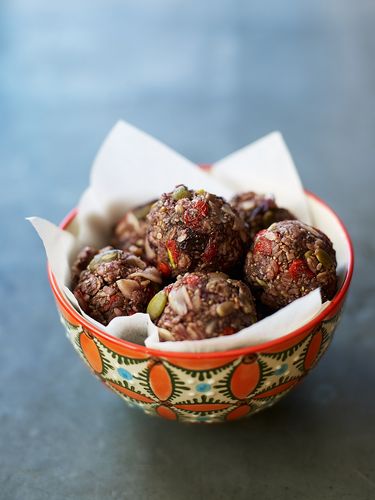 Contains amino acids which help muscles recover and repair. Great pre and post workout.
Ingredients
100g

blueberries, fresh or frozen

50g

maple syrup, rice syrup or raw honey

50g

coconut oil

100g

rolled oats

25g

pumpkin seeds

25g

sunflower seeds

25g

chia seeds

50g

flaked almonds

25g

ground almonds

25g

raisins

25g

goji berries

1 tsp

ground cinnamon

1-2 tsp

acai powder or baobab powder
Instructions
1. Put the blueberries in a pan with 1 tablespoon of water. Bring to the boil and simmer until the blueberries are really soft and squishy. Add the maple syrup and coconut oil and heat through until combined.
2. Combine all the other ingredients in a big bowl. Add the blueberry mixture to the dry mixture and stir until well combined. The mixture will be sticky. Divide into 16 evenly sized portions and roll into balls.
3. Refrigerate for 1 hour before eating raw.
Alternative: You can also bake these bites. Preheat the oven to 180°C (160°C fan/350°F/Gas 4). Place on a large baking tray lined with parchment paper, and bake for about 15 minutes. Allow to cool and serve.