Spaghetti Carbonara with Peas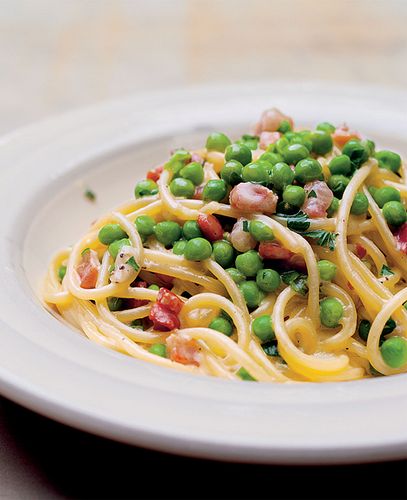 I like to add peas to my summery version of this classic.
Ingredients
375g

dried spaghetti

250g

frozen peas, defrosted

2

whole eggs

150ml

double cream

50g

chopped pancetta

1 tsp

olive oil

1 tsp

chopped flatleaf parsley

50g

parmesan cheese

salt and freshly ground black pepper
Instructions
Bring a large pan of salted water to the boil. Add the spaghetti and stir. Cook according to the packet instructions, until the pasta is al dente. About 30 seconds before the end of the cooking time, add the peas to warm through.
Meanwhile, beat the eggs with the cream in a bowl. Sauté the pancetta in a pan with the olive oil.
Drain the pasta and peas and put them back in the pan. Add the pancetta, then pour in the eggs and cream and put the pan over the heat for 30 seconds–1 minute. Season and finish with the parsley and Parmesan. Serve immediately.