Slow-cooked Spicy Lamb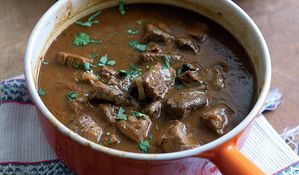 I reckon Mum could make this dish standing naked on one leg, eyes closed, whistling 'The Star-spangled Banner'. Not just because it's easy, but also because she must have made it more than two hundred times over the years. It was always a favourite, and she could easily make huge dishes of it earlier in the day, or even the day before, especially if they were having a big party, then just heat it up once everyone was ready to feast. If she was serving rice with it, she'd always put a clean tea-towel over it to keep it warm and help it to fluff up.
See also:
The Happy Foodie's Winter Warmers: the best in winter cooking from Jamie Oliver; Nigella Lawson; Rick Stein and more...
Nadia Sawalha: how my love of great food was influenced by my mother
Ingredients
| | |
| --- | --- |
| | sunflower oil |
| 1kg (2¼lb) | leg of lamb, cut into 3–4cm (1½in) cubes |
| 1 | large onion, peeled and roughly sliced |
| 2 | garlic cloves, peeled and chopped |
| 1 tsp | baharat spice mix (see ingredients below) |
| ½ tsp | ground cumin |
| 1 tbsp | plain flour |
| 400ml (14 fl. oz) | lamb or vegetable stock |
| 3 tbsp | tomato purée |
| 2 tbsp | cumin seeds |
| | fresh coriander, chopped |
| | For the baharat spice mix: |
| 6 tbsp | black peppercorns |
| 2 tbsp | each coriander seeds, cassia bark, cloves and cumin seeds |
| 2 tsp | cardamom seeds, from crushed pods |
| 4 | whole nutmegs |
| 40g (1½ oz) | paprika |
Essential kit
You will need a spice grinder.
Instructions
To make the baharat spice mix:
Grind all the spices together (you've been warned it will make a hell of a racket). This will keep for a long, long time, as long as you store it in an airtight container.
To make the spicy lamb:
Heat 4 tbsp oil in a heavy casserole and brown the lamb, a few pieces at a time.
Remove to a plate, add the onion and garlic to the pan and cook on a very low heat for 5 minutes. Mix the ground spices into the flour and tip into the pan, still on a low heat and stirring all the time for 2–3 minutes, until you feel the flour is cooked. Add 300ml (½ pint) of the stock and the tomato purée. (You might want to add a bit more stock later if you think the sauce is too thick.)
Fry the cumin seeds in 1 tsp very hot oil in a small frying pan for a few seconds, until they start to jump, then stir them into the stew. Bring the stew up to a bubble, then turn down to a very low heat and leave to simmer for about 45 minutes, or until the meat is tender. Or (lazy way out) cook in a moderate oven (about 180ºC/gas mark 4) for about the same length of time. (I think this is better, because you don't have to keep looking to see if the bottom of the stew is sticking.)
Serve garnished with fresh chopped coriander to taste.