Serrano Ham, Lemon and Green Olive Meatballs in Tomato and Sherry Sauce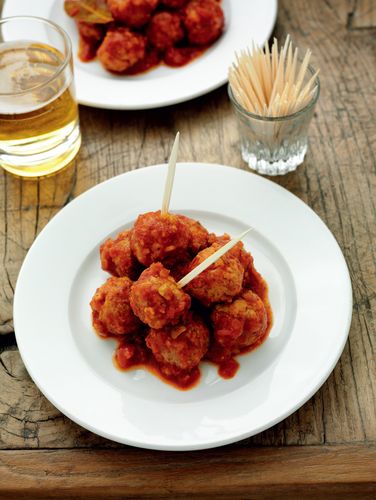 Albóndigas are found all over Spain, tiny ones in tapas bars usually covered in sauce and served in little cazuelitas with cocktail sticks for spearing them, or larger ones on market stalls ready to be cooked at home. They are probably another of those dishes introduced to Spain during the Moorish occupation, reminiscent as they are of the köfte of the Middle East, often spiced with cumin and coriander, but I have to say I like these ones, which are flavoured with some finely chopped green olives, a little serrano ham and some lemon zest.
Ingredients
50 g

crustless white bread

50 g

crustless white bread

Finely grated zest and juice of 1 lemon

150 g

thinly sliced serrano ham

350 g

lean minced pork

350 g

minced veal or chicken

3

garlic cloves

50 g

pitted green olives, finely chopped

2 tbsp

chopped flat-leaf parsley

¼ tsp

pimentón picante (smoked hot Spanish paprika)

4 tbsp

olive oil

FOR THE SAUCE:

3 tbsp

olive oil

1

medium onion, finely chopped

3

garlic cloves, crushed

½ tsp

tsp pimentón, sweet or hot

2

400g cans chopped tomatoes

200 ml

fino sherry or dry white wine

2

fresh bay leaves

200 ml

chicken stock

salt
Instructions
Break the bread into a small bowl and sprinkle with the lemon juice and 1 tablespoon of water. Leave to soak for 5 minutes.
Drop the sliced serrano ham into a food processor and process using the pulse button until finely chopped.
Lightly squeeze the excess moisture from the bread and put it into a mixing bowl with the minced pork and minced veal or chicken, serrano ham, garlic, olives, parsley, lemon zest, pimento and 1 teaspoon of salt and some pepper.
Mix together well with your hands then take a little piece of the mixture and fry it in a drop of oil, taste and adjust the seasoning if necessary. Form the mixture into about 60 small, tapas-sized meatballs.
Heat half the olive oil in a large frying pan over a medium heat. Add half the meatballs to the pan and fry for 2–3 minutes, shaking the pan every now and then, until nicely browned all over. Lift them out onto a plate and set to one side. Repeat with the remainder of the meatballs, using the rest of the olive oil.
For the sauce, heat the oil in the frying pan, add the onion, garlic and pimentón and fry gently for 10 minutes. Add the tomatoes, sherry, bay leaves, chicken stock and ½ teaspoon of salt and simmer for 15 minutes or until the sauce has reduced and thickened.
Add the meatballs to the sauce and simmer for 5 minutes until cooked through. Remove and discard the bay leaves, spoon the meatballs and sauce into several small shallow dishes and serve while still warm with some cocktail sticks alongside.