Rhubarb Crumble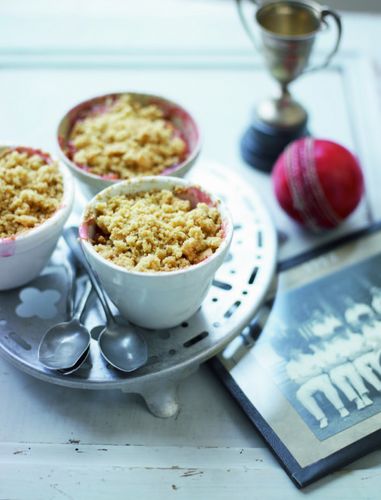 What could be more classic and comforting than a warm fruit crumble? Our champion version makes use of beautiful British rhubarb. The forced variety is famously grown in the Yorkshire triangle, a nine-square-mile area in the north of England, where it is cultivated in dark sheds and harvested by candlelight early in the year, whilst the flavourful outdoor rhubarb comes into season in late spring.
Cooking time: 35-45 minutes
Cook time
35 min
For how many?
Serves 6-8
Ingredients
245g (8.5oz)

self-raising flour

165g (5.5oz)

demerara sugar

60g (2oz)

unsalted butter, cut into pieces

60g (2oz)

margarine

1 tsp

vanilla essence

700g (1.5lb)

fresh rhubarb, washed and cut into 3cm (1in) pieces

2-3 tsp

caster sugar

Custard or cream, to serve
Instructions
Sift the flour into a large bowl, add the demerara sugar and mix well. Add the butter, margarine and vanilla essence and mix to a fine crumb consistency with your fingertips. Place in the fridge to chill.
Preheat the oven to 200C (400F), Gas Mark 6. Mix the rhubarb and caster sugar together and place in the base of a deep, oval, ovenproof baking dish, approx 30cm x 20cm (12in x 8in).
Cover the rhubarb with the chilled crumble topping and firm down the top a little. Cook in the oven for 35-45 minutes until golden brown. Serve with custard or cream.