Raw Rainbow Pad Thai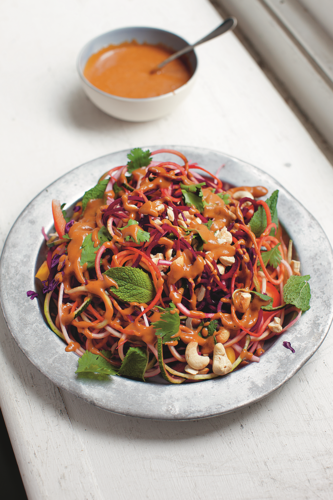 YOU HAD ME AT PAD THAI AND RAINBOWS! Forget rice noodles, take it to the next level by putting beautifully coloured and vibrant veggies through your spiraliser, and there's no cooking involved! Is it just me, or is this brilliant?
You will need a high-speed blender for the dressing and a spiraliser or mandoline for the veg.
Ingredients
3

large courgettes, trimmed

3

sweet potatoes, peeled

1/2

white cabbage, quartered and finely chopped

1/2

red cabbage, quartered and finely chopped

2

red peppers, deseeded and finely sliced

1

yellow pepper, deseeded and finely sliced

handful

of mint leaves, chopped

handful

of coriander, leaves only, roughly chopped

3

beetroots, peeled

4 tbsp (100g)

roasted cashews, chopped, to garnish

For the Pad Thai Dressing:

150g

raw cashew nuts

100ml

white wine vinegar

100ml

soy sauce

40ml

lemon juice

5 tbsp

honey

2 1/2 tsp

salt

2

garlic cloves, peeled and finely diced

12g

piece of ginger, peeled and finely diced

1/2

whole red chilli, chopped into chunks

110ml

water
Instructions
1. To make the dressing,mix all the ingredients together in a saucepan and simmer over a medium heat for 10 minutes.This will soften the cashews.Transfer the mixture to a blender and blitz until super-smooth. Set aside.
2. Push the courgettes through a spiraliser, then push the sweet potatoes through the spiraliser.You can use the 'teeth' setting on the mandoline if you don't have a spiraliser. Slice the cabbage using the flat blade of a mandoline or chop it very thinly with a knife.
3. Mix all the ingredients, except for the beetroot, together in a large bowl.
4. To finish, push the beetroot through the spiraliser – but keep it separate until you are ready to serve, otherwise the beetroot's colour will bleed into everything else.When ready to serve, place the salad in a bowl, drizzle the dressing over and toss it well. Garnish with the roasted cashews.