Minced Lamb with Potatoes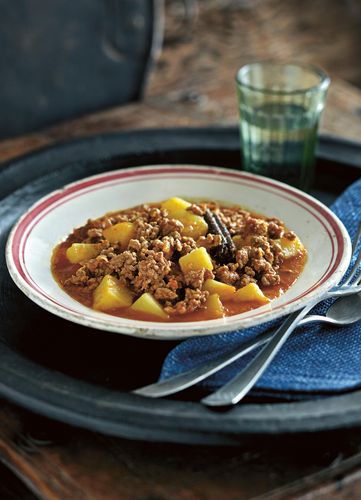 Our family eats this so frequently, along with a moong dal, rice, a yoghurt relish and pickles, that we consider it to be our 'soul food' meal. Nothing fancy here, only the homey.
Ingredients
3 tbsp

olive or rapeseed oil

2 x

7.5cm cinnamon sticks

1

medium onion, peeled and finely chopped

1 tsp

peeled and finely grated fresh ginger

3

cloves garlic, peeled and finely chopped

900 g

minced lamb

3 tbsp

natural yoghurt

3 tbsp

tomato passata

1 tsp

ground cumin

2 tsp

ground coriander

¼ tsp

cayenne pepper

¼ tsp

ground turmeric

1¾

salt

285 g

potatoes, peeled and cut into 2cm cubes
Instructions
Put the oil in a large frying pan or saute pan and set over a medium–high heat. When hot, put in the cinnamon sticks. Let them sizzle for 5 seconds. Put in the onion. Stir and fry until it browns at the edges. Add the ginger and garlic. Stir for 1 minute. Add the lamb. Stir and fry, breaking up the lumps until the meat loses its redness. Add the yoghurt, tomato passata, cumin, coriander, cayenne pepper and turmeric. Stir for 1 minute. Add the salt, potatoes and 475 ml/16 fl oz water. Stir and bring to the boil. Cover, lower the heat and cook gently for 30 minutes.