Mediterranean Beetroot and Feta Frying Pan Bake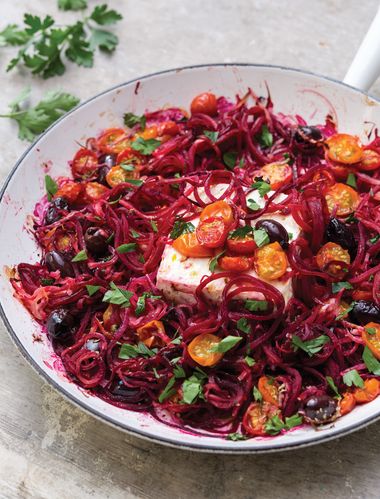 When Lu and I went on our first vacation together to Greece, everywhere we stopped we ordered a Greek salad and a regional beer. We quickly learned that the American version of this vegetarian salad was different from the real thing, which is lettuce-free and has predominantly thick-cut tomatoes with large chunks of feta. Here, I use the tradition salad mix for a hot dish. The combination of olives, onions and fresh tomatoes is heavenly - the beetroot noodles only enhance all that flavour!
Ingredients
85g

yellow cherry tomatoes, halved

85g

red cherry tomatoes, halved

2

medium garlic cloves, finely chopped

2 tbsp

chopped fresh parsley, plus 1 tsp for garnish

1 tsp

dried oregano

1 tbsp

red wine vinegar

60g

pitted Kalamata olives

1 tbsp

extra-virgin olive oil

2

small beetroots, peeled, spiralized with blade C

1/2

small red onion, peeled, spiralized with blade C

salt and pepper

1 (225g)

block of feta or halloumi cheese
Instructions
1. Preheat the oven to 200°C/400°F. In a large bowl, combine all the ingredients except the cheese and the parsley for garnish.
2. Place the block of feta or halloumi in the centre of a large ovenproof frying pan. Top and surround it with the beetroot noodle mixture. Cover with aluminium foil and bake for 20 minutes or until the beetroot noodles wilt. Serve hot, harnished with the remaining parsley.