Meaty Mushroom Stew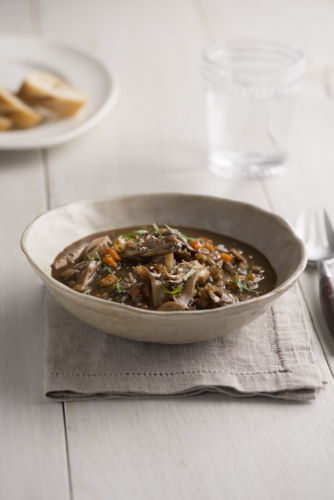 This mushroom stew is rich, meaty-tasting, and delicious, thanks to a mix of mushrooms including hen of the woods varieties, which lend a chicken-y texture and incredible flavour to this cold-weather delight.
Ingredients
4 tbsp

extra-virgin olive oil

2

onions, finely chopped

1

small shallot, halved and finely chopped

2

sticks celery, finely chopped

1

large carrot, finely chopped

300g

tiny white button mushrooms, halved

225g

hen of the woods mushrooms, sliced

225g

fresh chanterelle mushrooms, sliced

3

cloves garlic, finely chopped

1 tsp

sea salt, plus more to taste

1/2 tsp

freshly ground black pepper, plus more to taste

1 tbsp

sweet Hungarian paprika

1 tsp

dried thyme

1 tsp

dried dill

2 tbsp

plain flour

720-960ml

mushroom stock

240ml

dry red wine

1

large Desiree potato, peeled and diced

4 tbsp

finely chopped flat-leaf parsley

1 tbsp

balsamic vinegar
Instructions
1. Heat 2 tablespoons of extra-virgin olive oil in a 4-litre (7-pint) large, deep-sided pan or stockpot over a medium–high heat. Add the onions and shallot, and cook, stirring frequently, for 5 minutes.
2. Add the celery, carrot, the mushrooms, and garlic, and cook, stirring frequently, for about 10 minutes or until the mushrooms begin to turn golden. Add the remaining olive oil as the mushrooms begin to stick to the pan.
3. Stir in the salt, black pepper, sweet Hungarian paprika, thyme, and dill.
4. Add the flour to the mushroom mixture and stir for 2 minutes.
5. Add 720ml (1 pint 4fl oz) of Mushroom Stock, red wine, and potato, and bring to a boil. Reduce the heat to medium and cook, stirring often, for 10 minutes or until the stew is thickened and vegetables are tender. Add additional stock if stew is too thick for your liking.
6. Remove from the heat, and stir in the flat-leaf parsley and balsamic vinegar. Taste, add more salt and black pepper if needed, and serve. The stew will keep in the fridge for up to 5 days and is even more delicious the next day.
Tip: Feel free to experiment with different kinds of mushrooms in this stew
– trumpet, oyster, morels, or even just chestnut and shiitakes if you aren't on a wild mushroom budget. You also can substitute 60g (2oz) of dried chanterelles if you can't find fresh or you can use dried porcini instead.