Leftovers Pie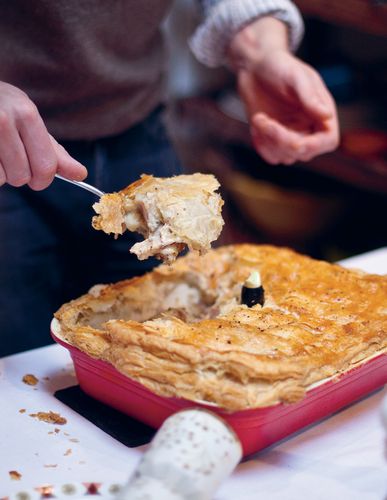 Leftovers Pie
Ingredients
500g

leftover cooked turkey

300g

leftover cooked ham

about 300g

leftover cooked vegetables

1

quantity of rough puff pastry (ingredients below) or 500g puff pastry

1

free-range egg, lightly beaten, to glaze

For the velouté sauce:

125g

butter

115g

plain flour

600ml

hot ham stock (or giblet, chicken or turkey stock)

600ml

double cream

2 heaped tbsp

wholegrain mustard

sea salt and black pepper

For the rough puff pastry (makes about 650g)

250g

plain flour

a pinch of salt

250g

cold butter, cut into 1cm cubes

150ml

very cold water

1 tsp

lemon juice
Instructions
To make the rough puff pastry:
Put the flour and salt into a bowl and add the cubes of butter. Mix the water with the lemon juice, then add about three-quarters of it to the flour mixture. Stir briefly until everything comes together into a rough, shaggy dough, adding the remaining water if necessary. Place the dough on a floured board, press it into a square, then roll it out into a long rectangle about 8mm thick. Don't turn the pastry while you are rolling, but be sure to lift it up and flour underneath if it begins to stick.
Fold up the bottom third of the pastry, then fold down the top third, like folding a letter. Give it a quarter turn and roll it out again – it's best to work quickly and lightly so the butter doesn't warm up too much. Fold in three again, wrap in clingfilm and chill for 20 minutes. Repeat the rolling and folding twice, then wrap again and chill thoroughly before using.
To make the pie:
First make the sauce. Melt the butter in a saucepan, stir in the flour and cook gently for 2–3 minutes. Gradually stir in the hot stock, then bring to the boil, stirring all the time.Simmer for a few minutes, pour in the cream and bring back to the boil. Simmer for a few minutes longer, until you have a smooth sauce. Stir in the mustard, then taste and season as necessary – if you have used ham stock you probably won't need any salt.
Roughly shred the leftover turkey and dice the ham. Put the meat in a large pie dish with the vegetables and the stuffing, if using, pour over the sauce and mix well so everything is coated in the sauce. Push a pie funnel into the centre of the mixture, if you have one.
Preheat the oven to 180°C/350°F/gas mark 4. Roll out the pastry on a lightly floured surface to about 3mm thick. Brush the edges of the pie dish with a little of the beaten egg. Lift up the pastry on the rolling pin and use to cover the pie. Trim off the excess pastry, leaving a little overhanging the sides, then tuck under to give a neat edge. Press down with your thumb all around the edge to seal.
Brush the pastry with beaten egg and sprinkle with black pepper. If you haven't put a pie funnel in the pie, make a couple of small slits in the centre of the pastry with a sharp knife. Place in the oven and bake for about 40 minutes, until the pastry is golden brown and the filling is piping hot. If you have any cranberry sauce and gravy left over, you could mix them together, heat thoroughly and serve with the pie.