Green Lentil Curry with Kale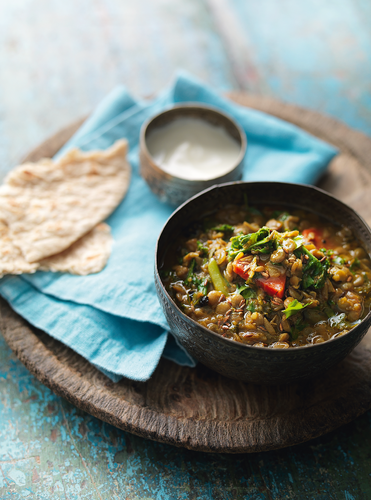 This is almost a meal in itself, nutrionally complete if you add some wholemeal pitta bread (or rice) and yoghurt on the side. You could also convert it into a soup by adding a mugful of water or stock towards the end of the cooking time.
Ingredients
250g/9 oz

green lentils

1/4 tsp

ground turmeric

1/2 tsp

cayenne pepper

115g/4 oz

green beans cut into 2 cm/3/4 inch segments

85g/3 oz

kale, thick stems and veins discarded, finely chopped

3 tbsp

finely chopped fresh coriander

1

medium carrot, peeled and cut into 5mm/1/4 inch rounds

1 1/4 tsp

salt

For the curry paste

1 tsp

peeled and finely grated ginger

1

clove of garlic, peeled and crushed

1 tsp

ground cumin seeds

2 tsp

ground coriander seeds

3 tbsp

olive or rapeseed oil

1/4 tsp

whole cumin seeds

1 tbsp

peeled and finely chopped shallot

2 tbsp

tomato passata
Instructions
Put the lentils, turmeric and 1.2 litres/2 pints water into a medium pan and bring to the boil. Cover partially and simmer gently for 20 minutes. Add the cayenne, beans, kale, coriander, carrot and salt. Stir and bring to the boil again. Cover partially and cook for another 20 minutes.
Meanwhile, make the curry paste: combine the ginger, garlic, ground cumin and coriander in a small bowl. Mix in 50 ml/2 fl oz water.
Pour the oil into a medium frying pan and set over a medium-high heat. When hot, add the whole cumin seeds. Let them sizzle for 5 seconds, then add the shallow. Stir and fry until lightly browned. Add the spice paste and fry until you can see the oil along the edges, about 1 1/2 minutes. Add the tomato passata and fry for about another minute, until you see the oil along the edges.
When the lentils have finished cooking, add the contents of the frying pan. Stir and cook gently for another 5 minutes.