Egyptian Dukkah-Crusted Chicken Fillets with Cauliflower Tabbouleh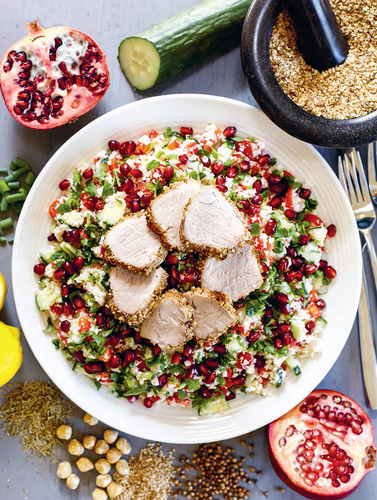 Dukkah is an Egyptian spice mix made with just a few ingredients, but it's one of my absolute favourite flavour combinations.􀀒 You'll only need a few spoonfuls of dukkah for this recipe􀀐 so keep the leftovers in a sealed glass jar and use it to sprinkle over eggs or salads to add a delicious crunch and lots of flavour.􀀅 This tabboulleh is one of my favourite ways to enjoy cauliflower - it's simple but delicious.􀀒
Prep Time
15 min
Cook time
30 min
For how many?
Serves 4
Ingredients
For the Dukkah:

80g

raw hazelnuts

65g

sesame seeds

20g

coriander seeds

20g

cumin seeds

a big pinch of fine sea salt

For the Chicken Fillets:

2 tbsp

coconut oil

4 tbsp

dukkah

4

chicken breast fillets (about 150g) each

For the Cauliflower Tabbouleh

1

medium cauliflower, leaves and stems removed and cut into florets

about 100g fresh parsley, chopped

200g

cherry tomatoes, halved

1

red pepper, diced

1

cucumber diced

3

spring onions, thinly sliced

2 tbsp

extra virgin olive oil

the juice of 1/2 a lemon

a pinch of fine sea salt and freshly ground black pepper

seeds of 1/2 a pomegranate (optional)
Instructions
Preheat the oven to 180°C/ 350°F/ gas mark 4 􀀘and line a baking sheet with parchment paper. 
To make the dukkah, put all the ingredients into a frying pan over a medium heat and toast, stirring often, for 5 to 6 minutes, until fragrant and starting to brown slightly. Blitz in a food processor for about 10 seconds, until finely ground.
Rub the chicken all over with the coconut oil, then sprinkle over the dukkah and press until the fillets are completely coated. Roast the chicken on a lined baking sheet for 25 minutes, until the chicken is fully cooked. Leave to cool for a few minutes, then slice ready to serve on top of the tabbouleh.
Make the tabbouleh by whizzing the cauliflower florets in a food processor for 20 to 30 seconds, until chopped into rice-sized bits. Transfer these to a big bowl, then rinse out the food processor. Put the parsley, cherry tomatoes, red pepper, cucumber and spring onions into the processor and blitz. Transfer to the bowl of cauliflower. Toss well, then drizzle over the olive oil, lemon juice and a sprinkle of sea salt and black pepper. Toss again, then top with pomegranate seeds to garnish.
Serve slices of the chicken alongside a big scoop of the cauliflower tabbouleh and enjoy!